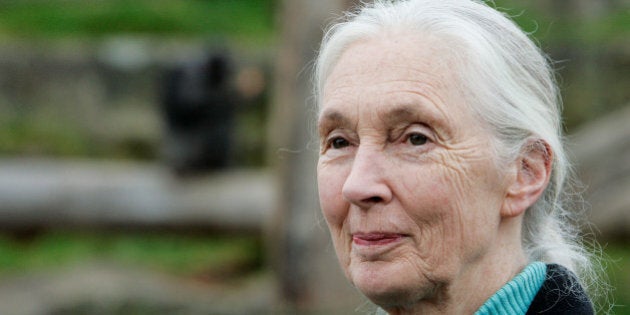 I am a lucky gal! Who even gets to meet Jane Goodall (of the gorilla fame) to hear about the issues that remain on her mind now in her 80s? What an opportunity to try to understand the big planet picture from the perspective of a legendary octogenarian earth lover. Perhaps one of the original tree huggers who was smirked about at first and embraced later as a visionary dedicated to the protection of our wild.
She readily admits that she isn't "that kind of scientist" when she agrees to discuss one of the biggest ecological issues of our time, the use and proliferation of Genetically Modified Organisms (GMOs). In her home of the United Kingdom, many of the crops that North America is embracing are still banned, and with good reason she says. Some 64 countries around the world, including China, Australia, Japan, and the European Union, there are significant restrictions or outright bans on the production and sale of GMOs -- but not in Canada or the United States.
It is a pivotal time for us as more crops gain approval and find their way into our food system under the title of GRAS or (Generally Recognized as Safe). Ms. Goodall is touring with American lawyer Steven M. Drucker who wrote a book called Altered Genes, Twisted Truth. A book so dense with footnotes, quotes and back up appendices that any layperson would think that he anticipates some backlash requiring defense.
This book is a legal look at the political path that the approval of such products has taken. Mr. Drucker maintains a fairly extreme view that you have been duped about the safety of GMOs at the expense of your health in dramatic ways. In a Watergate "follow the money" kind of way, he does lay out a convincing conspiracy theory, but, reasonable case. His entire premise, one which many including Ms. Goodall agree upon, is that the label of GRAS was falsely given as there wasn't evidence at the time to establish such a claim of safety. In his book he quotes numerous scientists (including one at Agriculture Canada) who had originally stated that GMOs were safe and have now reversed their opinion. And, in the ensuing 20 years that the evidence against its safety has grown but the classification has not been repealed. Pretty scary stuff.
From my perspective, the guy has a point. I personally choose to avoid genetically modified foods to whatever degree that I can just to be on the safe side of the fence. At a minimum, I believe that we have the right to know if they are in our foods and that GMOs should be legislated to be labelled. If you want to avoid them, you should be able to. I think Ms. Goodall pushed me over the fence when she made this cogent point:
"Those who create these organisms spend a lot of time, money and energy to prove these seeds are very different from traditional seeds in order to achieve the (money making) patent. And then they turn around to convince the public that they are exactly the same as traditional seeds and are therefore safe for consumption. Isn't that crazy?"
Yes, to my mind it is. Either it is the same or it is different.
Unfortunately, due to the proliferation of GMO seeds and crops there is no longer such a thing as "GMO free." Winds and bees carry pollen for miles and cross-contaminate GMO crops with conventional and organic varieties. The term "GMO Free" would therefore be misleading and inaccurate when it comes to genetically modified ingredients like corn, soy, sugar beets and canola. This is why many companies like one of my favourite brands (and clients) is Nature's Path who use the term "non-GMO."
Nature's Path co-founder, Arran Stephens made a promise to produce only products that were organic before organic had standards and GMOs even existed. I asked him some questions to help me make simple sense of the topic and make reasonable recommendations. Stephens explains,
"We have a duty to always leave the earth better than we found it for this generation and the ones to come, which is why we've been making organic, non-GMO food for 30 years. As a lifelong ethical vegetarian, I was concerned whether the food I was feeding my family might contain something that might violate our principles. Many Christians, Jews, Muslims, Hindus, Buddhists and others also found this manipulation of the food supply offensive to their practices and beliefs. At that time, I felt that GMOs would present the greatest-ever threat to organic agriculture and the planet. Today, more than 95 per cent of North American grown corn, soy and canola is genetically modified, which makes it challenging to source non-GMO and organic varieties."
This company is solving that problem by purchasing organic farmland in Saskatchewan and Montana, educating the consumer and farmers alike and investing in the University of British Columbia's Centre for Sustainable Food Systems. It is on behalf of organizations and initiatives like this that my skin crawls when people hurl blind blame at "Big Food" for ruining our planet. Though independent and family-owned, this group can be considered "Big Food" and they are making a lot of great waves.
So what can the average, mainstream eater do?
Concentrate on high risk crops like corn and soy.
Try to choose certified organic varieties since organic agriculture has always prohibited the use of GMOs in addition to toxic chemical pesticides, herbicides, artificial colours or preservatives.
Look for the Non-GMO project label on more and more foods. In fact, scroll this list, you may be surprised to see how many of your favourites are already verified.
Reduce your reliance on corn and corn sweeteners. If you buy a product that says "glucose-fructose" it is likely GMO corn sweetened unless it is organic.
Stay on top of newsletters like this one http://www.justlabelit.org/ who keep an eye on the right to know movement.
While this whole debate wastes precious (and perhaps dangerous) time getting sorted out. I want to know what to DO about it to protect yours and my health. What we can do to protect the planet, its pollinating bees and birds out of respect for Ms. Goodall who fought a lifetime to support the gorillas. What goes around comes around was her point at the outset. We only have one planet.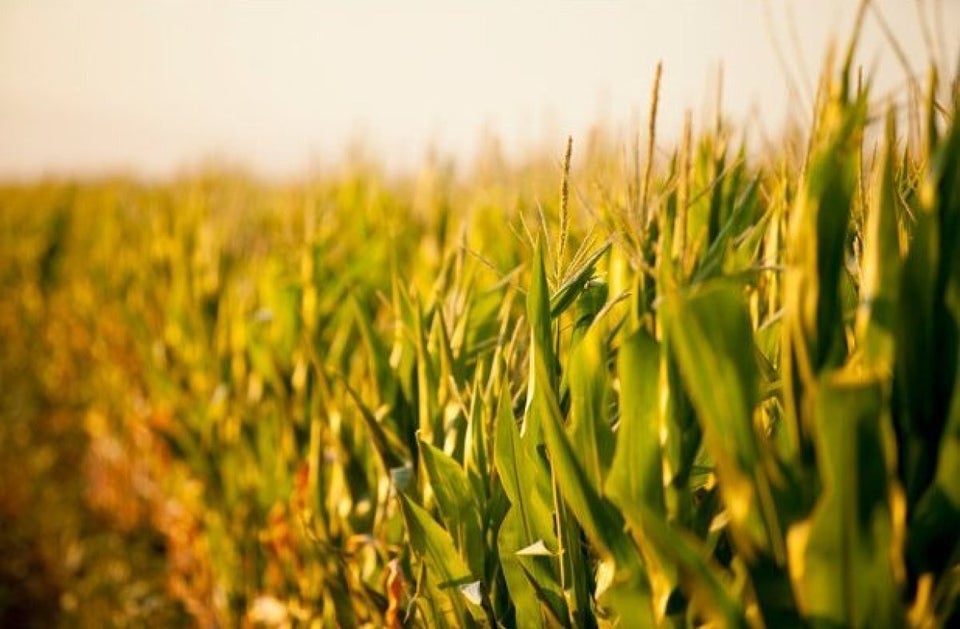 Can These GMO Foods Save the World?
Popular in the Community