People line up at conventions to meet Jane Richmond and get her autograph. She resembles a modern-day Twiggy, but the B.C. woman is no model. She's a knitting superstar.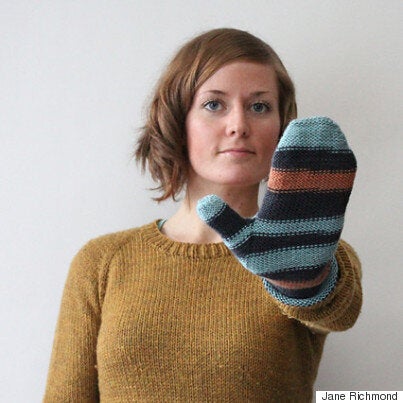 Once dominated by grandmas and itchy wool scarves, knitting has exploded in the age of social media to the point that and people like Richmond can make a living from it. One big reason is Ravelry, a networking site often described as Facebook for knitters.
"It's a community, but it's also a marketplace – and without it, I wouldn't have a job," explains Richmond in an interview with The Huffington Post B.C.
"There were people out there knitting at home who didn't know there were other knitters out there. Just like Facebook makes it easier to keep up with your friends, when Ravelry came about we could all connect."
Designers from around the world post patterns online for users to download, who then knit and purl to their hearts' content. Some designs charge per download, much like purchasing a song on iTunes.
Richmond started out with simple patterns, striving to make her designs wearable with easy-to-follow instructions. Her designs have become more contemporary but continue to be straight-forward, something all types of knitters appreciate.
"A lot of people have knit her designs in the store and I've knit a few myself. She has a really keen sense for classic designs with a modern twist," says Sue Thompson, owner of 88 Stitches in Langley, B.C.
The Clarke Pullover, a recent addition to Richmond's collection of more than 60 patterns, would look at home in any boutique. The Victoria woman's designs have fans like Shannon Grady flocking to her.
Grady, 25, felt doomed to outdated patterns found at libraries or thrift stores.
"The things that were available were not very cute by any standards — lots of bat-winged sweaters," she told HuffPost B.C. "I think Jane's designs are gorgeous. Her designs are very technical and all of that work she puts into making them so technical makes them fit really well. They almost look like something you could buy in a store."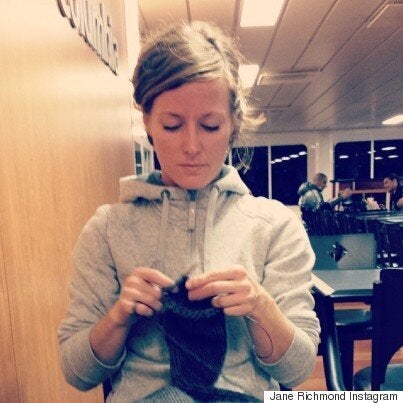 Richmond's mother taught her how to knit at the age of five, but like most '80s kids, she was more interested in her Skip-It and The Care Bears. She picked up her needles again in her teens, but considered it nothing more than a hobby.
She was actually training to be a mechanic when knitting returned to her life.
"When I was pregnant is when I got really into knitting because there's a lot of downtime," Richmond recalls of the time when her daughter was born in 2008. "You can't do anything very loud because they're sleeping or feeding so it's a lot of quiet time. It's a huge shift if you're used to working full time and being out of the house."
"Don't quit your day job because even for the most talented people it doesn't happen overnight."
She went on to work at Costco — where she was able to focus on knitting and mold it into a career. While it may not have been the optimal creative environment, Richmond says it was a practical choice.
"Don't quit your day job because even for the most talented people it doesn't happen overnight," she advises. "When you're someone who doesn't have another job, that's a lot of pressure to put on a creative business and that can really kill creativity and passion."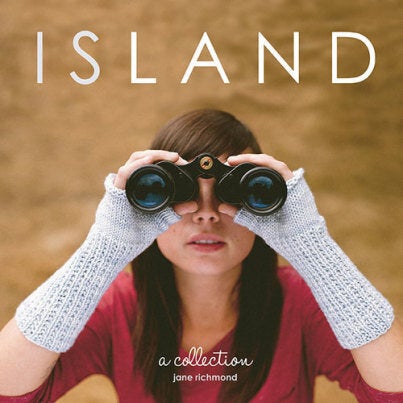 "Before I had the books, I would explain what I did and people would be like 'What do you do? You support yourself doing this?' But people know what books are. They can relate to that."
Many also relate to the fact that she's a single mom to a seven-year-old daughter while running her own business.
"They're both all-consuming. There are so many growing pains and you go through a lot of firsts. It's exhausting. Entrepreneurs work all the time, and long hours," she reflects. "Parenting though, that's the ultimate tough job. And you can"t quit! There is no quitting that job!"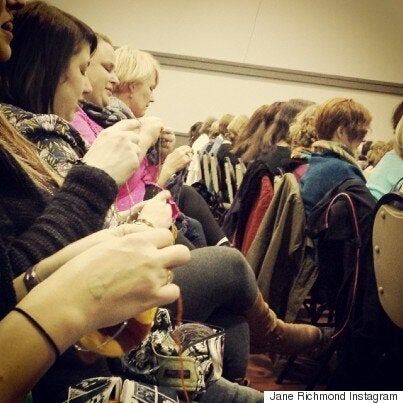 Things aren't slowing down for Richmond.
She appears at knitting conventions (not to be confused with craft fairs) where she does meet-and-greets among the sock workshops, spinning lectures, and dyeing classes.
"My friends always poke fun at me and tell me I'm famous and make me blush," she says. "Certainly we go to shows and knitters will make me feel really good about myself, like I'm a famous knitter or something, but I don't see myself as that."
Richmond says she plans to continue expanding her knitting skills — and business.
"I am just going to keep putting things out there and hope I get better as I go. I love what I'm doing and I feel like every year it's getting more polished and more me. I don't see myself doing anything differently."



Popular in the Community