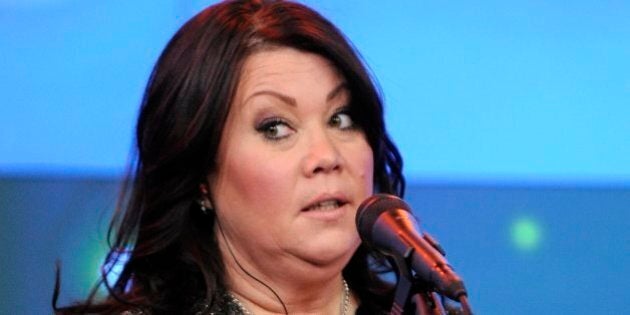 The war of words between singer-songwriter Jann Arden and a radio executive continued yesterday after Arden was accused of "cyberbullying" through her Twitter account.
On Aug. 8 Arden criticized Calgary radio station 90.3 AMP for their decision to shorten Top 40 songs down to two minutes. Initially Arden requested her songs be removed from the station's playlist which Steve Jones, the Vice President of programming for AMP's parent company Newcap Radio, agreed to.
However, Arden continued tweeting about the station's decision including posting a series of tweets on Aug. 10 which slammed both the new format and Jones. Here are a few of those tweets:
On Aug. 11 Arden retweeted a link which reportedly contained a leaked e-mail written by Jones regarding removing Arden from playlists at 95 radio affiliates.
The e-mail, dated Aug. 7 with the subject heading "Jann Arden" went as follows: "Please remove ALL music by Jann Arden from your playlist immediately and permanently. Her antagonistic and pissy social media comments about our company are a clear statement that she doesn't need our support. She's a superstar without radio support. Thanks, Steve"
Arden continued tweeting about how AMP could effectively reduce the time used to do other activities:
On Aug. 12, the Toronto Star reported Jones as stating Arden's tweets directed at him to "cyberbullying."
"She referred to us as dickheads and morons and then said 'Please stop playing my music,' so I was given the clear impression that she wanted nothing to do with us," he told the newspaper. "We teach our children not to cyberbully, but to find myself at the brunt of small penis jokes or jokes because I'm bald is bizarre, especially from an artist who has talked about being judged on weight. It could be so easy to make those comments back, but it has no place in an intellectual discussion."
Story continues after slideshow
Arden was quick to respond to the article via Twitter, calling out Jones while at the same time explaining her stance wasn't just for her but for other artists and their intellectual property.
Arden will mount a Canadian tour beginning in early September in support of her new studio album "Everything Almost." The singer is also slated to co-host the Canadian Country Music Awards on Sept. 7 in Edmonton with Rick Mercer.
Popular in the Community