A short-lived peace for a young Alberta family embroiled in an anti-racist war against white supremacist may have come to an alarming end.
It was an unusually warm night for the end of September when a banging sound around 5 a.m. brought Calgarian Jason Devine out of his sleep. But it was the crash and the sound of shattering glass that jolted him out of bed.
The sound, and the unnerving sensation he felt as he ran downstairs, were frighteningly familiar.
Running out of bed, as he has done countless times before, Devine ran to check on his wife Bonnie, who due to the heat that night was sleeping on their couch. At best, he hoped he was hearing things. At worst he expected a bomb.
He got to the living room and found that Bonnie had also been startled awake but was unharmed.
He then ran to check on his four children - 8-year-old twins, a 10-year-old and 15-year-old. They too were unharmed.
Jason then went from window to window to see what, if anything, had crashed into his home. In the past, there have been projectiles thrown into his children's rooms, cinder blocks through the living room window, a Molotov cocktail attack, lots of spray-painting and a home invasion that nearly killed the young father.
The attack on this early Sept. 29 morning was a little less violent. A rock had been thrown at the Devine's living room window and although it managed to smash through the first thick pane of glass, it failed to break through the second.
The massive rock and the shattered glass lay in the dark of early morning, mere inches from his home.
"It's always at night. They always come in the night. They always come when it's dark," he told The Huffington Post Alberta.
With daylight also came the discovery that the tires in the family vehicle had been slashed.
This has happened before - it has been happening for the last six years - and the trail always leads back to members of Calgary's white supremacist movement, says Jason.
Police always suspect them, often charge them, but they are rarely convicted.
Jason and Bonnie became targets of the province's white supremacists when they, along with other anti-racist activists, gave themselves the mission to expose the Aryan movement in Alberta half-a-dozen years ago.
Jason and his associates put up anti-racism posters throughout Calgary, launched websites exposing members of the Aryan Nations, Western European Bloodlines, and Blood and Honour, and collided with those groups when they staged white pride marches through downtown Calgary.
Since then, there's been threats – online and in person. There has been taunting and intimidation.
Story continues below slideshow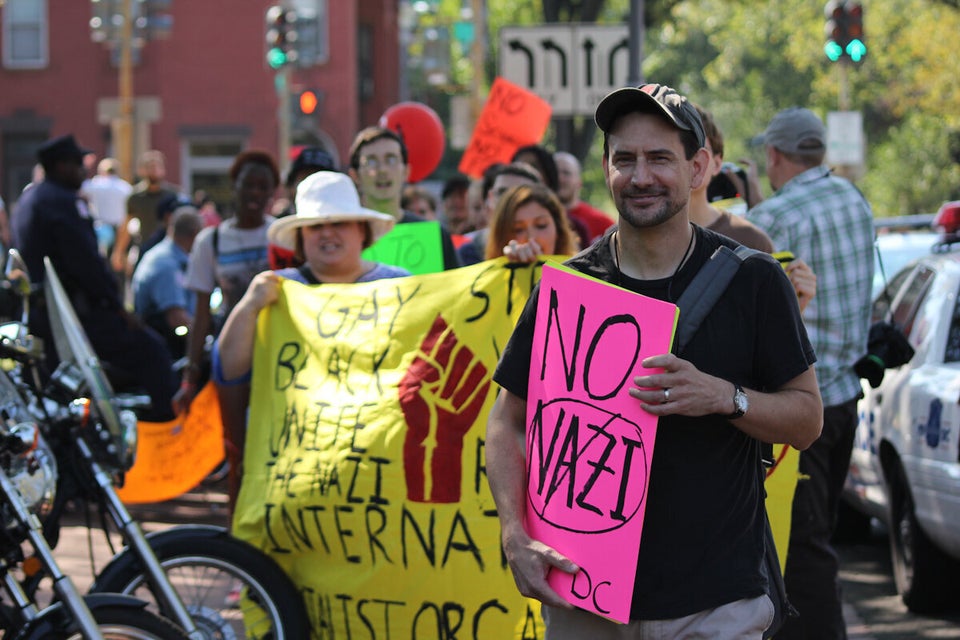 Aryan Nations March
But the first real attack came in the middle of the night in 2008 when a Molotov cocktail was hurled toward the family home as mom, dad and children slept. No one was ever charged but a month after the attack, at an Aryan Guard rally, a member taunted Bonnie saying, "How's your house, Bonnie? Is it nice and toasty in there? How's Jason and the kids?"
But it was in 2010 when five masked men armed with bats and hammers forced their way into the Devine home and beat Jason over the head and back. No one was charged at the time but the head of Blood and Honour, Kyle McKee, was later charged with uttering threats after he pulled up next to Jason – who was putting up posters along 17 Avenue – banged a baseball bat against his car and asked Jason if he wanted another home visit.
Story continues below photo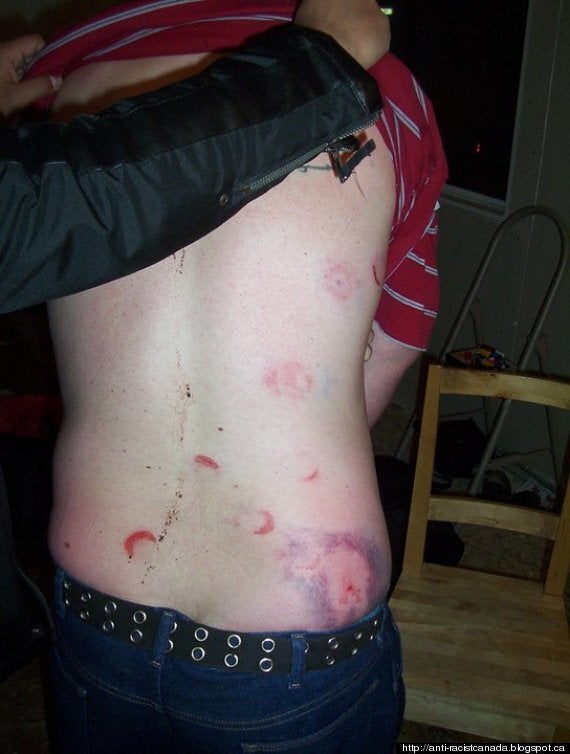 It doesn't take Jason's masters degree to put one and one together and conclude that, after a year of relative calm, the latest attack was probably the continuation of his six-year war against Alberta's white supremacists.
And investigators seem to agree. The city's hate crimes unit is investigating the incident, the Calgary Police Service confirmed.
This is not the way he wants to live and is certainly not the way he wants to raise his kids, says Jason.
His 10-year-old told him recently how he one day plans to join the fight against racism and how he plans to take down their organizations. Jason says he's glad his children see the racist movement for what it is but admits hearing his sons comments stung him.
"It's rough that my children's thoughts have to be taken up by these issues," he says.
"I'd rather that they be thinking about going to the park, thinking about playing. This shouldn't even have to concern them."
Unfortunately, he says, there doesn't seem to be a way out.
Jason, Bonnie and their associates haven't done much in terms of activism in the last year. They haven't had to, says Jason, due to the fact there's been little activity by the white power groups.
"I don't want to die in this. But if Bonnie and I quit tomorrow, it wouldn't matter, they're not going to quit," he says.
"But this is a violent movement and ignoring them is the last thing you want to do."
Popular in the Community