Veteran Conservative MP Jason Kenney sparked controversy in question period Monday with a heckle directed at Canada's defence minister that a Liberal MP later deemed "racist."
Though Kenney rejected Liberal calls to apologize in the House of Commons, he took to Twitter to explain why he allegedly said MPs needed an "English-to-English translation" as Harjit Sajjan spoke about the government's plans to deal with the so-called Islamic State.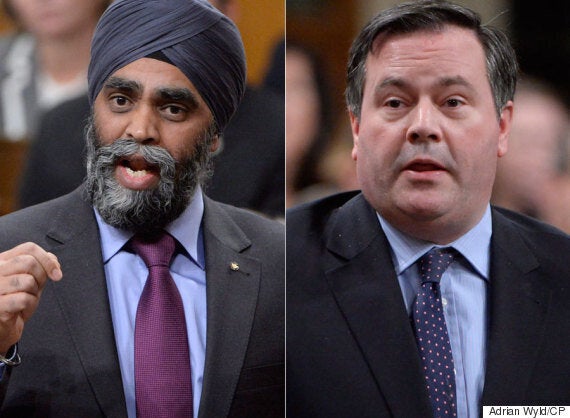 Defence Minister Harjit Sajjan and Conservative MP Jason Kenney speak in the House Monday. (Photo: Adrian Wyld/CP)
The incident occurred as Sajjan faced questions from Tory defence critic James Bezan and associate defence critic Pierre Paul-Hus on the Liberal pledge to withdraw Canada's jets from the fight against ISIL.
Bezan accused the rookie minister of blaming allies last week for the spread of terrorism — a reference to Sajjan's speech at the Canada 2020 foreign policy conference, in which he took a critical look back at the Afghan war.
Sajjan, who served in Afghanistan, told Bezan he learned his lessons by "working with our allies." The minister also attempted to turn the tables by asking Tories why the past government did not "attack ISIL when it was a small organization."
Paul-Hus accused the government of "dragging its feet" on the ISIL mission and being incapable of coming up with a clear plan.
Don't want to repeat 'mistakes of the past': Sajjan
Sajjan said the government needs to take its time to consult with allies and assess the situation.
"And I want to make sure that we do not repeat the mistakes of the past because every, single time we make those mistakes as political leaders we send our men and women into harm's way for no reason and I will not repeat those mistakes again," he said.
After question period, Liberal Kevin Lamoureux rose on a point of order asking Kenney to apologize for an "inappropriate comment" directed at the defence minister.
Lamoureux charged that Kenney "stated from across his seat that we need to have English-to-English translation" while Sajjan was speaking.
"I'm wondering if the member would do the proper thing and apologize or at the very least explain his comments," Lamoureux said.
Kenney said he found the minister's answer "totally incoherent."
"And so there's nothing to apologize for," he said, before being drowned out by jeers from the Liberal benches and few shouts of "shame."
Rookie Liberal MP Ruby Sahota jumped online and did not mince words, calling his refusal to apologize "unacceptable."
New Liberal MP Raj Grewal also drew attention to Kenney's comments.
Kenney responded to Grewal, saying he respects Sajjan — "a fine, intelligent man" — and featured him as "a role model in the Discover Canada Citizenship guide" when he served as immigration minister.
"Unfortunately, I find his answers on ending combat against ISIS to be at best unpersuasive (and) at worst incoherent," Kenney wrote, adding he was sorry if his comment was "misconstrued in any way."
@rajliberal 2/ Unfortunately, I find his answers on ending combat against ISIS to be at best unpersuasive & at worst incoherent. That's the

— Jason Kenney (@jkenney) February 1, 2016
Grewal tweeted that he appreciated the response and suggested better decorum might help prevent "mishaps like this" in the future.
Kenney currently serves as chair of the Tory shadow cabinet's committee on strategic operations — a role that involves advising interim leader Rona Ambrose and other critics on question period strategy. A former defence minister himself, Kenney has long been considered a top contender to run for the Conservative Party leadership.
When asked for comment, a representative from Kenney's office pointed to the MP's tweets.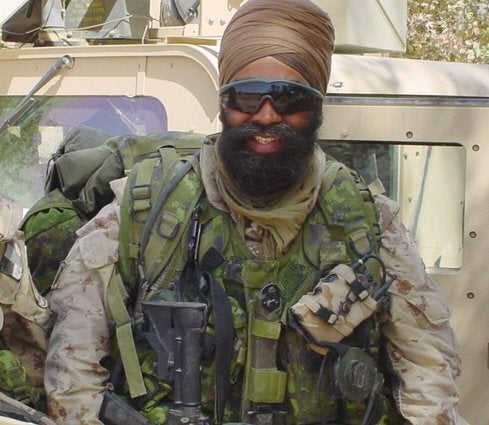 Harjit Sajjan: Canada's 'Badass' Defence Minister