OTTAWA — The Liberal government came under fire Thursday for stacking a parliamentary committee studying electoral reform and for refusing to hold a referendum — with the Conservatives judging their "excuses for trying to rig the system" more and more ridiculous.
Leading off question period, Calgary MP Jason Kenney asked why the government would not commit to a referendum — something three provinces, British Columbia, Ontario and P.E.I., had done when proposing a change to the way elected representatives are chosen. Each time a referendum was tried, it failed to pass the needed threshold.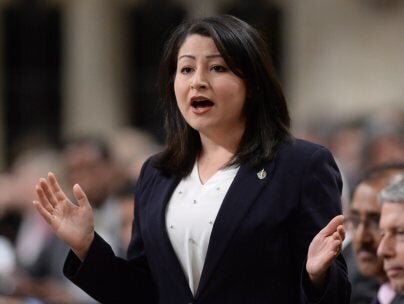 Democratic Institutions Minister Maryam Monsef speaks during question period in the House of Commons on Thursday, May 12, 2016. (Photo: Adrian Wyld/CP)
Democratic Institutions Minister Maryam Monsef didn't mention that in her answer. Instead, she said she appreciated Kenney's desire to hear from Canadians, but had "yet to hear from him or his colleagues on how a referendum could help us hear from those who don't traditionally engage in the democratic process." The remark sparked groans on the Conservative side.
She pointed to young people, indigenous persons, those with disabilities and exceptionalities, those living in the remote and rural regions of this country.
"We need to ensure that… the tools that we use to hear from Canadians are in line with the 21st century needs, and the possibilities to make sure that all Canadians across this great nation are included in this important conversation," Monsef said.
Referendum the 'ultimate consultation': Kenney
"Mr. Speaker, their excuses for trying to rig the system are getting more and more ridiculous," Kenney said in response. "She's talking about a fake consultation process that interest groups will be involved in, maybe a few thousand people. We want the ultimate consultation that allows tens of millions of Canadians to decide how they elect their representatives.
"Why is this Liberal government so determined to be the first government of any major democracy to change the electoral system without a direct popular mandate expressed in a referendum?"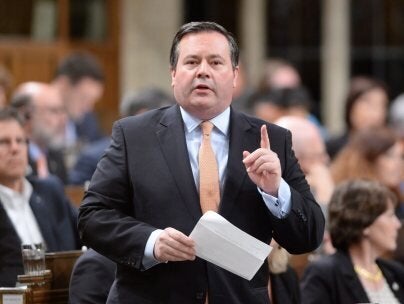 Conservative MP Jason Kenney asks a question in the House of Commons on Parliament Hill on Thursday, May 12, 2016. (Photo: Adrian Wyld/CP)
Monsef said the premise of his question was wrong. On the first day that the government had announced it was moving forward on electoral reform by appointing a 10-person committee — with six Liberals, three Conservatives and one NDP MP, along with non-voting members from the Bloc Québécois and the Green party — she said the hashtag #electoralreform on Twitter had 12 million impressions in one day, proudly holding one finger in the air.
"Apparently, she wants decisions to be made by Twitter," Kenney quipped.
Quebec Conservative MP Steven Blaney said the Liberals had gone "from sunny ways to a total eclipse of democracy." The Grits have given themselves absolute control of the committee, he said, and would next change the rules of democracy unilaterally.
Monsef told reporters Wednesday the Liberal-dominated committee's recommendation would not be binding in the government. She ruled out engaging the public through citizens' assemblies, as B.C. and Ontario had done. And she did not say, when asked, whether she wanted buy-in from at least one other political party in the Commons in order to add legitimacy to the Liberals' final proposal.
Monsef, however, insisted the government would consult extensively — especially with minority groups. It would also take an "evidence-based" approach by encouraging MPs to hold town halls in each of their 338 ridings and report back.
"Listening to Canadians is at the heart of democracy," she said, without any hint of irony.
New Democrats blast plan, too
The Conservatives weren't the only party after Monsef's reform plans.
NDP MP Marjolaine Boutin-Sweet said the Liberals' policy made "no sense."
"This reform is off to a very bad start," she said.
"How can they claim they want to end first-past-the-post and then stack a committee that models themselves on first-past-the-post?"
The Liberals hold 54.4 per cent of the seats in the House of Commons. They won 39.5 per cent of the popular vote. The makeup of the committee that will help determine what electoral system Canada gets reflects the distortion of the current first-past-the-post system in the Commons.
Green Party Leader Elizabeth May doesn't get one voting seat despite her party obtaining 3.4 per cent of the votes. Government House Leader Dominic LeBlanc said reflecting the popular vote would have meant a committee with more than 20 members.
During the 2015 election, Justin Trudeau's Liberals announced the 2019 election would be run under a new system — but he didn't say what exactly that new system would be. The Liberals promised to make every vote count and pledged to bring forward legislation 18 months after taking office.
The committee has until Dec. 1, 2016 to table their recommendation, giving the government five months to come up with a bill.
Elections Canada chief says he'd need 6 months notice
Elections Canada says it needs at least 24 months to plan for a new electoral system. It also needs at least six months notice to plan for a referendum.
Marc Mayrand, the head of the agency, told a parliamentary committee last month that the Referendum Act is outdated, that it hasn't been changed since 1992, and that many Canadians might be surprised to learn there are few limits on financing.
"For example, unions and corporations could contribute to referendum committees. I think that may come as a shock. There is no limit on contributions by any entities. Again, that may come as a shock," he said.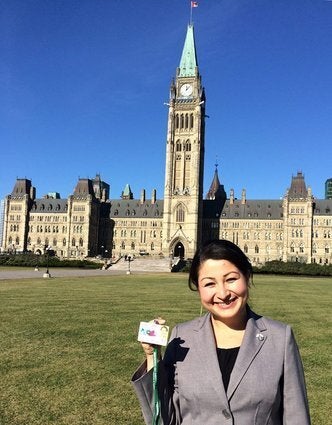 Rookie MPs To Keep Your Eye On