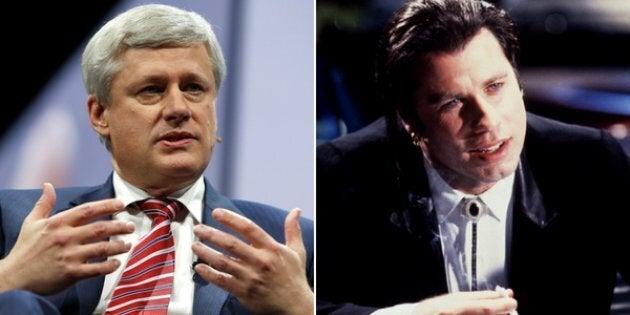 OTTAWA — Jason Kenney says the origin story of the Conservative party's immigrant vote strategy goes back to an argument he had with Stephen Harper in the '90s about "Pulp Fiction" in an Ottawa pub.
Alberta's United Conservative Party leader shared the story during a Maclean's event on Thursday after host Paul Wells brought up Kenney's nickname "minister for curry in a hurry."
It was cheeky moniker to describe the hyperactive outreach Kenney did in ethnic communities across the country as federal immigration minister.
Kenney said he was arguing with the future prime minister about ways to grow the Conservative tent after they watched "Pulp Fiction" together in 1995. The blockbuster movie came out the previous year.
"I found it completely hilarious that he was completely grossed out by it," Kenney said. Their discussion about Quentin Tarantino then evolved into a debate about the future of the Conservative party.
Kenney said things became heated after he proposed to Harper that if Conservatives want to win government, they would have to reach out to immigrant groups whose "natural values and aspirations" align with the party.
"And he disagreed with me passionately that night. He said, 'Most of these communities are hardwired into the Liberal electoral coalition — you can't undo 30 years of that political work.'"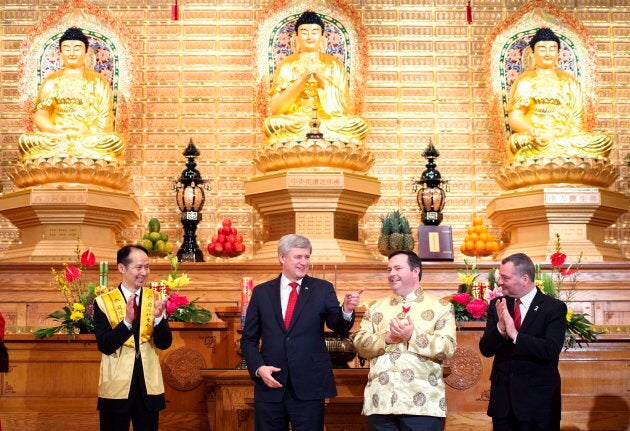 Kenney said he had a Guinness while Harper ordered a diet Coke at The Royal Oak on Bank Street near Parliament Hill.
He recalled being called into Harper's office in the "early 2000s" when the new federal Conservative Party leader said, 'Remember that debate we had eight years ago ... I want you to prove me wrong.'"
The crowd-pleasing "Pulp Fiction" anecdote was previously shared by Kenney in a 2016 interview with CBC's "Power & Politics."
The so-called immigrant vote strategy paid off for the Conservatives in 2011; they won a majority government after expanding their tent into ethnic communities. Kenney explained the strategy worked because he became "passionate" about proving his theory from that pub night years ago.
But the grassroots momentum the party earned in 2011 wasn't enough to help propel it to victory in 2015.
During that campaign, Conservatives earned scrutiny for its "barbaric cultural passes" tip line pledge; a promise to ban the niqab during citizenship ceremonies; and its commitment to help Syrian refugees after it was reported that Canada denied refugee status to the family of four-year-old Alan Kurdi.
The government later issued a statement to clarify headlines, saying an application was received for the boy's uncle, and not the drowned toddler or his immediate family.
Watch: Harper chokes up while speaking about photo of Alan Kurdi
After the Liberals' 2015 win, Kenney quit federal politics to join a leadership race to unite Alberta's two conservative parties under one banner.
But as the provincial opposition leader prepares for next year's election against NDP Alberta Premier Rachel Notley, Kenney has found it hard to resist taking potshots at the prime minister.
Hours before his sit-down with Maclean's to talk about the Kinder Morgan issue and the government's handling of energy projects, Kenney appeared on network shows to apologize for mocking Justin Trudeau and his understanding of nuanced political issues.
Last week, Kenney claimed the prime minister isn't capable of reading a briefing note "longer than a cocktail napkin" — and also accused him of having the "political depth of a finger bowl."
Popular in the Community