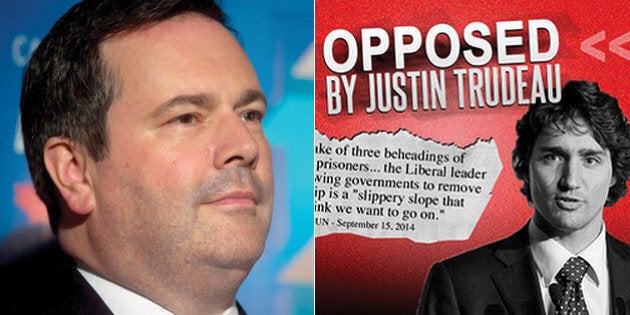 OTTAWA — Canada's employment minister Jason Kenney is using his staff to make anti-Justin Trudeau graphics for him to tweet, his office confirmed Thursday.
Kenney's press secretary Alexandra Fortier told HuffPost, however, that the graphics are not being done on taxpayers' dime.
"These graphics are created by staff outside of government hours using personal resources," she wrote in an email.
The Liberals say Kenney spent 20 per cent of his time on Twitter over the past week, Oct. 2 to Oct. 8, tweeting and retweeting comments about Trudeau.
Questioned about whether this was an appropriate use of the minister's time and resources, Fortier responded that the "Minister's Twitter account is a personal Twitter account."
Gregory Thomas, the federal director of the Canadian Taxpayers Federation, said Canadians shouldn't be surprised that ministerial staff, or staff in opposition leaders' offices or the prime minister's office are engaged in such political activity.
"They are all doing politics 24/7 365 [days a year]," he said. "You can pretty much expect that anything that comes out of those offices is going to be of a partisan nature, whether supporting or opposing what the government is doing."
Thomas pointed out that it's "impossible to police" whether or not Kenney's staff is doing this on their own time.
Last year, Kenney tweeted it was a "good thing" his staff were not unionized because he'd just wrapped up a meeting with "several staff members, at midnight." He later deleted the tweet.
Foreign Affairs Minister John Baird's Twitter account recently landed him in hot water with the commissioner of official languages. According to several media reports, Graham Fraser decided to take a closer look at Baird's tweets, which are mostly in English, after a complaint. His office could not be reached Thursday.
Thomas told HuffPost he thinks ministers should be allowed to have their own Twitter accounts. "[But] when you have a federal government minister communicating official information about government services than that should be made clear that this is the official twitter account of the minister."
Both Baird's, @HonJohnBaird, and Kenney's, @kenneyjason, Twitter accounts describe them as MPs and ministers of the crown: "Canada's Foreign Minister," and "Minister of Employment, Social Development & Multiculturalism."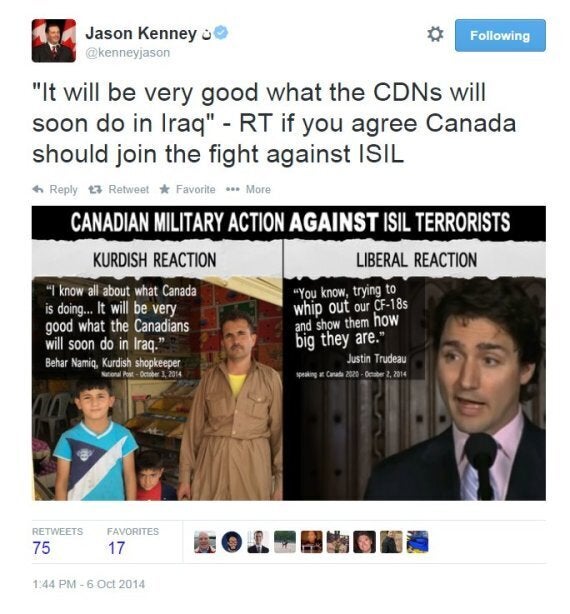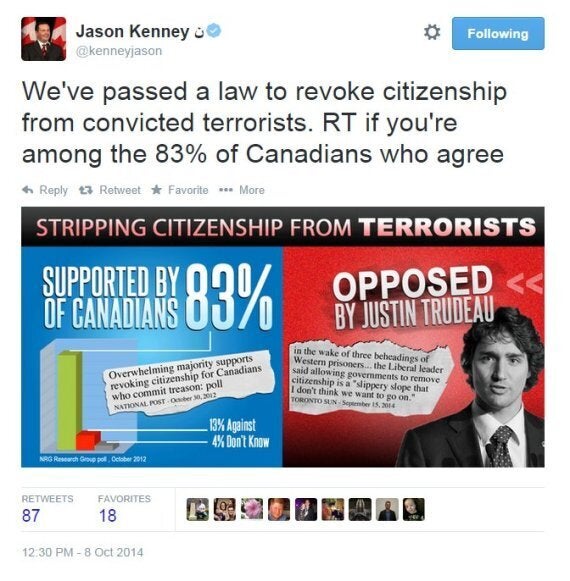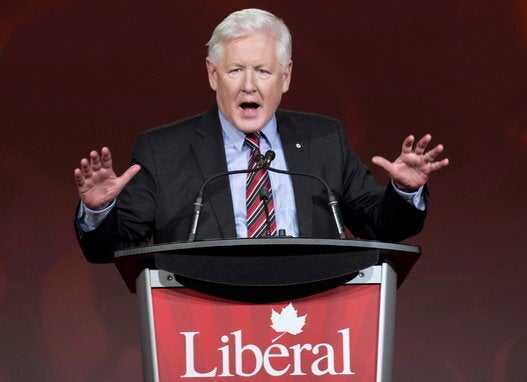 Liberal Stalwarts On ISIL, Iraq