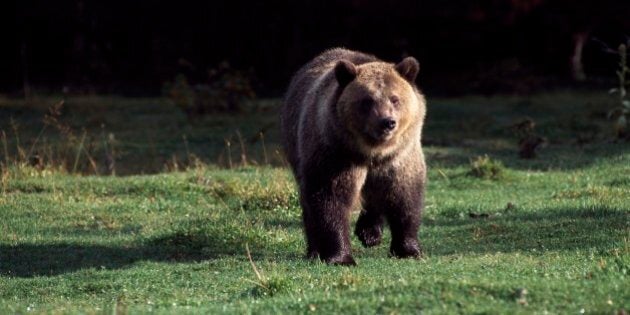 A grizzly bear bit off more than it could chew near Jasper, Alta. on Saturday when it attacked a mountain biker and bit his backpack, puncturing a can of pepper spray inside.
The biker, who is believed to be a man around 25 years old, was riding a trail between Patricia Lake and Cottonwood Slough when he saw the bear, according to CBC News.
In a defensive maneuver, the bear hit the cyclist's back with its paw, scraping and knocking him to the ground before it jumped on him.
It was at that point that the bear bit into the backpack, breaking open the can which released the spray, The Edmonton Journal reported.
"That would have been a nasty explosion into his mouth," Steve Malcolm, human wildlife conflict specialist with Jasper National Park, told the newspaper.
The cyclist sustained minor injuries, mostly due to the spray, the Journal said.
Malcolm said the attack came as bears are feeling food-stressed, as they've just come out of hibernation and they're searching for things to eat in valley bottoms.
Officials with Parks Canada are now searching for the bear and a number of nearby trails are expected to be closed for the next few days, CTV News reported.
Earlier this month, a female oilsands worker was killed by a black bear while working at Suncor's main base, which is located 25 kilometres north of Fort McMurray.