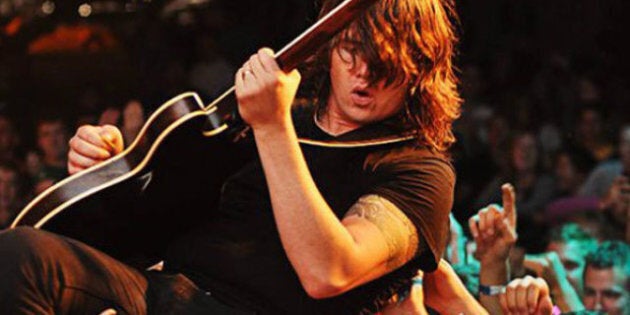 Yesterday's day-long tribute concert in Halifax for Jay Smith, the late guitarist best known for his work with Matt Mays, raised over $100,000 for his family.
"$100,000 raised, 10,000 live stream viewers, 1,200 people attending and rock royalty performing for #jaysmith and his family," Halifax Pop Explosion organizers tweeted this morning regarding the event at Casino Nova Scotia. "THANK YOU."
The concert — still online for viewing — concluded with a rousing, heartfelt headlining set by Mays starting with "Stand Down At Sundown" and concluding with "City of Lakes." "Well it's pretty tough for us to come on stage tonight because of how much everybody smoked it tonight," Mays said of the earlier acts, adding the band was "all pretty overwhelmed" by the performances and outpouring of support. The singer also posted a photo of himself and Smith together on his Twitter account last night.
Joel Plaskett Emergency, the Meds, the Stanfields and In-Flight Safety performed earlier in the evening. The demand for tickets to the three originally slated shows (evening and two songwriter circles) caused organizers to add a fourth concert in the afternoon. A silent auction also took place featuring items such as Plaskett's very first amplifier. All proceeds went to the Jay Smith Family Trust. The Chronicle Herald reports another concert is taking place today in Sydney, Nova Scotia with proceeds also going to the trust fund.
As previously reported, Smith died on March 27 while on tour with Mays in Edmonton. Police ruled out foul play but the cause of death is unknown. Mays will continue touring behind last year's album "Coyote" in the U.S. supporting the Gaslight Anthem. The trek starts in Portland, Oregon on April 16.