Right after Canada's women's rugby sevens team won bronze Monday, captain Jen Kish ran around the field to find her dad.
As Jen Kish pulled herself up onto the stands in Rio de Janeiro's Deorodo Stadium to greet him, dad Steve put his camera down. He had been snapping pictures of her throughout the whole game.
"Is this what it feels like?" he asks his Olympian daughter as he opened his arms to hug his youngest child.
A CBC cameraman caught the tender moment between father and daughter:
Kish told The Huffington Post Canada the embrace was a "very special moment" for her.
"He means the world to me and to have him in the stands as we won bronze was really emotional and we both started crying right away.
"That moment was truly something I'll never forget."
Kish's dad raised the 28-year-old rugby star and her older brother as a single parent. He worked two jobs to make ends meet for his family.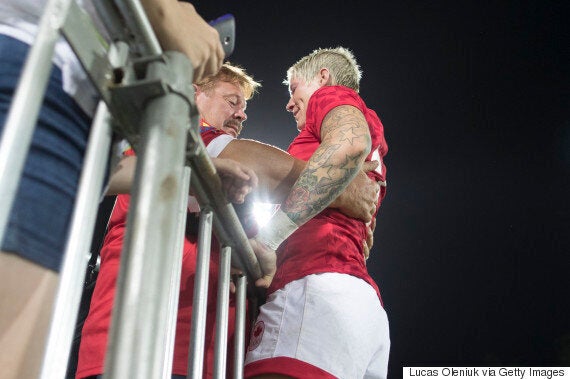 Canadian Olympic rugby captain embraces her father Steve in the stands after winning a bronze medal.
"I grew up with no mom and my dad worked a lot so it was just my brother and I and we were doing things 11-and 12-year-olds weren't doing back then, grocery shopping, taking cabs or getting ourselves to our sports or cleaning the house and doing laundry, adult stuff," she told the newspaper.
"He's going to be that guy, in the middle of everything, and I'm really excited for him to experience that."
Last year during the Pan Am Games, Steve was diagnosed with cancer and spent a month in hospital recovering from surgery after having a massive tumour removed from his stomach.
"It was a really weird experience for me in terms of him always being the strong one because then I had to be the strong one for him — and I've never seen my dad cry before," she told the CBC.
Kish credits her dad, whose cancer is currently in remission, as a "huge inspiration."
In Rio, Kish said in an interview before her team's bronze medal win that even in a crowd of up to 15,000 people, it won't be hard for her to pick him out.
"He's going to be that guy, in the middle of everything, and I'm really excited for him to experience that."
With files from The Canadian Press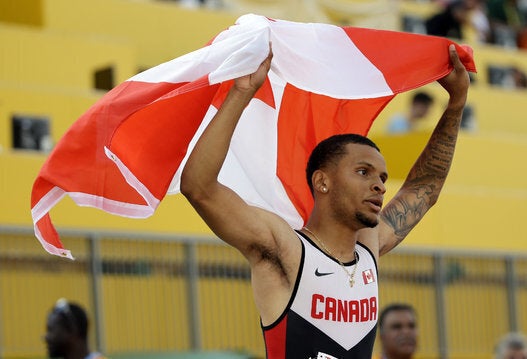 Canadian Athletes To Watch At Rio Olympics 2016