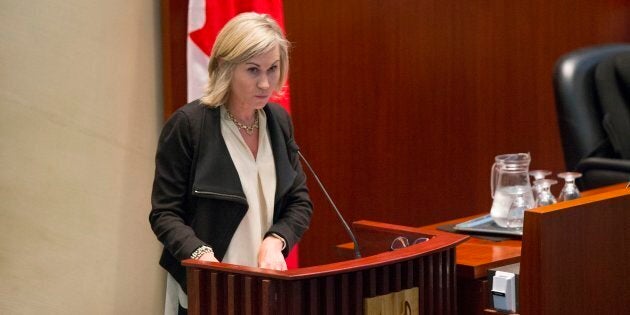 A top Toronto mayoral candidate is walking back eyebrow-raising musings about Canada's largest city somehow becoming its own province.
Jennifer Keesmaat, a respected former city planner, sent out tweets last week calling for Toronto's "secession" and pointing out it would not be a "crazy idea" to see the city become Canada's fifth largest province.
Keesmaat was responding to news that Ontario Premier Doug Ford aims to cut the seats in the city's council from 47 to 25. Before she announced her mayoral bid Friday, Keesmaat doubled down by tweeting: "Now I have had a chance to sleep on it. Secession. Why should a city of 2.8 million not have self governance?"
Sitting down with CP24 Tuesday, she was asked if she worried her tweets might be seen as too radical and potentially turn off voters.
Keesmaat said the tweets captured the "frustration" of Torontonians over Ford's decision and what she says is a lack of leadership from current Mayor John Tory on the issue.
Watch the full CP24 interview:
"Toronto needs to stand together at this moment in time. I have no intention of pursuing something that might in any way be divisive, but on the other hand, sometimes you do stand up and say enough is enough," she said. "We have to stand for our interests as a city."
Keesmaat added that the tweet was "not a policy statement."
Keesmaat said her late entry into the mayoral race — she filed her papers on the last day mayoral candidates could register — was motivated by what she saw as a tepid response from Tory to Ford's move.
"That was sort of the last straw. We saw that we have a crisis, really, of leadership. No one spoke up on behalf of the interests of the city of Toronto, on behalf of Torontonians in this moment where there was this sense that we were really being treated unfairly," she said.
"That was the moment where it became crystal clear to me."
Keesmaat, who said she "stretched the limit" of her role as planner under Tory and former mayor Rob Ford, suggested she will focus on issues such as housing affordability and transit.
Yet a statement on her nascent campaign website also makes clear she intends to make Tory's dealings with Ford a key part of her campaign.
"We now face the recent startling swipe at our democracy and once again, like so many times before, on the things that matter to our city our Mayor wasn't there to stand up and push Toronto forward," Keesmaat said in the statement.
Tory came out against Ford's plan and has not ruled out a legal challenge. On Monday, Toronto city council voted to call on the Ontario government to conduct a referendum on the number of wards and boundaries before proceeding with legislation to make the changes, as Tory recommended.
Yet the Toronto mayor has also faced heat for not doing more to let council prepare for the move after he conceded Ford made a "passing reference" to the idea in his meeting with the premier two weeks ago. Tory told reporters he did think "it was anything that was going to be taken seriously."
The issue boiled over in council chambers Friday night when Tory accused Coun. Mike Layton of "implying" he knew about the move in advance, without coming right out and saying so.
"Get up, if you have the balls to do it, and say it," Tory shouted at Layton.
The election will be held Oct. 22. Thirty-four candidates have thrown their hat in the ring to become Toronto's mayor.
With files from The Canadian Press