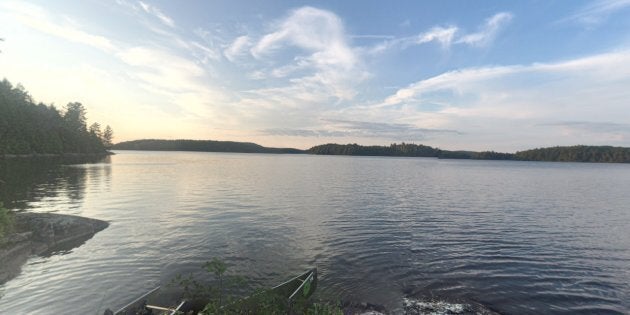 The classmate of a Toronto teen who drowned during a school trip in Algonquin Park said he felt something pull on his legs while he was swimming.
Search and rescue divers pulled the body of 15-year-old Jeremiah Perry out of Big Trout Lake just before 3:30 p.m. Wednesday after scouring the waters all day, said Ontario Provincial Police.
Boran Balci told Global News that a group of students including him and Perry had gone for a dip on Tuesday when he felt "hands" pull him down.
"I didn't think it was Jeremiah. It was oily skin. It was like fish," he said.
But then he noticed that his classmate was missing. No one, including the lifeguard on duty, could find Perry, who wasn't wearing a lifejacket, Balci told Global.
There would have been three lifeguards watching the boy and the 22 other students swimming in Big Trout Lake at the time, according to Toronto District School Board spokeswoman Shari Schwartz-Maltz. All students on the trip were also required to pass a swimming test.
"How is that possible for him to drown right in front of three lifeguards?" Perry's stepmother, Jennifer Anderson, said in an interview with CTV News Toronto.
The teen's father told CTV that neither Jeremiah nor his older brother, who was also on the trip, knew how to swim.
Balci said he remembers being taken to Sparrow Lake near Gravenhurst, Ont. for a swim test a few weeks ago, but couldn't remember what it included, reported CBC News.
The "quite strict" test involved water safety, laps and some underwater endurance, Schwartz-Maltz told the Toronto Star.
She added that six adults — four outdoor education specialists and two teachers — accompanied the 33 students on the trip, said CBC. The ratio on such outings is usually 15-to-1.
"We need to talk to the kids, we need to talk to the teachers, we need to talk to the leaders," she said on CBC's Metro Morning. "And we need to find out what we did right, whether there are any lessons to be learned and then all that will determine future trips."
With files from The Canadian Press