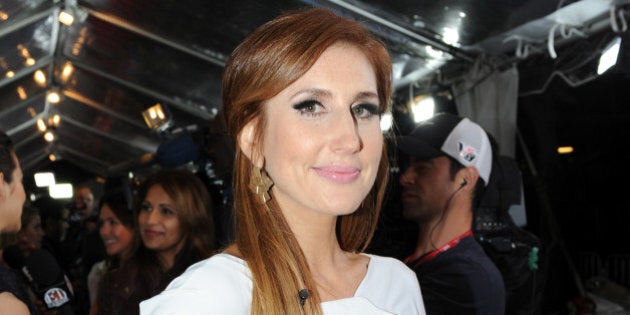 The growing scandal that brought down former radio host Jian Ghomeshi has prompted another CBC personality to praise the "brave women" who have gone public with their allegations.
"Canada's Smartest Person" host Jessi Cruickshank posted a blog entry on Wednesday about how she was "shocked," "saddened," and "deeply disturbed" over the claims of sexual abuse and workplace harassment against Ghomeshi.
"I couldn't believe that a person I felt like I knew, could be capable of these heinous acts of violence," Cruickshank wrote.
The pair reportedly met eight years ago when Cruickshank was still a host on MTV. She said she recently became a regular "Q" listener to stave off homesickness while living in Los Angeles.
"When I heard about a taping in Los Angeles last month, I eagerly went. It felt amazing to be there supporting a fellow Canadian, a trusted colleague. A week later the news broke."
On Oct. 26, Ghomeshi posted a detailed note on Facebook confirming his termination from the CBC over what he described as "a campaign of false allegations pursued by a jilted ex-girlfriend and a freelance writer." He also acknowledged his proclivity to engage in "rough sex" and BDSM.
Cruickshank shifted the focus from the alleged perpetrator to the alleged victims, saying that "this story is an opportunity for all of us to feel brave enough to share our own stories."
During her final year at the University of Toronto, the Calgary-born TV personality said she was invited to watch "Lost In Translation" with a professor and was reaffirmed it would be "applicable to [her] thesis." After the movie, she was told they had to discuss the movie — at the Park Hyatt's dark rooftop bar — as part of her studies.
"He told me I was pretty, he told me I was smart, then he told me all the sexually explicit things he wanted to do to me the next time I was in his office. He told me he would give my thesis 100 per cent."
Then 21, Cruickshank said she saw herself in a bind: "I was just a student, he was my professor and I had agreed to go to the movie, I had let him rub my arm, take me to a bar, order me a drink, I was sending him those signals, I was asking for it.
"If I reported him, no one would believe me; I would fail my course, I would have to repeat the disgusting things he had said to me," she wrote, adding, the fear of embarrassment kept her silent. She quietly transferred out of his course.
So far, nine women have gone public with various allegations against Ghomeshi. Toronto police have also launched a criminal investigation after three women came forward to officers. The CBC hired an outside investigator to look into claims of workplace harassment.
None of the allegations have been proven in court.
"This story is a powerful reminder to anyone who has been harassed, abused or assaulted that you're probably not alone, it's definitely not your fault and it's always safe to speak out," Cruickshank wrote.
Popular in the Community