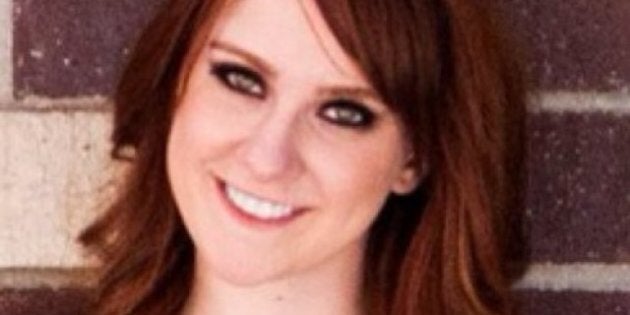 UPDATED: Canadian Press has identified Jessica Ghawi's boyfriend as minor league hockey player Jay Meloff, from Markham, Ont.
Ghawi was in Toronto in June and witnessed the Eaton Centre shooting. She was visiting Meloff at the time.
Meloff said he woke up Friday morning to frantic phone calls and messages on Twitter about the shooting. He said he last spoke with his girlfriend moments before she entered the movie theatre Thursday night.

"She said for me to sleep well. She knew it was late here," said Meloff, when reached at his home in Markham, Ont.

"That was the last thing we ever got to say to each other."
Meloff was reportedly trying out for the CHL's Denver Cutthroats, Ghawi had recently relocated to Colorado to take an internship at a local radio station.
"Jessica and Brent were seated in the middle portion of the theatre when a device was thrown into the theatre that produced a "hissing" sound. The theatre than began to fill with smoke which is when patrons began to move from their seats. At that time, shots were fired. Brent and Jessica immediately dropped to a prone position for cover. Jessica advised multiple times for someone to call 911, which Brent immediately attempted to do. Brent then heard Jessica scream and noticed that she was struck by a round in the leg. Brent, began holding pressure on the wound and attempted to calm Jessica. It was at this time that Brent took a round to his lower extremities. While still administering first aid, Brent noticed that Jessica was no longer screaming. He advised that he looked over to Jessica and saw what appeared to be an entry wound to her head. He further stated that Jessica presented with agonal respirations. Brent then took what may have been his only chance to escape the line of fire and exited the structure where he then contacted my mother. Brent's actions are nothing but heroic. The veracity of any other statements not issued by myself or Peter Burns should be questioned."
Tributes continue to pour in for Ghawi, including two from reporters who knew her.
Sporting News' Jesse Spector wrote a tribute to the slain journalist. "There's no way to make sense of what happened on the large scale, and it's even harder to process on the small scale—the sudden death of a friend. I certainly considered Jessica that, even though we had met only twice in person and exchanged a few emails about the challenges of being a young journalist."
The Denver Post's Adrian Dater also wrote a post honouring Ghawi. "I felt like a big brother to her. She was very smart and very funny. Just a nice person. She definitely would have made it in the sports media business."
Jessica Ghawi, an aspiring sports journalist from Texas, who escaped Toronto's Eaton Centre shooting in June, has reportedly died in a mass shooting at a "Batman" screening in Aurora, Colorado, her family confirms
Redfield's Twitter timeline recounts what seem to be her last moments before the movie began.
SCROLL DOWN TO SEE HER TWEETS
"I was shown how fragile life was on Saturday. I saw the terror on bystanders' faces. I saw the victims of a senseless crime," she wrote on June 5 recalling the shooting.
"I can't get this odd feeling out of my chest. This empty, almost sickening feeling won't go away. I noticed this feeling when I was in the Eaton Center in Toronto just seconds before someone opened fire in the food court. An odd feeling which led me to go outside and unknowingly out of harm's way. It's hard for me to wrap my mind around how a weird feeling saved me from being in the middle of a deadly shooting," she also wrote.
Sadly, Redfield witnessed that terror again last night, her family has confirmed.
Her brother Jordan Ghawi's latest blog post at around 2:15 a.m. described a harrowing call from his mother and details of the shooting.
"My sister took one round followed by an additional round which appeared to strike her in the head. At this time, I do not have confirmation that she is alive or dead," he wrote.
Condolences and messages of grief continue to flood Twitter.