New Democrats are sounding the alarm after the natural resources minister suggested the Canadian military could quash protests over the Kinder Morgan Trans Mountain pipeline expansion, if they become unlawful.
Jim Carr reportedly made the remarks to a group of Alberta business leaders Thursday, two days after the federal government approved the controversial $6.8-billion project.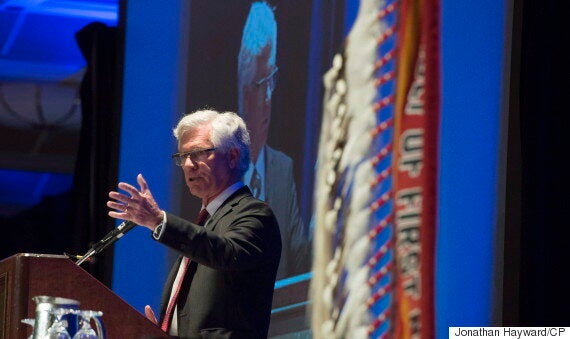 "If people choose for their own reasons not to be peaceful, then the government of Canada, through its defence forces, through its police forces, will ensure that people will be kept safe," Carr said, according to the Journal.
"We have a history of peaceful dialogue and dissent in Canada. I'm certainly hopeful that that tradition will continue. If people determine for their own reasons that that's not the path they want to follow, then we live under the rule of law."
Thousands have set up camp since the summer at the American reservation to oppose the Dakota Access Pipeline. Hundreds have been arrested.
Two New Democrats rose in question period Friday to blast Carr's comments.
Quebec's Pierre-Luc Dusseault said it was "shameful" Liberals were failing to work in a constructive, nation-to-nation manner with the indigenous groups opposed to the project.
"How can the government defend the minister and those irresponsible and even dangerous comments?" Dusseault asked.
Transport Minister Marc Garneau said Liberals respect the right to lawful protest, a principle Liberals underscored in their platform last year.
Many Canadians have strong feelings and are entitled to express themselves in a peaceful manner, Garneau said.
'Reckless, irresponsible, and incendiary language'
British Columbia MP Randall Garrison also tore a strip off Carr, who was not in the House of Commons, for what he called "reckless, irresponsible, and incendiary language."
Garrison called on the defence minister to remind his colleague "that in this country, the federal government has no such authority to use our military against pipeline protests."
Again, Garneau said the right to peaceful protest is a "cornerstone" of Canadian democracy.
"We will always respect the right of Canadians to protest when they don't agree with something. They have the right to do it, they feel strongly about it," he said. "We know and we're confident that they will do so peacefully."
"If there are blockades as construction begins, I'm more than prepared to be there to block construction and be arrested and go to jail," May said. "This is not an issue where you compromise."
May said the government does not have the "social license" to approve the project. It's a position shared by Vancouver Mayor Gregor Robertson, who said he was "profoundly disappointed" by the decision this week.
Robertson had earlier warned things could get "ugly" in the west if Prime Minister Justin Trudeau gave the project a green light, despite the "strident" opposition of First Nations and West Coast communities.
Trudeau under 'no illusion' there won't be disputes
The prime minister told reporters this week he was under "no illusions" the decision will be "bitterly disputed" by many across the country.
Trudeau said 157 binding conditions will address the concerns of indigenous communities and worries that Canada won't meet its international climate commitments.
"As long as Kinder Morgan respects the stringent conditions put forward by the National Energy Board, this project will get built — because it's in the national interest of Canadians, because we need to get our resources to market in safe, responsible ways, and that is exactly what we're going to do," Trudeau said Tuesday.
With a file from The Canadian Press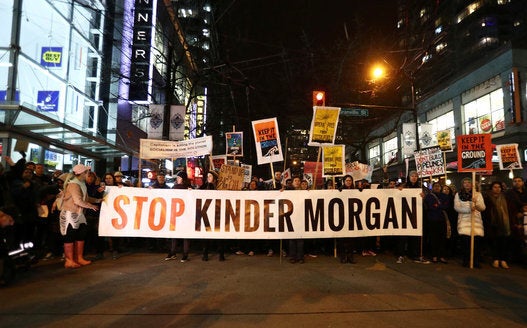 Vancouver Kinder Morgan Pipeline Protests
Popular in the Community