The International Monetary Fund recently suggested that Canada should consider winding down government backing of mortgages — and Finance Minister Jim Flaherty is sounding receptive to the idea.
Ending or limiting the activities of Canada Mortgage and Housing Corp., the government-run mortgage insurer, would certainly rock the country's real estate business to the core, as it has long relied on the CMHC to reduce risk in the home loans business. By law, any mortgage on which the borrower put down less than a 20 per cent deposit must have insurance, usually from the CMHC.
At the very least, Flaherty's comments indicate he is willing to go farther than the small regulatory steps the government has taken so far in curtailing the CMHC's burgeoning role in the housing market.
Ending government backing of mortgages altogether would inevitably make it more difficult for home buyers to get mortgages without a 20-per-cent down payment, as banks would necessarily be more cautious about lending. But private mortgage insurers, such as Genworth and Canada Guaranty, would likely jump in to pick up some of the slack left behind by CMHC.
As many observers point out, that means taxpayers are on the hook should something go wrong with the ability of mortgage holders to pay.
In its report, the IMF argued that Canada could be hurting its economy in the long run by making it too easy for banks to throw money at a booming housing market, while ignoring other parts of the economy that may not be getting the financing they need.
It sees in Canada an echo of the U.S.'s problems with the housing market in recent years. The securitization of CMHC-insured mortgages (meaning banks packaging the mortgages they issue and selling them to other investors) has exploded in Canada over the past decade, Canso noted. That creates a "moral hazard" in the market — the banks don't need to be as concerned about the quality of their mortgage borrowers, since someone else is taking on the risk.
The proportion of government-insured mortgages in Canada went from 30 per cent in 1988 to 75 per cent in 2013, Canso noted, meaning taxpayers are on the hook for three-quarters of all mortgages issued.
"We believe the [this] will eventually go down into the annals of Canadian history as a 'stealth rescue' of the Canadian banking system that morphed the mortgage market into a credit bubble of immense proportions," Canso's report said.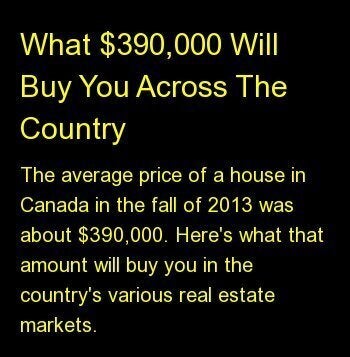 What $390,000 Will Buy You Across Canada
Popular in the Community