Jim Flaherty stared at me with tears streaming down his face. It was five years ago and I had been asked to speak at the Museum of Civilization in Ottawa to support a group that helped with African adoptions. An effort supported by all parties, it was one of those few occasions where the true value of humanity trumped partisanship.
The venue was packed. I had my Sudanese daughter Abuk (eight at the time) spend that evening with me. She spent a bit of time playing with the Prime Minister's daughter and taking in the marvelous displays of totem poles and the Great Hall.
It was only as I was partially through my speech that I looked down to see Jim Flaherty, the Finance Minister, seated near the front. His son was somehow involved in international development and Jim had been there in part to support him. There were times when I looked at him that he seemed genuinely moved. When I brought Abuk up to the front, he applauded just as hard as anyone else and seemed genuinely touched by her story.
When I was finished the audience rose in a standing ovation -- not so much for me but for the triumph of Abuk and her remarkable story. As I came down off the stage we were swamped by well-wishers. I talked to various journalists and MPs and Laureen Harper was gracious.
Then when I looked up, Jim Flaherty was facing me with a tear-stained face. I was in shock. We often faced one another across the aisle and it was easy to see when he was mirthful or angry. But always we greeted one another respectfully, despite our differences. But on this occasion he could say nothing. Whatever emotions were coursing through him, I have not doubt they were sincere, deep, and marvelously human.
And then, without any warning, he threw his arms around me and said, "Glen, thanks on behalf of all Canadians." Then he was overcome and immediately sat down on a chair.
Regardless of where one stands in their opinion of Jim Flaherty he was an emotional man who transferred those emotions to love of country. He instinctively understood that a story as genuine as Abuk's was a thing Canada could both embrace and be proud of. His patriotism went that far, and it was compelling.
In all honesty, I am in tears as I write this piece. At this moment, only hours following Jim's death, I find myself grieving for a public man gone too soon. These are the moments when politics just isn't big enough to embrace the human condition, any more than partisanship could prevail that night concerning Abuk's story.
Jim Flaherty was a man of full emotion, but in the end he was a human being capable of depth and empathy. I was a Liberal; he was a Conservative. But not once did that stop us from being civil. Say what you like, but I will miss those handshakes we briefly shared whenever we bumped into one another.
And I will never forget the phone call he gave me on the day my kids -- Abuk's brother and sister -- came to Canada from Sudan. He was emotional and fully in the moment. We were neither Conservative or Liberal -- we were fathers and his love for children was deep.
I said a prayer for Jim this afternoon, as we all should for his family. But my favourite image of him will be of a dignified man, fully encompassed in emotion, who was yet capable of embracing another father -- a Liberal father, even -- and touching that human nerve in me that is the basis of all our compassion.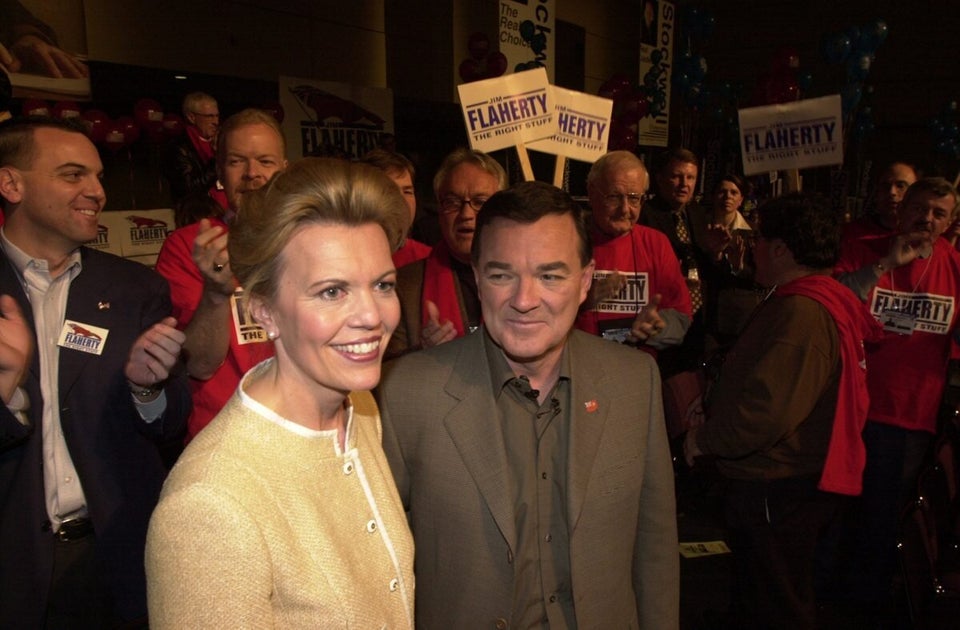 Jim Flaherty Through The Years