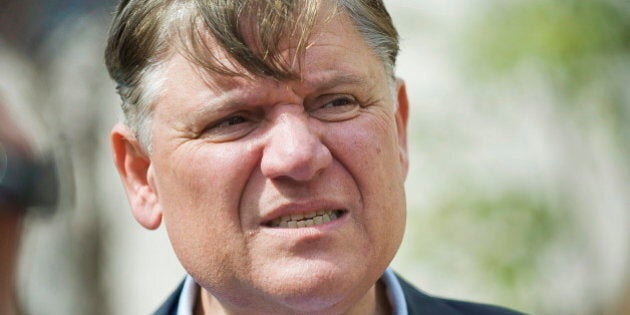 Amid news that 36 UberX drivers in Toronto have been charged with operating an "unlicensed limousine" service, a city councillor and former Liberal MP is warning that Uber users could face a $20,000 fine for using the service.
But the ride-sharing service says the councillor's warning amounts to little more than fearmongering.
"I want to warn Pan Am Games visitors that they risk being charged and fined up to $20,000 if they use any unlicensed bandit taxis like Uber in Ontario," said Jim Karygiannis, councillor for Scarborough-Agincourt, in a statement.
At a press conference Tuesday, Karygiannis — who served as a Liberal MP in Ottawa for 26 years, until 2014 — said "every person" who uses or operates an unlicensed taxi is liable for a fine under Ontario's Highway Traffic Act.
But Uber says the Highway Traffic Act applies to those who arrange rides and not passengers.
"Councillor Karygiannis' inaccurate comments this morning are clearly intended to invoke fear and come at a time when Toronto is welcoming the world to our great city," an Uber spokesperson said in a statement sent to media.
Karygiannis' assertion comes a day after Uber announced the Toronto launch of UberPOOL, a carpooling service intended to take advantage of the temporary HOV lanes on the city's freeways during the Pan Am Games. The lanes can only be used by vehicles with three or more occupants.
The service has received accolades from many on social media for helping them get to work faster.
The city of Toronto has charged 36 UberX drivers with violations of the Traffic Act, the Globe and Mail reported Tuesday, part of a growing confrontation between the city and the ride-sharing service.
Uber has said it will pay the fines incurred by Uber drivers, which will range from $300 to $500 — nowhere near the $20,000 cited in Karygiannis' statement.
"The set fine amount for these offences are $500 (for being a limousine owner without a license) and $300 (for a limousine who failed to get municipal approval of that vehicle), respectively, plus victim surcharge. The Provincial Offences Act maximum fine is $5,000," said Tracy Cook, executive director for municipal licensing and standards, as quoted in the National Post.
Karygiannis argued Tuesday that the judge's decision means passengers are now liable instead of the company.
"I believe Justice Dunphy's decision took Uber, the company, off the hook, and put UberX passengers and drivers into the frying pan. The courts, in their wisdom, have now added legal responsibility to passengers. Under the Ontario Highway Traffic Act passengers can be charged."
Uber said Tuesday no passengers have been charged for using UberX.
Popular in the Community