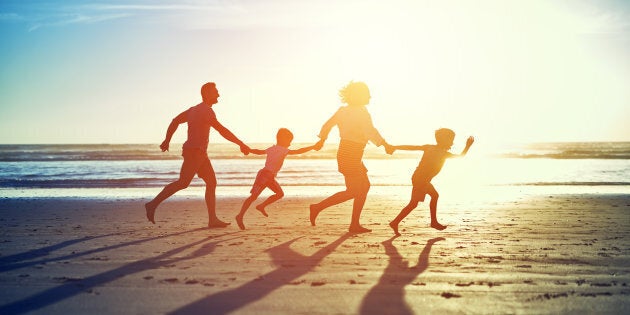 Despite a weak month in January, Canada's job market is booming these days. The jobless rate is near a four-decade low at 5.9 per cent and the country has created a stunning 289,000 jobs over the past year, an increase of 1.6 per cent, well above population growth.
Avalee Prehogan says she has rarely seen such a tight job market in her 29 years with human resource firm Robert Half.
"Right now we are in a very high demand situation, (with a) low supply of candidates," the senior regional manager told HuffPost Canada, adding it's "hard to keep up with demand" for employees.
For job-seekers, that's good news, not least because it means you can be more picky in seeking work these days.
Watch: The most in-demand jobs in Canada in 2018
So other than the obvious number-one priority — pay — what do Canadian job-seekers actually want from a job offer?
According to a survey carried out for Robert Half-owned temp agency Accountemps, vacation time is the next most important factor after pay.
Getting solid vacation benefits narrowly edged out career advancement prospects, with 26 per cent of respondents picking vacations to 25 per cent who chose career advancement.
But the responses differed by age group. Among younger (18 to 34) workers, career advancement won out 33 per cent to 23 per cent, but among those aged 35 to 54, vacations beat promotions 33 per cent to 23 per cent.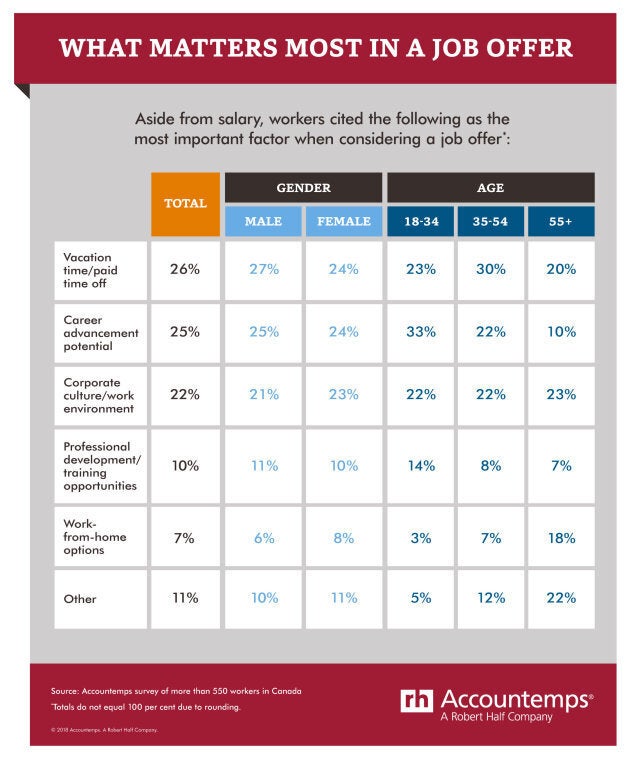 Prehogan says it makes sense that those who are younger are more focused on their careers, while those aged 35 to 54 are asking for time off.
"In that age group (people) have families, they want to spend time with their families," she said.
More need than ever to disconnect
But there's another reason why many people may see vacation time as more of a priority than in the past, Prehogan suggests.
"These days, we are so connected all the time," she said. "This is a really big thing. You get emails on Saturday night, Sunday. There is pressure to respond. People need to disconnect. I think that's part of the reason why vacation is becoming so important."
But obviously vacation time isn't all there is to it, Prehogan says, noting, for example, that housing costs are skyrocketing in some cities.
"Depending on the city, salary is very important," she said.
For hiring managers, the new environment means changes.
"Candidates today consider more than money when evaluating potential employers," said David King, Canadian president of Accountemps, in a statement.
"To remain competitive, hiring managers need to highlight what they offer beyond salary. Promoting flexible compensation packages that provide the benefits and professional resources employees value most will help to cultivate a more attractive corporate culture and engaging work environment."
But even in these heady days of booming jobs, King cautions job-seekers not to expect their prospective employers to offer them everything.
"Prepare a list of must-haves and identify where you are willing to compromise to pave the way for a positive and productive conversation," he said.