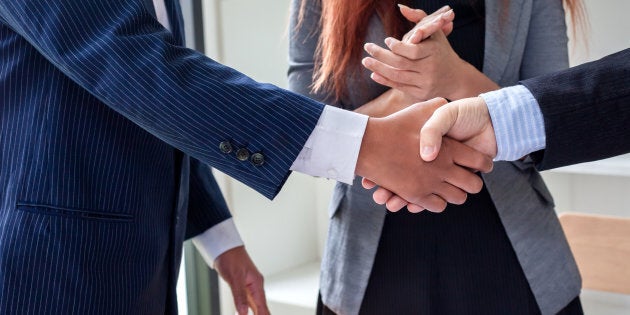 Canadian businesses are having a historically hard time finding employees, and the good news for workers is that pay is likely headed up.
The latest Help Wanted Report from the Canadian Federation of Independent Business (CFIB) showed Canada's job vacancy rate hit 3.1 per cent in the April-to-June quarter this year, the highest rate since the CFIB started tracking this data in 2004.
This means that for every 100 jobs in the country, more than three have been sitting empty for four months or longer. A job vacancy rate is sort of the opposite of an unemployment rate: The stronger the job market, the higher the vacancy rate.
Job openings concentrated in 3 provinces
Canada had 397,400 jobs sitting unfilled for four months or longer during the second quarter of the year. The vast majority of those jobs — more than 326,000, or 82 per cent — were located in Ontario, Quebec and British Columbia. (The three provinces have about 76 per cent of Canada's population.)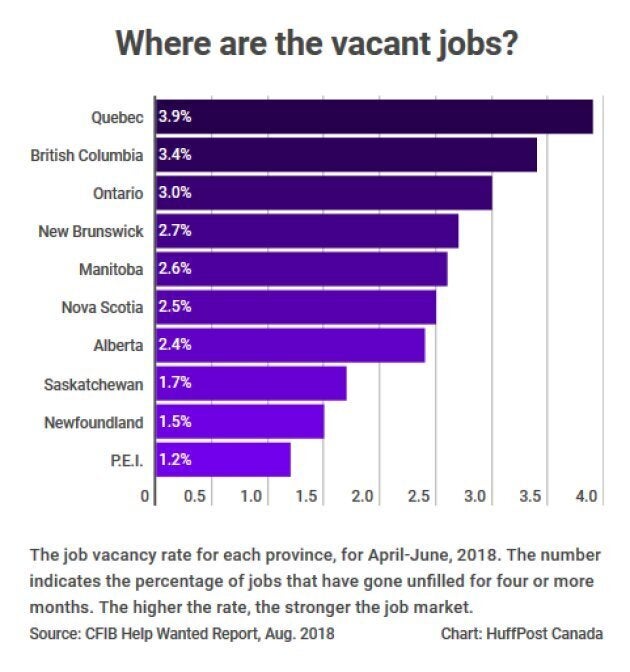 Quebec's job market stands out as the tightest in the country, no doubt related to the job boom the province has seen.
The province's jobless rate was 5.4 per cent in June, and the 5-per-cent rate it recorded at the end of last year was the lowest the province has seen in records going back to 1976.
CFIB vice-president and chief economist Ted Mallett suggested part of the reason for Quebec's success is the political stability the province has seen in recent years. With sovereignty fading as a political issue, businesses feel more confident investing in Quebec, Mallett told HuffPost Canada by phone.
"We haven't had that kind of certainty before," he said.
But Quebec businesses might also be struggling to find workers because they're not used to dealing with labour shortages, Mallett suggested.
Upward pressure on wages
Labour shortages can often be good for employees, as they tend to push companies to offer higher wages.
The CFIB survey found that companies with at least one job vacancy were planning wage hikes of 2.7 per cent this year, on average. Companies with no job vacancies are planning hikes of only 1.9 per cent this year.
Statistics Canada data showed wage growth in Canada reached a six-year high in May of this year, with wages up 3.6 per cent from a year earlier. Growth has stumbled somewhat since then.
Male-oriented, blue-collar work has largest shortages
Broken down by industry, some of the largest job shortages are to be found in blue-collar jobs traditionally dominated by men.
The construction industry clocked a 3.8 per cent job vacancy rate, no doubt the result of continued strength in new home construction. Also strong is the transport industry (3.4 per cent vacancy rate), and that may be a reflection of a growing trucker shortage in Canada.
Some trucking companies have said they are having a hard time filling jobs, as their baby boomer drivers retire faster than they can find younger drivers to replace them.
That trucker job boom could reverse itself fairly quickly, if self-driving trucks become a reality. Researchers have estimated that the U.S. alone could lose some 1.9 million jobs if trucks are automated.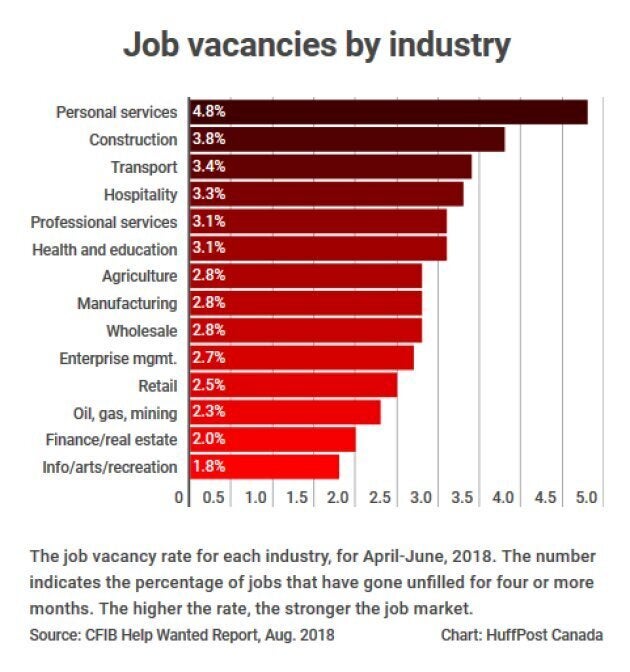 The largest job vacancies are to be found in the "personal services" category. That's a very broad grouping of jobs related to personal assistance in a variety of fields, including dry cleaners, hair salons, auto repair, furniture and appliance repair and funeral homes.
Mallett says this category has the highest vacancy rate because these businesses tend to be small, and smaller businesses have higher vacancy rates because they struggle more than large businesses with hiring the right people.
He expects Canada's strong job situation to continue for the time being, "barring any changes to conditions outside Canada's control."
Mallett cited the budding trade war with the U.S. and uncertain negotiations over the future of NAFTA as "possible difficulties ahead" for the job market.
Popular in the Community