Massage therapists and computer engineers, rejoice. Employers are hiring like mad in your fields.
If you work in retail, however, things aren't looking quite as good.
Statistics Canada's job vacancies report for the third quarter of 2016 shows many of the jobs that have seen the largest increase in openings are part of the "creative economy" — high-skilled, relatively high-paid jobs. That's a good sign for Canada's economy.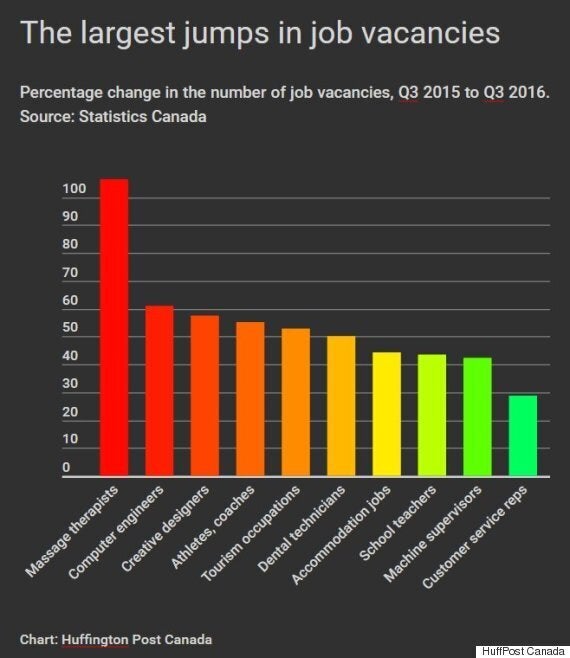 At the other end of the spectrum, demand for retail workers is fizzling. Retail managers (down 19.2 per cent), cashiers (down 47.5 per cent) and shelf stockers (down 67.1 per cent) have seen a considerable decrease in demand.
A lot of that drag seems to be coming from Alberta, which saw a 28-per-cent decline in job openings over the past year, led by a decline of 8,000 openings in retail.
It may also have something to do with the automation taking place in some retail outlets, as well as with food-price deflation, which is putting pressure on Canadian grocery stores' earnings.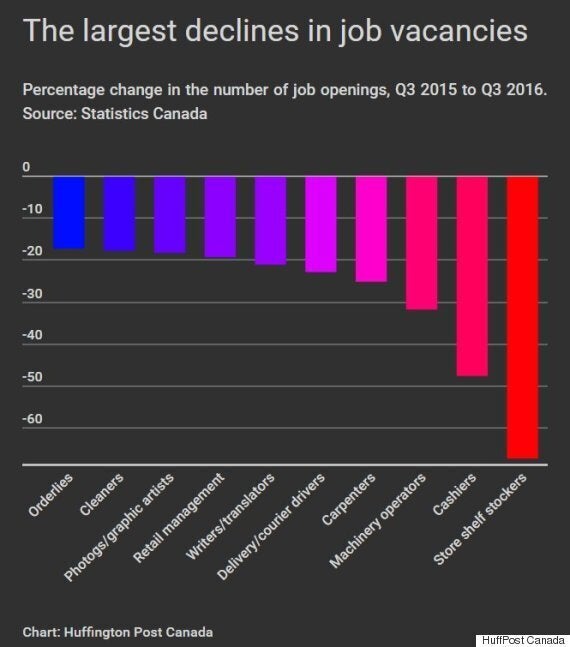 Overall, the number of job vacancies barely changed in Canada over the past year, rising to 402,000 in the third quarter of 2016 from 401,000 a year earlier.
"However, there were notable changes among the provinces and territories," StatsCan noted.
Ontario, Quebec and British Columbia were the only provinces to see an increase in job vacancies. Ontario led the way with an increase of 20,000 openings, followed by B.C. (up 5,700) and Quebec (up 4,800).
In total the remaining provinces saw openings shrink by nearly 30,000. That suggests that the overall national job market is treading water, but where you look for work these days could be just as important as what field you're in.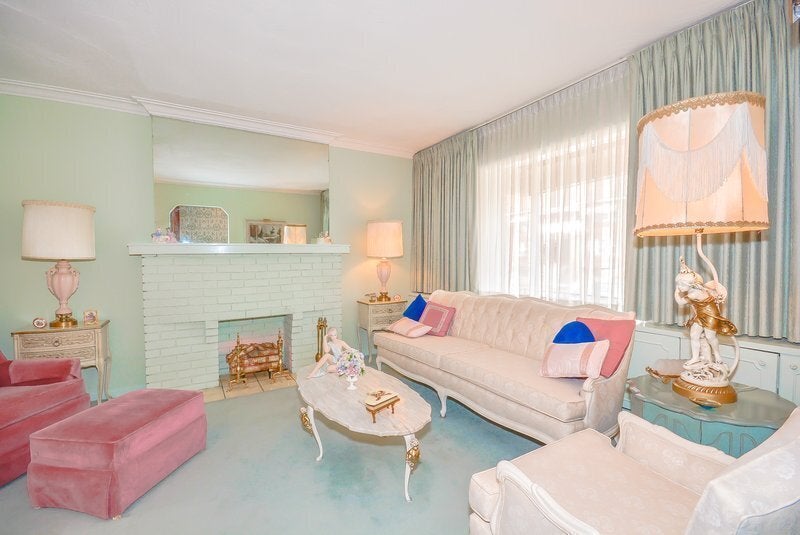 Jobs of the Future
Popular in the Community