A decades-old exchange between Jody Wilson-Raybould's father and former prime minister Pierre Trudeau took on added significance after she was named Canada's first indigenous justice minister.
In a clip that went viral this month, First Nations leader Bill Wilson is shown at the constitutional conference where he and others convinced Trudeau to formally entrench aboriginal and treaty rights in the 1982 Constitutional Act.
Wilson told Trudeau at the time that he had two children who, "for some misguided reason," wanted to become lawyers. But they set their sights even higher, he explained.
"Both of whom want to be the prime minister," he said. "Both of whom, Mr. Prime Minister, are women."
Trudeau's response that he would "stick around until they're ready" sparked guffaws.
But there was also some laughter at the notion a woman might one day lead Canada. Wilson's revelation that his ambitious kids were female seemed to be a kind of kicker for some at the meeting.
The justice minister told host Anna Maria Tremonti there was something "poetic" about the video, and the notion of fast-forwarding years ahead to "another prime minister Trudeau" tasking her with upholding the Charter rights of all Canadians.
"Do you remember the laughter around 'both of whom are women'?" Tremonti asked. "You are about 12 at the time, I guess."
Wilson-Raybould said she listened to the moment in her Grade 6 class but the laughter around those particular remarks didn't register then as they do today.
"I think that we've come a long way since then," she said. "There's a lot more that we can do to ensure we embrace diversity in our country, in our communities.
"This is one of the reasons why I'm so passionate and I got involved in federal politics — to ensure that the voices of all Canadians are heard and reflected in the decisions that we make together as a country."
'Of course we've faced discrimination'
The former B.C. Crown prosecutor and regional chief for the Assembly of First Nations was also asked how her experiences as an indigenous woman might shape the approach she takes in her new role.
"Of course we've faced discrimination," she said of her family. "I've also recognized that there is a continuing colonial legacy that exists (with) respect to First Nations and indigenous peoples in this country. But there are also examples in our communities of great success stories where we see empowerment and hope."
"There's a lot more that we can do to ensure we embrace diversity in our country, in our communities."
Wilson-Raybould was also asked about disproportionately high rates of incarceration for aboriginals. Tremonti cited government statistics from 2013 that showed aboriginal women make up 41 per cent of inmates and aboriginal men comprise 25 per cent, despite aboriginal people making up about four per cent of Canada's population.
"One of my objectives in this role is to reduce those numbers," she said, adding that she seeks to review the criminal justice system in a way that recognizes the contributing "root causes" of poverty, marginalization, and inequality.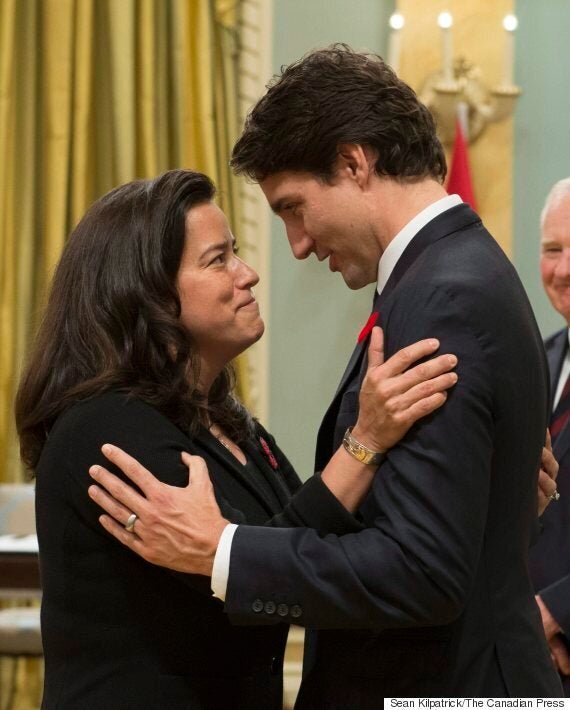 Minister of Justice and Attorney General of Canada Jody Wilson-Raybould is congratulated by Prime Minister Justin Trudeau after being sworn into cabinet. (Photo: Sean Kilpatrick/CP)
Wilson-Raybould also said the promised national inquiry into missing and murdered women will seek to get at "root causes" for why the tragic situation exists in the first place.
The report also shows one-third of Canadians accused of homicide in 2014 were aboriginal — a rate 10 times that of non-aboriginals.
When Tremonti asked Wilson-Raybould if she felt added pressure because of her background, Wilson-Raybould conceded the expectations for her are high.
"And I think rightfully so," she said.
With files from The Canadian Press, previous files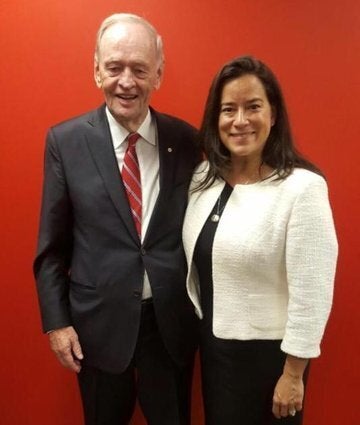 Meet Canada's Indigenous MPs