Former Liberal cabinet ministers Jody Wilson-Raybould and Jane Philpott will both run again this fall as independents.
"I know it will not be easy to run a campaign as an independent, there will be challenges," Wilson-Raybould told constituents in a community centre in her riding of Vancouver Granville. "But, with your support I am confident that running as an independent is the best way to go about it at this time, and the best way to transform our political culture."
Wilson-Raybould served as justice minister and attorney general before she was shuffled to Veterans Affairs in January. She quit the post in February amid allegations of political interference related to SNC-Lavalin.
Watch: A handy timeline of the SNC-Lavalin affair
She later testified before the House of Commons justice committee that, when she was attorney general, she faced months of "sustained" and inappropriate pressure from Trudeau and other officials from the Prime Minister's Office to intervene in the criminal prosecution of the Quebec engineering giant.
The prime minister ejected Wilson-Raybould and Philpott from the Liberal caucus days after Wilson-Raybould released a 17-minute recording of a phone conversation she had with former Privy Council clerk Michael Wernick that she said backed up her allegations of inappropriate pressure on the matter.
"It's been a challenging five months. I find myself in a place that I never expected to be," Wilson-Raybould said.
She circled back to the SNC-Lavalin affair, repeating that she was doing her job and "speaking her truth."
"I regret that it has come to this place," she said, adding that she thinks "some of the issues could have been resolved a lot sooner."
Her speech focused on convincing the audience of the advantages of having an independent member of the House. She said her "unconventional" background prior to federal politics has steeled her for campaigning as an independent.
As an Indigenous leader, she said her teachings have instilled a commitment to look for consensus. "While there are a diversity of views, tensions and challenges, we do not entrench them in political parties and we often frown on personal ambition," she said.
Wilson-Raybould was regional chief of the B.C. Assembly of First Nations when she was courted to run for the Liberal party four years ago.
Philpott says she has 'found her voice'
On the other side of the country, former cabinet minister Jane Philpott stood in a farm house in her riding to confirm that she would also be running in the fall election without a party banner.
The Markham-Stouffville MP, who like Wilson-Raybould was first elected in 2015, expressed her disappointment with partisan politics in Ottawa. She stepped down as Treasury Board president in the thick of the SNC-Lavalin affair, saying she had lost confidence in how Trudeau had handled the issue.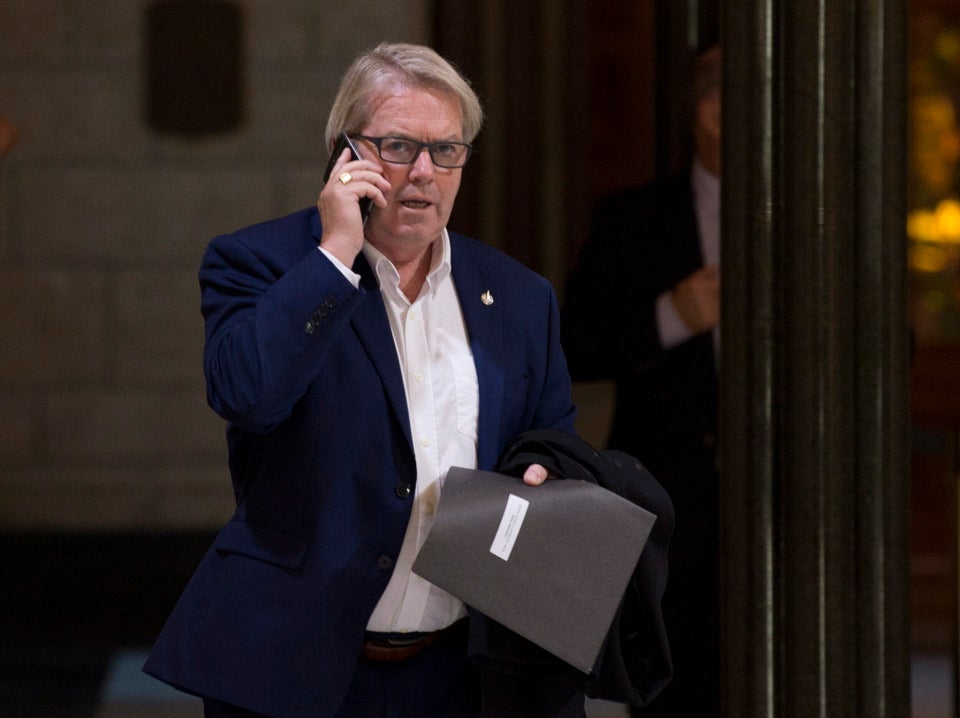 Liberal MPs Who Aren't Running In 2019
"I have actually enjoyed being an independent member of Parliament," she said, adding that she "found her voice" in the months following her "eviction" from the Liberal caucus.
Similar to the tenor of Wilson-Raybould's speech, Philpott deplored party politics, saying she doesn't have a party nor unelected government officials telling her how to vote anymore.
She was then asked if, in a hypothetical minority Liberal government scenario, she would consider voting with her former party. Philpott responded by saying "of course" she would support a minority situation "in a broad sense," not specific to the Liberals.
Optimistic, Philpott wondered out loud, "maybe the Liberals will decide the won't run anyone against me." She told the crowd gathered in the barn house in front of a "produce" sign to expect a positive campaign.
"We may only be one seat. But together, we can change the world," she said.
No new recruits for Greens
The co-ordinated announcements quashed earlier speculation that Wilson-Raybould and Philpott would run as Green Party candidates in the upcoming election.
Both women praised Green Party Leader Elizabeth May in their press conferences, particularly for her work on climate change. But after many conversations with May, both said the fit wasn't perfect.
Wilson-Raybould said she's not a "party person" and it's not her nature to "take a square peg and fit it into a round hole."
Philpott was more enthusiastic about her support for May. "She needs to be listened to," the former Treasury Board president said. "She and her Green team have outstanding ideas for the future of this planet — and I intend to be her ally."
Both Independent MPs wore white — a deliberate symbolic choice because "white goes with everything," Philpott explained.
May told reporters in Ottawa that she last spoke to the two women in a three-way call on Friday. At that point, May said, she thought there was a 50/50 chance they would come on board with the Greens.
It was her impression that both Wilson-Raybould and Philpott found partisan politics and the way things work in Ottawa "harder than they ever imagined."
The Green Party leader echoed the women's eagerness to work collaboratively, and quipped that if they had to agreed to join the party, that would have made working together "better."
Popular in the Community