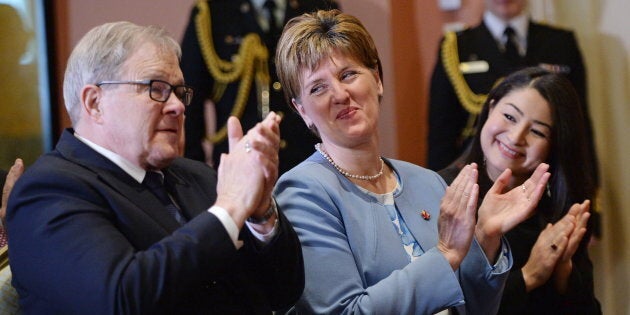 The three federal cabinet ministers shuffled to new portfolios after Jody Wilson-Raybould's resignation from the prime minister's inner circle have suggested they are comfortable seeing her removed from the Liberal caucus altogether.
On Friday morning, longtime P.E.I. MP Lawrence MacAulay was named the new veterans affairs minister, filling the void left by Wilson-Raybould's exit from the post last month. Defence Minister Harjit Sajjan had been doing double duty for weeks by serving as the interim point-person for veterans issues.
Quebec minister Marie-Claude Bibeau replaces MacAulay as agriculture minister — the first woman to serve in that role federally. Ontario's Maryam Monsef, already the minister for women, now also absorbs Bibeau's old job as international development minister.
Though Wilson-Raybould remains the Liberal MP for Vancouver Granville, she twice declined to confirm her support for Trudeau during her stunning testimony before the House of Commons justice committee Wednesday on the SNC-Lavalin affair.
The former attorney general told MPs that she faced "sustained" pressure for months from Trudeau, his key staffers, Canada's top public servant and the finance minister's office to help the Quebec engineering giant avoid a criminal trial through a remediation agreement. Trudeau has said he "completely disagrees" with his former attorney general's version of events.
Watch: Trudeau 'completely disagrees' with Wilson-Raybould's version on SNC-Lavalin affair
Her testimony has spurred Conservatives to demand Trudeau resign, while New Democrats renewed calls for a public inquiry. Tories have also asked the RCMP to investigate the whole affair.
"I know Jody quite well and these decisions are made by the prime minister and whatever decision that's made... I can live with any decision that is made," MacAulay said. "But I know Jody, a well-respected lady."
'I will live with it and I'm really a team player': Bibeau
Bibeau told reporters that the government is "working for much more than what's going on right now," including the fight against climate change, efforts towards reconciliation with Indigenous peoples, and infrastructure investments.
"I think this is really what motivates our caucus right now," she said. "And whatever decision will be taken by the prime minister and/or the (government) whip, I will live with it and I'm really a team player."
Monsef also replied that Wilson-Raybould's future as a Liberal is "ultimately the prime minister's decision."
When pressed again, Monsef noted how Trudeau said a day before that he is going to take time to reflect on Wilson-Raybould's place in caucus moving forward.
"I trust that judgment," Monsef said.
No problem with morale, new veterans affairs minister says
The ministers were also asked if Wilson-Raybould's resignation from cabinet and the wall-to-wall attention on the escalating scandal has made it difficult to focus and has harmed morale among Grits.
Bibeau put a positive spin on things, saying it's a moment "to work even closer together, to focus on what is really important to us." She highlighted a Statistics Canada report released this week showing there were more than 800,000 fewer people living in poverty in 2017.
MacAulay said it's clear the Liberal agenda of bringing more people into the middle class, creating jobs, and reducing poverty is working.
"I see no problem with morale," he offered. "We've got a job to do and we're doing it. Thank you very much."
Monsef said much the same, noting that over the past year Canada's unemployment rate reached its lowest levels in records going back 40 years.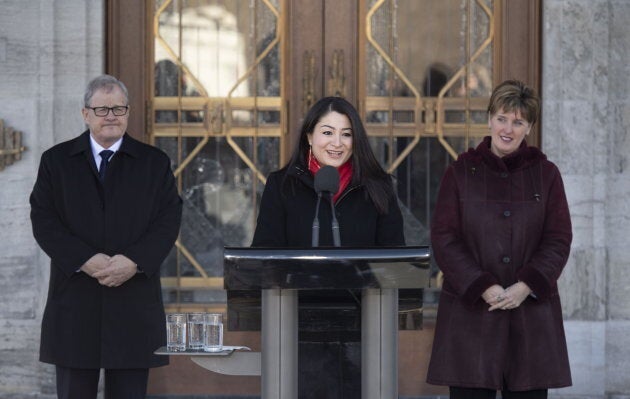 "There are systems in place in Canadian democracy to ensure that the questions that are before us on this matter are addressed appropriately," she said. Monsef was evidently referencing the ethics commissioner's investigation into the SNC-Lavalin affair and the ongoing probe at the justice committee.
"I have full trust and confidence in those institutions and in those systems," she said.
Wilson-Raybould told reporters after her testimony that she fully plans to stay a part of the Liberal caucus.
"I was elected as a Liberal member of Parliament and that hasn't changed," she said, adding that she doesn't anticipate being shown the door.
In one of the most memorable moments of her almost four-hour appearance before the committee, Liberal MP Randy Boissonnault asked Wilson-Raybould directly to answer if she still has confidence in the prime minister.
After a lengthy pause, Wilson-Raybould replied: "I'm not going to get into any conversations about why I resigned other than to say this. I resigned from cabinet because I did not have confidence to sit around the cabinet table."
Popular in the Community