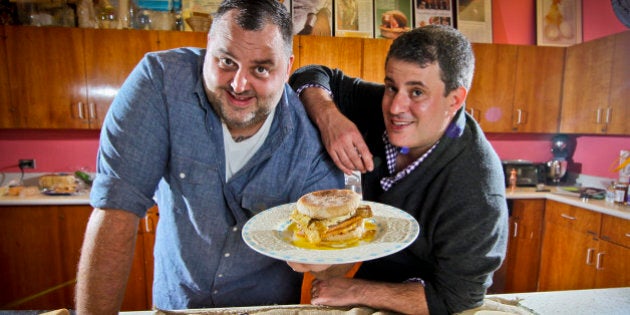 Joe Beef's Frédéric Morin and David McMillan may have helped to define the unpretentious and over-the-top popular food culture and obsession in Canada, but just like anything that becomes too trendy, they're so over it.
That counts for cronuts, ramen burgers, foodies with obscure knowledge about Italian liqueurs, and even MAD Food Camp, one of the world's most prestigious food symposiums — which they declined to attend this year.
"What's important is the work that we do with our families, with ourselves and inside our own restaurants," says McMillan. "What the food world has turned out to be is a travesty that we're not interested in being a part of so we're going back to square one and we're looking at the way we do everything."
That means embracing more of the simple French country cuisine they both love, being close to their young children and trying not to be distracted by fame outside Montreal's Little Burgundy neighbourhood they call home.
We spoke to the reluctantly renowned chefs about their beefs with the industry, the greatest food on earth, hipsters, monster penises and the other type of crack-coke.
What does "Canadian" food mean to you?
Fred: Sadly I was just having this conversation this morning with somebody on the street. Seriously, the problem with Canadian food, you know, what it means these days, it means a nice wrap at Tim Horton's and a nice double-double coffee... It's sad, our love for that, and I challenge you, if I blindfold you and I wheel you into a Canadian city anywhere between like Northern Ontario and Vancouver (if you don't look at any mountains around you), I challenge you to tell where you're at because there's going to be a Boston Pizza, an Earl's or a Tim Hortons.
What is one of the first things you crave to eat when you return home from abroad?
Dave: The truth of that though is protein shakes. We drink a lot of protein shakes. Protein shakes make you love food more.
Fred: It's not by eating crispy fried pork chops that you crave your next meal of crispy fried sweetbreads, eh?
Dave: Oatmeal for breakfast, protein shake for lunch and when you get around 5 o'clock you're just dying to have real food.
What's your favourite poison?
Dave: I've been on "oxycotton", otherwise knows as oxycontin, now for close to a month and a half because of my sciatic nerve and I'm very fond of it and I can understand why "oxycotton" is a problem. My prescription is running out, which is fine, but after that I guess it will be back to my wine. White wine. I drink natural white wines, really, low alcohol, mostly organic... As I get older now, we have less headaches drinking them... Fred likes the pear...
Fred: The pear spirit. Poire William.
Fred: You see, chartreuse is like a monster penis. There's not much about it that you can do but show it to your friends and talk about it. The reality is it's quite potent and painful. At 55 percent, there's not much you can do with that and the minute you put it in a cocktail, you turn yourself into a dude wearing suspenders and a moustache...
But the fact is, it's pleasant sometimes to see other types of people in your establishment than the people who are only seeking the latest food trends...like the guy with a stiff collar and his shirt tucked into his pants, or a young guy with a tight T-shirt that's brand new and not vintage, before there were the new hipsters.
Story continues after slideshow:
If you could prepare only one last meal, what would it be?
Fred: If I have to make my own last meal I've failed at my life. What kind of hateable, selfish fuck would I have as friends if they make me cook my own meal for my last meal. That better not happen.
Dave: I wouldn't let that happen, Fred.
What is the wildest thing ever you've done in a kitchen, culinary or otherwise?
Fred: I was trying to boil down Coca-Cola to see how much sugar there was in there and it was really bitter so I added baking soda to make like crack, Coca-Cola and baking soda, so it made a sticky mess. That was the first year at Joe Beef and then it ripped some hair off of my arm so I waxed my back with it.
Dave: We used to boil lamb fat down to make lanolin for chapstick and Fred used to want to moisturize my hands with homemade lanolin.
What is the best restaurant that no one's ever heard of?
Dave:Rodney's (Oyster House) in Toronto.
Fred: Rodney's makes me hungry just thinking about it.
Dave: Also, there's this restaurant in Maine that I'm a giant fan of, although I also get no respect when I go there, whatsoever. Street and Company in Portland Maine. They just do pan-fried fish, clams and oysters with the red creamer potatoes, sauteed garlic butter. Just the room though, the heavy timbers and the brick and the concrete bar just appeal to me. It's the one place where I feel like ...I get very, very, very, very, very excited to eat there...kind of like a small child going to a fair.
At the end of the day, if you have to cut out all the bullshit out of food, the best of the best, for me and Fred, will always be about eating clams, oysters, crabs, whelks...super fresh urchins, no cooking, just seafood and shellfish, prepared cold at a bar or anyway is the top of the top. No matter what cooks cook, the ultimate apex of food is wild caught shellfish.Everything else, an animal that's been fed and been touched in a fucking abattoir, has been put in a box, in a truck, and then brought to a restaurant...that a kid has touched and put in his fridge and sauteed in a pan and put in either too much salt, not enough salt, a bit of honey, not enough honey, too much vinegar...you know what I'm saying? Rock clam, shucked, super fresh, or steam clams, that's the number one food on earth.
What is the most memorable food city in the world?
Dave: Fred says Lyon, I say Paris still. Fred likes Paul Bocuse a lot, I just like small bistros. I love neighbourhood bistros that you've never heard of.
Which are some Montreal restaurants you would you recommend?
People go to Au Pied de Cochon, and again, eat the weird (foods). I had nice tuna at the Au Pied de Cochon the other day at the bar, with vegetables, which was very good...L'Express — for me always. I like Tuck Shop, I had a steak there the other day there that was delicious and it's down the street from there. Charming, little neighbourhood restaurant, wonderful. We still eat at Monkland Tavern too. We've been going to Monkland Tavern for 20 years.
What would you be doing if you couldn't be a chef?
Dave: I still have a hard-on to work in the fruits and vegetables section at Loblaw's. Just to be a fruits and vegetables clerk. I started doing that when I was a kid, from the age of 16 to 20. I'm very good at displaying fruits and vegetables. I know all the sizes and calibers of oranges and lemons and limes. I wouldn't mind ending my career and working at six in the morning in a fruits and vegetables store.
I think Fred right now would like to be a physical trainer...he's doing MMA (mixed martial arts) now. He's half the size he used to be. (He's lost 40 pounds.)
Fred: I'm getting punched in the face today.
Seriously though, would you ever consider leaving the food industry?
Fred: The food world has gone somewhere like so far removed reality...
Dave: It's not attractive right now, honestly, for us, to be associated to popular food culture. We went into this business over 20 years ago for personal kind of reasons because we associated perhaps with craftsmanship. Whether we would have be wood workers, gardeners, furniture makers, cabinet makers, mechanics, those are things that have attracted us to our business…
Dave: We're no longer doing MAD Food Camp. We were invited to speak there, it's people's dreams to do that, it's not to us, no disrespect to any of them there. We both agree we have nothing to to say or care to say about what we do to anyone.
Fred: I don't think that we think is important enough, sitting on a log in the middle of a circus tent talking to people about it... Fame, it's killing everybody. Everybody wants to be famous, everybody wants to have a famous doughnut…
Dave: I get recognized at the grocery store or in front of the restaurant and I'm embarrassed for the person to want to take their picture with me….I just find it an incredible invasion of my privacy to be at the grocery store with my children and have people following me around to see what I bought. It's not worth it. I just have a different skill set and education that doesn't permit me or my family or my entourage or my real friends don't permit me to act like a fucking douchebag. If I started fucking believing what people say about the stupid restaurant or if Fred started believing how people tell us we're so wonderful...
Fred: "Hey, you guys changed the neighbourbood, you guys are pioneers."
Dave: I'd punch Fred square in the face if he even had a touch of attitude and so would he to me.
Fred: And it's only food...whether it's olive oil on your asparagus or whether it's butter, whether it's hot or cold, whether there's enough salt, too little or too much, it's only food. You're eight hours short of it being shit….anyone sitting down talking about food like it's super political while there's 100,000 people dying in Syria...gathering proof that there were chemical weapons used on kids...
Dave:Alex Atala (beheaded) a chicken at Mad symposium on stage wearing a T-shirt that says "Death Happens" and while when I change applications on my phone and go to read the news, all I see is mothers holding their dead gassed babies. I have trouble taking anyone in my industry seriously that speaks on stage about how death happens. I don't want to be associated with that.
"Grilled" is a new regular chef interview that runs every other week. Who would you like to hear from next? Let us know at canadaliving@huffingtonpost.com.
Popular in the Community