Canadian clothing company Joe Fresh's garments were produced at the site of a factory collapse in Bangladesh that killed more than 80 people, the retailer confirmed Wednesday.
The company said it was "extremely saddened," and that the complex housed a factory that produced some apparel for its parent company Loblaws Inc.
Journalists from CBC's As It Happens and Global News earlier tweeted out a photo of a garment showing the Canadian retailer's label on a garment. The photo came from the Worker Rights Consortium, a group that lobbies for rights of workers in Third World countries. The group provided a copy of that image to HuffPost Canada adding in an interview that it hoped the company would provide support to the workers and their families.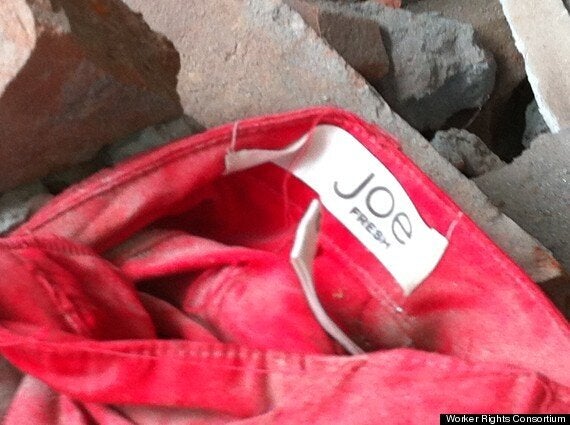 Image of a Joe Fresh label at the building collapse.
Joe Fresh released this statement to HuffPost Canada:
We are extremely saddened to learn of the collapse of a building complex in Bangladesh and our condolences go out to those affected by this tragedy. The large complex, housing a commercial bank and shopping mall, also included a factory that produced a small number of Joe Fresh apparel items for Loblaws Inc. We will be working with our vendor to understand how we may be able to assist them during this time.

Loblaws Inc. has vendor standards, which spell out the standard requirements of working with us to ensure that products are being manufactured in a socially responsible way, and specifically prohibiting child harassment and abuse or forced labour; and ensuring fair pay and benefits and compliance with applicable health and safety regulations. We audit against these standards on a regular basis.
Scott Nova, executive director of the Worker Rights Consortium, said in an interview that companies should be "move aggressively to offer aid and support to the families."
Nova was glad that the company admitted that it had garments made in the factory and urged the company to act quickly to help the victims and improve worker safety.
"The question is whether this is an ongoing supplier of the company," he told HuffPost. "If it was you have an obligation to make sure that workers rights and safety are respected."
Story continues below slideshow
Earlier, CNN Money citing rights groups named U.S. retailers The Children's Place and Dress Barn as retailers that may have had garments made at the factory. Worker Rights Consortium, the CNN report says, said Joe Fresh garments were made at the factory.
At least 87 people have died in the accident, although rescue workers were still on the scene freeing trapped workers.
"I gave them whistles, water, torchlights. I heard them cry. We can't leave them behind this way," said fire official Abul Khayer, according to the Associated Press. Rescue operations continued through the night.
"We sent two people inside the building, and we could rescue at least 20 people alive. They also told us that at least 100 to 150 people are injured and about 50 dead people are still trapped inside this floor," said Mohammad Humayun, a supervisor at one of the garment factories.
Tens of thousands of people gathered at the site, weeping and searching for family members. Firefighters and soldiers with drilling machines and cranes worked with volunteers to search for survivors.
The building had developed large cracks but managers assured workers that the building was safe.
Sumi, a 25-year-old worker who goes by one name, said she was sewing jeans on the fifth floor with at least 400 others when the building fell.
"It collapsed all of a sudden," she said. "No shaking, no indication. It just collapsed on us."
This latest disaster is not the first for Bangladesh's manufacturing sector. A fire in another Bangladeshi factory killed more than 100 people in November 2012. That factory had been making garments for Sears, Wal-Mart and Disney.
With files from the Associated Press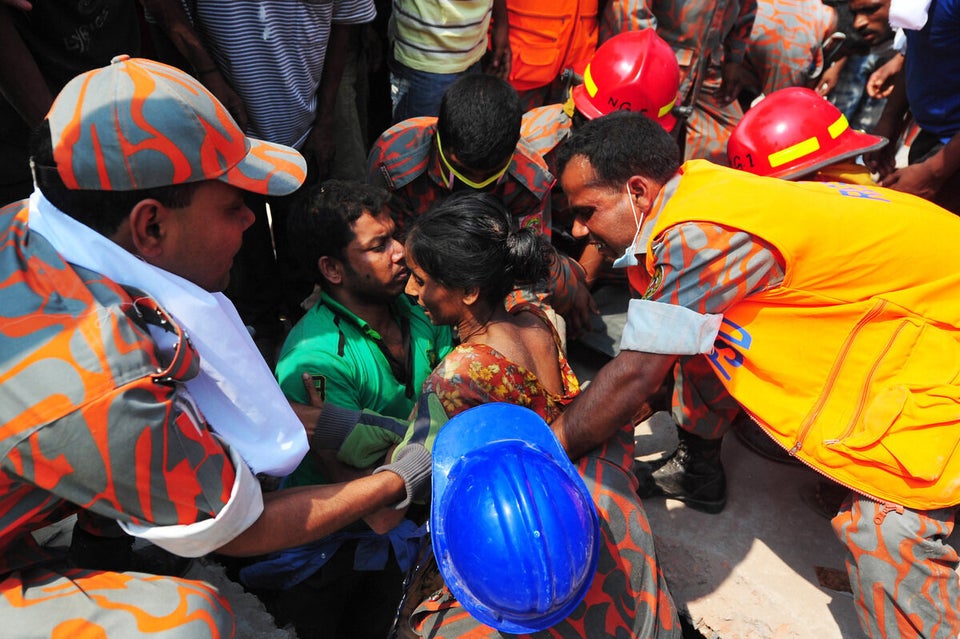 GRAPHIC WARNING Bangladesh Factory Collapses
Popular in the Community