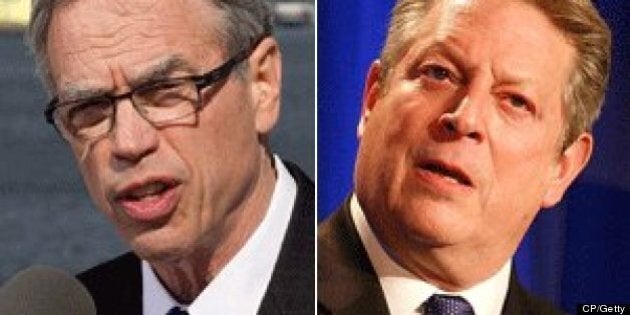 Natural Resources Minister Joe Oliver has accused former U.S. vice-president Al Gore of making "wildly inaccurate and exaggerated" claims about the Harper Tories' record on climate change.
The Nobel Peace Prize winner suggested Canada is suffering from a "resource curse," where revenue streams are tied to the exploitation of a single resource.
"The resource curse has multiple dimensions and [that includes] damage to some extremely beautiful landscapes, not to mention the core issue of adding to the reckless spewing of pollution into the Earth's atmosphere as if it's an open sewer," Gore said.
"Using words like 'open sewer' are unfortunate and an attempt to create an impression which is false," the minister told the Globe on Monday.
Gore's comments come at an inconvenient time for the minister who will be in Europe this week to fight what he sees as a discriminatory policy against Canadian crude.
Oliver will make a case against the European Union's new Fuel Quality Directive, which calls on fuel suppliers to reduce greenhouse gases and singles out oil from Alberta's oilsands as more polluting than others, The Toronto Sun reports.
Of course, this is not the first time the minister, seen as a pipeline prophet pushing the merits of both the Northern Gateway and Keystone XL proposals, has had to get his back up.
"They're in the hip pocket of the fossil fuel industry, as you can see, but that doesn't mean that the Canadian people are," he said.