The deaths of six men, shot from behind while they prayed at a Quebec City mosque, moved Joël Lightbound to rise in the House of Commons Wednesday to vow "never again."
Lightbound's riding is home to the Grand Mosque in the neighbourhood of Sainte-Foy — where Sunday's shooting took place. Speaking in French, the Louis-Hébert MP acknowledged his role as a witness to Islamophobia and for "not having done enough" to stem such hatred from spreading.
He addressed his statement to Quebec's Muslim community, "with whom [he] grew up."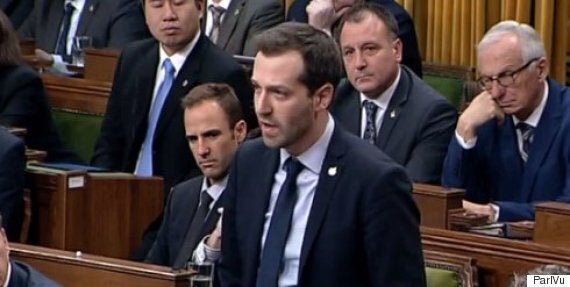 "I also want to apologize to them. I apologize for having observed stigmatization and ostracization over the past few years, having seen the mistrust, the fear, and the hatred among my peers. And having tried to respond, but not having done enough," Lightbound said, adding a warning that "silence also has consequences."
"You are at home in Sainte-Foy. You always will be," he said.
Despite the pledges of solidarity and emotion showed by municipal and provincial officials in the days after the mosque attack, the tributes don't gloss over the fact that the city doesn't have a Muslim cemetery.
"You are at home in Sainte-Foy. You always will be."
The five Muslim cemeteries in the province are all in the Montreal area. The bodies of five of the six victims who died in Sainte-Foy will be flown overseas to Algeria, Guinea, Morocco and Tunisia.
Quebec City mayor Régis Labeaume announced Wednesday there are preliminary plans to set aside space in a local cemetery for Muslims who want an Islamic burial.
But some, including the Grand Mosque's vice-president, aren't quick to buy Labeaume's words. It's a file Mohamed Labidi says has been in the works for the past 10 years with minimal progress.
Here's the English translation of Lightbound's remarks:
Mr. Speaker, Sunday night, a young man murdered six other men in my riding in cold blood, in a cowardly manner.

Khaled Belkacemi, Azzedine Soufiane, Aboubaker Thabti, Abdelkrim Hassane, Mamadou Tanou Barry, and Ibrahima Barry were fathers and husbands, brothers and sons, honest good men.

Today, I want to offer my most sincere condolences and prayers to all the families and the entire Muslim community of Quebec, with whom I grew up. And that helped me grow up in Sainte-Ursule and Saint-Benoît, in the Caravelles, in Rochebelle, throughout my life.

Today, I also want to apologize to them. I apologize for having observed stigmatization and ostracization over the past few years, having seen the mistrust, the fear, and the hatred among my peers. And having tried to respond, but not having done enough.

Silence also has consequences. Never again.

You are at home in Sainte-Foy. You always will be.

I sincerely hope that you will find the strength in your hearts to do what so many have refused for you and see through the great darkness in our society, and see the light that remains.

Assalaam alaykum.

(Peace be with you.)
With files from The Canadian Press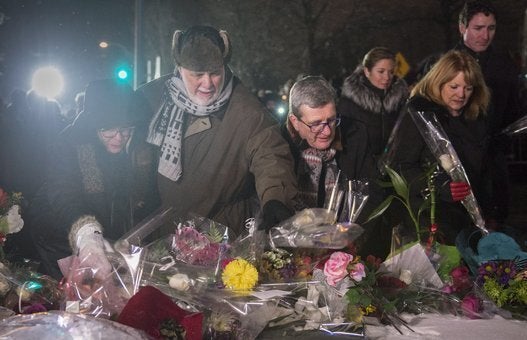 Vigil For Victims Of Quebec City Mosque Attack