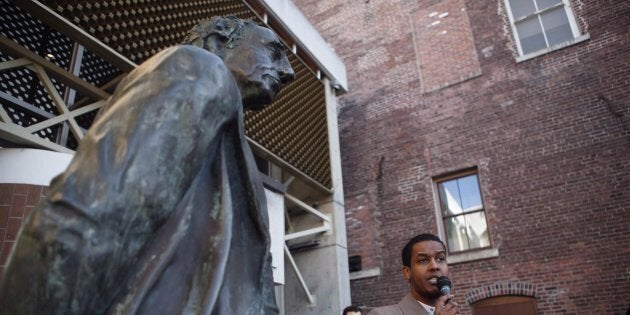 The City of Victoria won't entertain the Ontario's government's offer to give a "new home" to the statue of Sir John A. Macdonald that was recently taken down.
Victoria Mayor Lisa Helps announced the statue will be stored in a city facility until an "appropriate way to recontextualize Macdonald is determined." A plaque noting Macdonald's "complex history" as both prime minister and "leader of violence against Indigenous Peoples" already stands in the statue's place.
Ontario's Government House Leader Todd Smith told Helps in a letter last week that Canada's largest province would "proudly display" the statue on government property rather than see it "collect dust," The Toronto Sun reported.
A statue of Macdonald is already prominently displayed on the grounds of Queen's Park.
Helps told HuffPost Canada in an email Monday that the city has "no intention of getting rid of the statue," and will have "a continued dialogue with the nations and the community as to the best place, way and context to place the statue that balances commemoration with reconciliation."
In the Ontario legislature Monday, Progressive Conservative MPP Goldie Ghamari blasted the decision to remove the monument, which sparked heated debate well beyond British Columbia's capital city.
"These attempts to erase parts of our history do nothing to educate people and are only political correctness run amok," Ghamari said.
In a softball question, the MPP asked Tourism Minister Sylvia Jones what the Tory government would do to "preserve" Macdonald's legacy and encourage a more "fulsome teaching of history."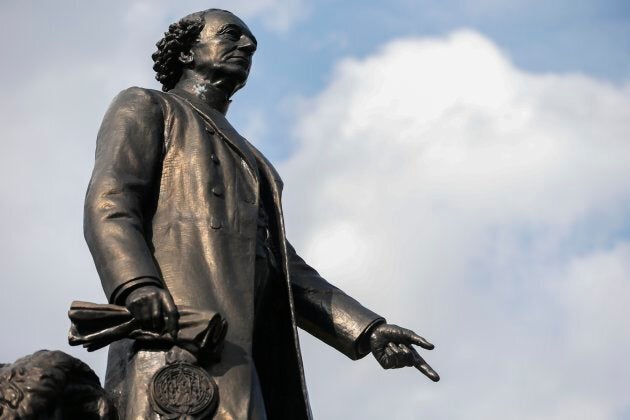 Jones lauded Macdonald as Canada's most important founding father.
"We would not be debating here today without Sir John A. MacDonald," she said, before noting the government's request to take ownership of the statue.
Ghamari responded by saying "1867 was a different time and we should not judge our founding fathers solely on the knowledge we possess today."
"There's no denying Sir John A.'s role in our history is a cause for much discussion because history is complicated, people are complicated," Jones said.
But neither Ghamari nor Jones said precisely what makes Macdonald's legacy so complicated: that he served as prime minister when when the federal government approved residential schools.
At least 150,000 Indigenous children were placed into the schools for more than 100 years, where many students faced profound physical and sexual abuse.
Watch the exchange at the 48:23 mark below:
Federal Conservative Leader Andrew Scheer weighed in on the issue last week by tweeting: "We should not allow political correctness to erase our history."
Scheer also made remarks on a B.C. radio show in which he suggested tearing down a monument to Macdonald, a central figure in Canada's history, was taking things too far.
"There's no one going to claim that every leading Canadian figure at any point in time was impeccable and perfect," Scheer said. "And I worry this can be extended down the line, and I worry for other key figures in Canadian history that could be the next target."
Last year, the federal Liberal government removed the name of Sir Hector-Louis Langevin, a father of Confederation who is considered the architect of residential schools, from the Ottawa building that houses the Prime Minister's Office. Langevin Block is now known as the Office of the Prime Minister and Privy Council.
However, Prime Minister Justin Trudeau said last summer that his government had "no plans" to erased Macdonald's name from federal buildings.
The Elementary Teachers' Federation of Ontario passed a motion last August calling for Macdonald's name to be removed from public elementary schools to acknowledge his "central role as the architect of genocide against Indigenous Peoples."
With files from The Canadian Press