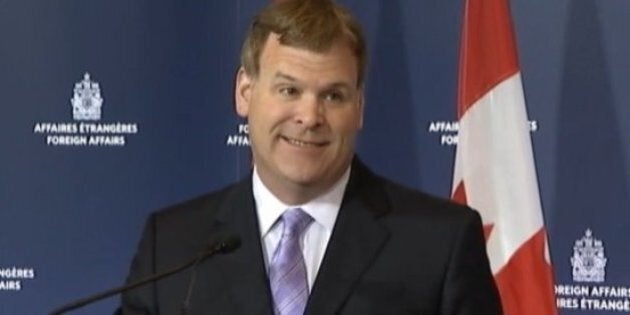 John Baird did not take kindly to a CBC journalist's question on the conflict in Gaza this week.
And, in true Baird fashion, he did not mince words.
After a press conference Tuesday in which he lamented Hamas' refusal to honour a ceasefire, the foreign affairs minister was asked why the Conservative Party has decided to "use this conflict in advertising to gain supporters?"
"I haven't seen that," he replied calmly.
But once the journalist explained that she was referencing tweets sent out from the party's official account, Baird got defensive.
"Is it the position of the CBC that a tweet is advertising?" he asked.
"It's a form of getting out to people," she said.
"In fairness, you're a member of our national broadcaster," Baird said. "We deserve better questions than that."
Sun News has raw video of the exchange:
On Monday, Tories issued a tweet slamming Omar Alghabra, a former Liberal MP and current candidate in the riding of Mississauga-Centre. The tweet links to a page soliciting donations.
The attack on Alghabra is related to a Facebook post he wrote over the weekend. Alghabra shared a news story on his personal page about Israeli airstrikes that killed four Palestinians. He wrote that his thoughts and prayers were "with the innocent civilians caught in blind and cruel bombing."
Alghabra told The Huffington Post Canada that, just minutes later, he edited his post to reflect that his thoughts and prayers were "with the innocent civilians, on both sides caught in bombing."
Conservative MP Costas Menegakis nonetheless issued a media release accusing Alghabra of delivering "anti-Israel messages" and attacking the Jewish state. Menegakis also repeated those charges on CBC's Power & Politics.
But Alghabra says he was trying to express a "Canadian moment of sympathy" for innocent civilians killed. He says his words have been misrepresented by Tories who are attempting to use the Middle East conflict for their own political gain.
"There is no limit to their ugly politics and no cause, no matter how tragic or serious it is, they are unwilling to exploit," he told HuffPost.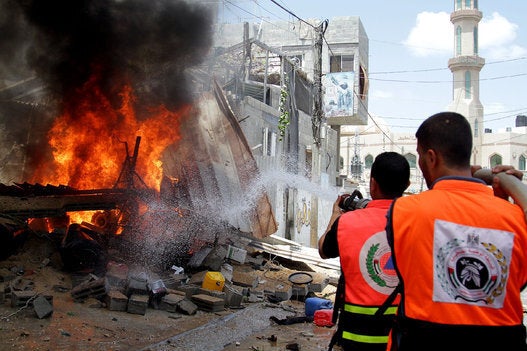 In Photos: The Conflict In Gaza