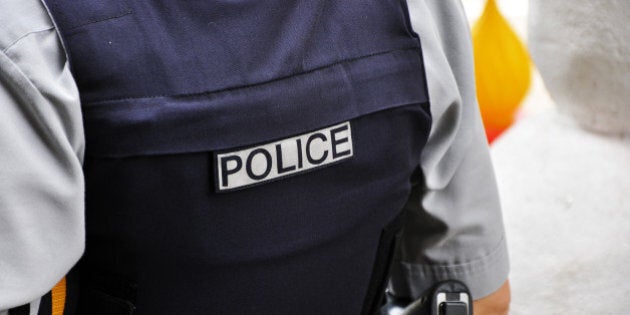 OTTAWA — The Conservative government is rushing to introduce legislation that expands law enforcement powers in ways that it may not need, retired Supreme Court justice John Major suggested Wednesday.
"It's a knee-jerk reaction because, I think, the government feels like they need to do something," the judge who led the inquiry into the 1985 Air India bombing told reporters. "They get constituents, undoubtedly, and people like the press saying 'What are you going to do about this,' so the impetus is to act quickly and, sometimes, not so wisely."
Major, along with fellow former justices Dennis O'Connor and Frank Iacobucci, was attending a conference on national security and human rights presented Wednesday by Amnesty International at the University of Ottawa. O'Connor and Iacobucci also led commissions of inquiries into the behaviour of Canadian officials during the Maher Arar case and the Abdullah Almalki, Ahmad Abou-Elmaati and Muayyed Nureddin cases, respectively.
Major told reporters that if the federal government cannot make the case for why the police or security agencies need more powers to keep Canadians safe, "it's my conclusion they don't need it."
"Like every Canadian, I wonder what is it they have, and what more they need? And I have an inherent fear, or concern, of arming a government with more power than they need to do an effective job," Major said. "So I think all these things need to be carefully reviewed."
The government, he added, should make sure it gives the Mounties enough resources to do their job rather than rush to assume that they need more powers.
Iacobucci told the audience he is also concerned that whenever incidents such as the ones last week happen, there is an immediate desire to change the laws and he said he is he's particularly concerned about the impact on Canada's Muslim community.
"I believe that we should be very careful about rushing to change laws immediately, because of the dangers that that can impose," he said. "If we rush to legislative resort, we have to be careful of what we are doing, in terms of over-reaching," he said.
Iacobucci suggested that fundamental freedoms, such as freedom of religion, freedom of association and freedom of expression, may be limited unnecessarily.
"What bothers me a lot is the spillover over into tainting a huge community, but still a minority community, that is the Muslim community," he said.
"We have historical examples in our country of that," he said, mentioning his own experience as a young child during the Second World War having to report to the RCMP monthly because his Italian family were considered enemy aliens. Justice Major also noted that he vividly remembers watching, as a seven-year-old boy, Japanese Canadians being rounded up and place in internment camps after the 1941 attack against Pearl Harbor.
"We need to be very, very concerned about … the overreach in what we are doing, in the struggle against terrorism, to marginalized groups in our society," Iacobucci said.
Another concern, the retired Supreme Court justice highlighted was regarding information sharing.
"There is a greater need for intelligence, global and regional, but we also have to worry: Both Arar and my inquiry are full of great examples about the concerns over information sharing. I think that is extremely important," he said.
The Arar Inquiry headed by O'Connor found that the RCMP had breached its own information-sharing policies, provided U.S. officials with inaccurate information labelling Arar and his wife as Islamist extremists with suspected ties to al-Qaida. It noted insufficient internal controls over its investigations and weak training of investigators.
The Conservative government says it plans introduce new anti-terror legislation in the coming weeks that would strengthen police powers of surveillance, detention and arrest.
Justice Minister Peter MacKay confirmed Wednesday that the government is looking at legislation that could make it illegal to condone a terrorist attack on the Internet.
RCMP Commissioner Bob Paulson told senators earlier this week that he would like to make it easier for police to monitor suspects even without sufficient evidence to charge them.
He said he believes police should not have to get consent from the Attorney General in order to ask the court for a peace bond against a person who is a threat to national security. A peace bond places restrictions on an individual's movement, perhaps by requiring regular check-ins with authorities, or prohibits them from contacting certain people, driving a vehicle or possessing firearms or ammunition.
Paulson said he also favours lowering the threshold for belief that an offence has been committed or that a person has been involved in such an offence to a "reasonable suspicion" rather than a "reasonable belief."
He also told senators that he needs the power to obtain information more easily.
"Information has become very difficult to come by," he said. "Privacy interests are very strong." He added that he wants help "getting information perhaps relating to Internet registration or getting information in respect of telephone numbers."
Canada's privacy commissioner urged the federal government on Wednesday to adopt an "evidence-based approach" in any legislation granting additional powers to intelligence and law enforcement agencies.
"Canadians both expect and are entitled to equal protection for their privacy and access rights and for their security," the commissioners wrote in a press release.
They noted that the federal government has not yet adopted a handful of recommendations made in the Arar report.
Justice Major also expressed frustration that an "incompetent" Harper government had ignored his recommendations, dealing with x-ray screening of cargo in airplanes, homegrown terrorism, terrorism financing and more funding for CSIS and the RCMP.
He said his most important recommendation – that a national security advisor be housed in the Justice department to referee CSIS-RCMP disputes – had been completely misunderstood.
"[Public Safety Minister Vic] Toews, speaking publicly, said there were a number of things that they would do, but he couldn't agree with the suggestion that there be a department of national security appointed because that would involve a whole new department in the government, several personnel, unusual expense," Major recounted.
"Now, there is two conclusions," he said. "One, that Toews never read the report, and that may be the more charitable, or that he was so stupid he didn't understand the report," Major said.
His major finding was that if the RCMP and CSIS had each known what the other knew, they could have foiled the attack.
In the House of Commons, opposition MPs wanted the government to agree to create an all-party committee that could provide parliamentary oversight to Canada's security agencies.
The government refused to budge.
Prime Minister Stephen Harper said Communications Security Establishment Canada (CSEC) and Canadian Security Intelligence Service (CSIS) have effective oversight bodies that have "long concluded that these organizations respect their mandates within the law and do a good job of protecting Canadians," he said. "It is a system that works and we will continue moving forward."
CSIS's oversight body, the Security Intelligence Review Committee, noted in the annual report it tabled last week, however, that it was encountering significant delays in receiving information from the agency. More seriously, the committee said it was "seriously misled" by CSIS and that the service has failed to proactively disclose highly relevant information.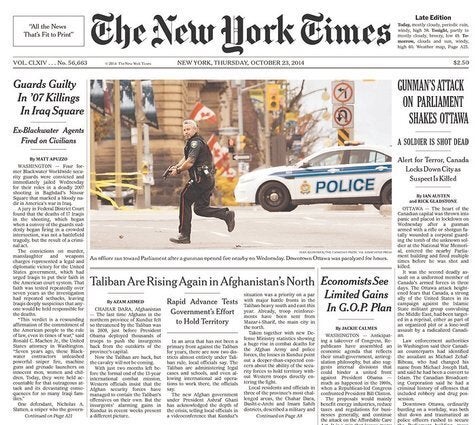 Newspaper Coverage Of Ottawa Shooting