John McCain revived fears last night that the Canadian border is "porous" and would make an easy entry point for attacks against the United States.
During a tense debate with former White House spokesman Jay Carney, the Republican senator and former presidential candidate argued that even though there is no specific threat to the U.S. from ISIS, there is still reason to be afraid.
McCain said that he has been warned in committee hearings that Twitter and Facebook posts from ISIS urge attacks on the U.S. The senator is a member of Senate committees on Armed Services, Foreign Relations and Homeland Security and Governmental Affairs.
McCain went on to warn that both the Mexican and Canadian borders are probably entry points for ISIS terrorists.
"There is a great concern that our southern border, and our northern border, is porous and that they will be coming across," he said.
McCain was steadfast in his assertion that ISIS presents a danger to U.S. citizens at home, but admitted there is no specific threat.
"So is there a specific direct threat? No. But is there any doubt as to what their goal is? Mr. Baghdadi [ISIS leader Abu Bakr al-Baghdadi], the day he left our prison in Iraq, Camp Bucca, said 'See you in New Yotrk.'"
Jason Tamming, spokesperson for Public Safety Minister Steven Blaney, said he could not comment on "operational matters of national security" but touted the Conservative government's anti-terror efforts and a 26 per cent increase in the number of front-line border guards.
McCain's warnings about Canada come after the publication of a video that allegedly shows a man dressed as an ISIS terrorist successfully entering the United States by crossing Lake Erie from Canada. The video was produced by James O'Keefe, a well-known conserative activist who has been criticized for using deceptive editing in his videos.
In 2010, O'Keefe pled guilty to entering federal property under false pretenses, after a failed attempt to record Democratic Senator Mary Landrieu at her offices.
McCain appeared on CNN soon after President Obama's televised address announcing that U.S. will launch air strikes against ISIS wherever it is, including in Syria. Obama also said the U.S. will send 475 "service members" to Iraq.
The move came one year after Obama sought congressional approval for strikes against Syrian President Bashar al-Assad's regime. Amid widespread public opposition, Congress chose not to approve the plan.
In his speech Wednesday, Obama said Congress can approve the strikes in Syria if it chooses, but that he will proceed with our without them. There is considerable debate about whether Obama has the legal authority to do this.
Syria is mired in a complex civil war between Assad's minority Alawite regime and a loose coalition of Shia and Sunni opposition groups. ISIS is among the Sunni groups and has come to control large swathes of territory in both Syria and Iraq.
ISIS is therefore at war with the Assad government, the very regime Obama sought to attack last year.
ISIS, which calls itself the Islamic State, has received international attention after a string of stunning victories in Syria and Iraq over the last several months. The group's recent beheading of two American journalists, announced via internet videos, has raised the group's profile even further.
However, while ISIS has garnered significant attention from politicians and the media, there are doubts regarding whether the group poses much of a threat to the U.S. homeland.
The New York Times reported Wednesday that "American intelligence agencies have concluded that it poses no immediate threat to the United States" and that many experts and officials "believe that the actual danger posed by ISIS has been distorted in hours of television punditry and alarmist statements by politicians."
On Wednesday, Obama warned that American citizens, trained abroad by ISIS, may return home to carry out attacks on Americans, but said the intelligence community is not aware of any "specific plotting."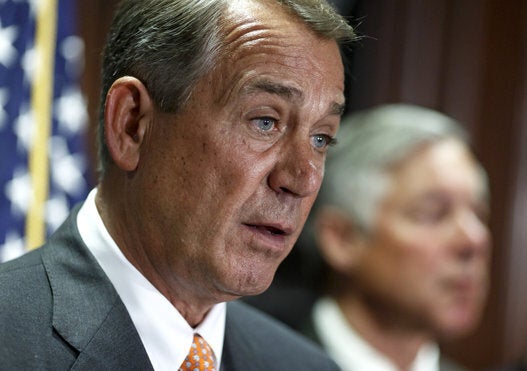 Politicians On Obama's ISIS Speech