Comments John Tory made about women, golf, and the gender pay gap could be coming back to haunt him less than three weeks before election day.
A group calling itself "Citizens For A Progressive Toronto" has released an attack ad against Tory, the frontrunner to become the next mayor of Toronto, accusing him of being "out of touch" with women.
A new website has also been created highlighting Tory's "conservative record," past support for Rob Ford and controversies during his time as leader of the Ontario Progressive Conservatives.
The ad targets Tory's earlier remarks about the pay gap between men and women and his suggestion that young women should learn to play golf to improve career prospects.
Watch the full ad, which will air during prime-time television, below:
In a press release, Progressive Toronto spokesperson and Unifor representative Jenny Ahn suggested Tory is headed for the same fate as former Ontario PC Tim Hudak, who lost a provincial election in June many thought he would win. Third-party advertising from public sector unions warned voters not to support Hudak, who had vowed to slash 100,000 public sector jobs in four years.
"Voters reconsidered their early support of Tim Hudak when informed of his policies and record," she said in the release. "The same will hold true for John Tory who is just as out of touch with Toronto's values."
The group is not directly associated with Olivia Chow but The National Post reports it is comprised of four unions that have endorsed the former NDP MP — CUPE National, United Steelworkers, UFCW and Unifor.
Jamey Heath, Chow's spokesperson, told The Post: "Like Kathleen Wynne, we think it valuable for third parties to warn people about conservatives."
But Tory's campaign is dismissing the ad as a Hail Mary attempt to turn around Chow's faltering campaign. For nearly a month, polls have suggested Chow has slipped to third place behind Tory and Doug Ford.
"These ads use themes and language that have been used by Olivia Chow in the past and are a desperate, 11th-hour attempt to revive her flagging campaign," Tory spokersperson Amanda Galbraith told The Toronto Sun. "They won't work."
Galbraith told The Sun that Tory has done plenty to support women throughout his career, including leading a fundraising campaign to establish the Women's Legal Education and Action Fund (LEAF).
The Tory campaign, meanwhile, is celebrating the release of what it calls a "positive" new ad focused on their SmartTrack transit plan.
On Thursday, Coun. Denzil Minnan-Wong publicly endorsed Tory, calling him someone who can work collaboratively with council.
When asked about the attack ad by reporters, Tory said he was proud to stand on his record and added that Toronto voters are becoming "weighed down by the negativity" in the campaign.
Toronto voters head to the polls on Oct. 27.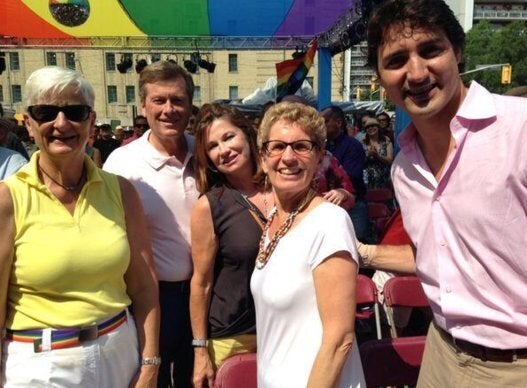 John Tory Tweets Pics With Top Tories, Grits