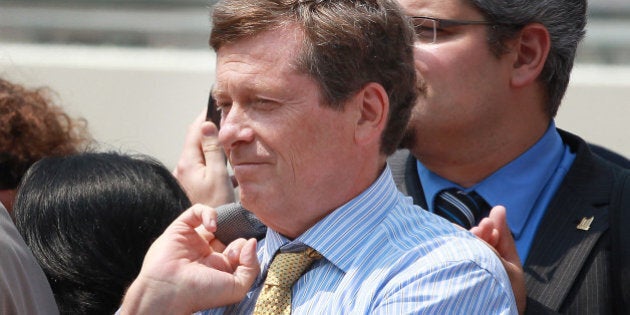 Remember when John Tory's top priority was a subway relief line?
He was so keen about building the Yonge Street Relief Line. So very keen, he often sounded like Rob Ford, demonizing Olivia for wanting a mix of above- and below-ground rail. Irrespective of expert advice, he vowed to start "immediately," because it's "job one."
Ah, the clarity of yesterday, as printed in the Toronto Star on April 4: "I said at my [campaign] launch I would make the Yonge Street Relief Line priority number one. And I meant it."
Not so. Now there's a new priority and faster than you can say Eurasia was never at war with Oceania, yesterday's priority is gone. Poof. "The wrong line at the wrong time." "A case of the cure being worse than the disease." Perish the thought Tory mused about a subway at all, his campaign now claims.
This will be news to anyone watching this video around the 4:35 mark; or listening to this radio interview around 1:15. News to the most casual mayoral observer, come to think of it.
Some say it doesn't matter what he said before. That a detail like what a candidate's uber-priority was after it is dropped it is picayune. I disagree.
If the Parti Québécois sung "O Canada" in English, the news wouldn't be what a nice song it is. Should Stephen Harper decide free trade is bunk, he'd have a hard time championing protectionism. And if the UK Independence Party decided the European Union isn't so bad, its leader wouldn't spend the day musing about nice parts of Brussels to call home.
Quite rightly, they would explain why deeply held priorities are deeply held no longer, which Tory refuses to do. The subway relief line, after all, isn't his first foray into flip-floppery. He has already reversed himself on food carts, the promising Eglinton Connects project in Midtown, and whether shovels can start digging next year -- not in 2019, when they will -- for underground rail to Scarborough.
He's a flip-flopper. Worse, he's flip-flopping while denying he is, on an issue that can ill-afford his indecision. Someone unable to keep track of what his own top priority is for a few months running for office won't show different stripes once there.
But it's how he flip-flopped, the extent of intellectual dishonesty and transit ignorance that he showed along the way that's revealing. An example: Olivia delivered a speech about identifying and financing long-term transit priorities, including a subway relief line. Tory allowed his team to play a game online, tweeting out pics. A stunt so bereft of accuracy or wit, it was roundly mocked.
Tory wants it both ways. He'd like to smear others for correctly saying we couldn't build a subway relief line "immediately." And he'd like to be seen as a details man. The two do not go hand-in-hand. We already have one mayor opposed to facts. Another would be two too many.
The truth is Tory's new priority is different from his old one. The head of the TTC agrees. Andy Byford said only a subway can be a subway relief line. So it's silly for Tory to claim, as he does, that his new priority is a relief line when it is not.
Instead, it's an idea that's been around for a while. Council supports it. Olivia has spoken about it in Parliament. It's not without its merits, or problems, but a relief line it is not. As Tabatha Southey from the Globe and Mail quipped, by Tory's logic, we could call a car pool a relief line.
Our city can't afford this level of cynicism. If Tory wants to change his mind, he should say so. Practice, surely, has made perfect by now.
Meanwhile, Olivia has clear short-, medium- and long-term priorities. She'd improve service right now, with better bus service. She'd serve more people, with four more stops, by keeping the ready-to-go plan to build above-ground rail to Scarborough. It will move people four years faster than underground rail.
She will also ask, as experts suggest, that Ottawa and Queen's Park join the city in building a relief line. As in a relief line: moving roughly north-south, underground, kinda close to Yonge Street. The kind of Yonge Street Relief Line that not so long ago was Tory's top priority.
Not anymore. Thus, the massive Tory flip-flop.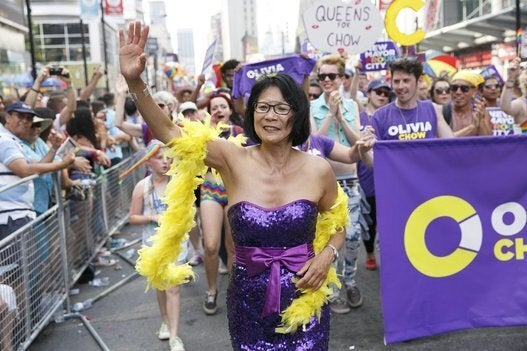 Olivia Chow Through The Years