It's the ending of an era at "The Daily Show."
During a taping on Tuesday, Jon Stewart announced he will be leaving his hosting duties.
For the better part of the last two decades, we have had the incredible honor and privilege of working with Jon Stewart. His comedic brilliance is second to none. Jon has been at the heart of Comedy Central, championing and nurturing the best talent in the industry, in front of an behind the camera. Through his unique voice and vision, The Daily Show has become a cultural touchstone for millions of fans and an unparalleled platform for political comedy that will endure for years to come.
Stewart will remain with "The Daily Show" until the end of the year.
"He is a comic genius, generous with his time and talend, and will always be a part of the Comedy Central family," the network said.
Comedians quickly reacted over news of the 52-year-old's upcoming departure.
Someone even suggested a possible candidate to replace Stewart.
Stewart originally arrived on "The Daily Show" set in 1999, replacing host Craig Kilborn. Over the course of 16 years, the show has repeatedly made politicians and news media the butt of jokes.
It's critical analysis and satirical take on news garnered a loyal following, attracting a stream of writing talent through doors. Among its alumni are "Last Week Tonight" host John Oliver and incoming "Late Show" host Stephen Colbert.
The show has also attracted a series of high-profile guests including a memorable exchange with U.S. President Barack Obama, who agreed to sit opposite to Stewart in 2012. It was one of the president's most challenging interviews, according to former White House press secretary Jay Carney.
"I think if you look back at 2012 and the series of interviews the sitting president of the United States gave, probably the toughest interview he had was with Jon Stewart," said Carney to CBS' Major Garrett last year, calling it likely the "most substantive" one Obama endured in the election year.
One piece of evidence used to justify Bahari's imprisonment was a clip of an appearance he made on Stewart's show.
Under Stewart's leadership, the award-winning show has made a lasting impact on audiences by balancing substance and entertainment.
A 2014 study by the Brookings Institution and the Public Religion Research Institute polled viewers on which news sources Americans trust most – ranking Stewart on top of MSNBC.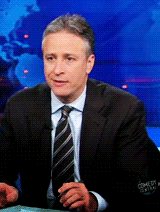 Jon Stewart GIFs