But if you ask Jon Stewart, no one knows how to turn a gaffe into a big deal like Fox News.
Dubbed the #lattesalute, the furor dates back to last week, when an Instagram video from the White House showed Obama saluting members of the Marine Corps with a coffee in hand. Some online were critical of the U.S. leader for being disrespectful to soldiers.
That outrage eventually moved to TV, with Fox News dedicating multiple segments slamming the President's actions as "outlandish" and "disappointing".
Stewart's response to the network's coverage? "F*** your false patriotism". Watch the clip above for the full Daily Show segment.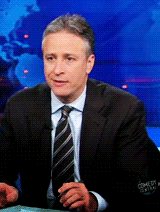 Jon Stewart GIFs