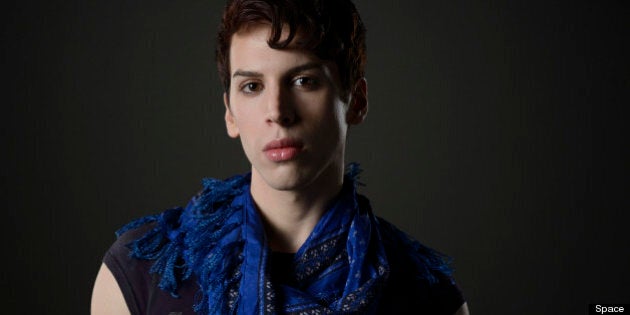 Raise your hand if you thought Jordan Gavaris, who plays the hilarious Felix on sci-fi sensation "Orphan Black," is British. I'm guilty of that misclassification, and in my "Orphan Black" review nearly published a description of him as "British actor." The reality is Gavaris is Canadian, a local boy who grew up just outside of Toronto, but you wouldn't know it.
As heavily-accented Felix, Gavaris is an almost-scene-stealer; I say "almost" because lead actress Tatiana Maslany (Sarah, Alison, Cosima, etc.) is such a wonder in her own right. The two depict foster siblings so seamlessly that it's hard to believe they aren't related in real life, or at least old, dear friends.
HuffPost TV spoke with Gavaris about this breakthrough show, how he feels about the lone dissenting critic, and what's in store for Felix in Season 2 (we have a suggestion, producers/writers!).
OK, so it's a bit weird talking to you without your accent.
Yeah, a lot of people tell me it's jarring, but there isn't a trace of British in me at all.
How crazy is it to be a part of such an insane show like "Orphan Black"?
It's been a whirlwind. When I signed on, I thought I was doing a very ambitious little Canadian show. I thought it might find a viewer base and we might get a couple seasons out of it, if we were lucky. And now I'm very embarrassed because I was very wrong. It took off. I knew the script was good, but in Canada you're never quite sure how much money the production team has access to. I'm really shocked, so, so happy and slightly terrified. We've been renewed and that almost never happens, so it'll be a challenge to top what we've done in the first season.
And BBC picked it up as well. Now the British are going to be judging your accent!
Oh, I know. That's the thing. Now I'm going to be under scrutiny of the British public. I've gotten away with it in the States and in Canada, but I don't know about England! [Laughs]
Did you love this role right from the start?
Completely. I was salivating over it. There were a lot of pilot scripts floating around, but to completely honest with you, a lot of the parts were going to names. For "Orphan Black," all I got was the pilot script and that was enough for me. I was daydreaming about this part. I kept thinking about how certain scenes were going to play out and how these interactions were going to take place.
Is it fun to escape into the world of Felix, or is it daunting at all?
Daunting in the beginning, and then it got really fun. I was terrified I was going to fail at the start, but then as soon as I got a hold on the character, I relaxed. Once I get fully absorbed into the character ... I mean, my life isn't that exciting! I can't say and do the things Felix does in the world. I had so much fun every day. I did more improvising in the makeup trailer than I did on set. [Laughs]
Speaking of that, what do you bring aesthetically to the character of Felix?
I don't bring a particular item of clothing, but I have a lot of say in terms of hair and makeup. I was invited to a concept meeting, which almost never happens. I brought a binder full of stuff, it was like the "Studio 54" folks, Billy Idol, Mick Jagger ... a lot of these glam rockers from the '70s. Occasionally, I'd be out in Toronto between shoots and I'd find something really lovely for Felix's loft. One day I found one red shoe on Queen East and I picked it up and it's an art piece now in the corner. That was my contribution to the production design. [Laughs]
Everyone's going to be looking for the red shoe now.
Look for the red shoe! [Laughs]
Felix is an essential component to the show -- do you agree?
I knew I'd have to go there -- completely -- with Felix, and risk offending people in the process. I understand who Felix is and what he provides to the show. He balances the clone saga so well, and he adds all these points of levity. Otherwise, the script would be this cataclysmic spiral into the darkness. There needs to be balance. Even in the face of tragedy, human beings need to find a way to laugh. It's normal. It's life.
The origin of Felix is there in the seventh episode -- he and Sarah learn about how, sometimes, children who need to be hidden come down the pipeline. We find out that Felix needs to be hidden but we don't know why. He came through the same pipeline as Sarah, but we don't know what his origins are. But mostly, the finale is the showdown. The showdown everybody has been waiting for between Sarah and what we think is the big baddie. I can't reveal any more than that, other than Felix tries to help facilitate some of it. There's a showdown with payoff. The audience won't be disappointed at all.
I don't know a lot about it. The writers keep that stuff under wraps, because they're afraid we're going to telegraph some of it if we know. I think Felix is going to grow beyond a support system and foster brother for Sarah.
You know what they're going to do? They're going to make you a clone too, and then there will be 10 Felixes. You could try and seduce yourself!
You know that Felix would instantly try to seduce himself. [Laughs] But yeah, if I get revealed as a clone, that would be phenomenal. I'm totally up to the challenge.
Have you received any particular feedback from the LGBT community about your character?
I've actually received mixed reactions. Some people are so excited that there's such an uninhibited character on television, especially in terms of his sexuality, but then there's the flipside, some people -- not in the gay community, in the straight community ... actually, it was a columnist named Bill Harris, who expressed his distaste over the fact that the character was home to some very ugly stereotypes. My problem with that is this: It is not OK, as a society, to collectively decide that you are going to represent one version of a minority. Why is it only OK to represent the traditional gay families raising a child with well-adjusted, great parents and wonderful jobs? It's great that those people are represented, and it's important to normalize this, but it's also important to represent the other side.
I've met men like Felix. They exist. That's why I think it's not fair to debase the character. I also think he's not a gay character. He's a character who happens to be gay. He's also an artist, he's a brother, he's multi-faceted. It needs to get to a point where these kinds of questions don't even exist. We need to get to a point where it's normalized on TV.
Catch the "Orphan Black" Season 1 finale on Space in Canada and BBC America in the U.S. on Saturday, June 1 at 9 p.m. ET.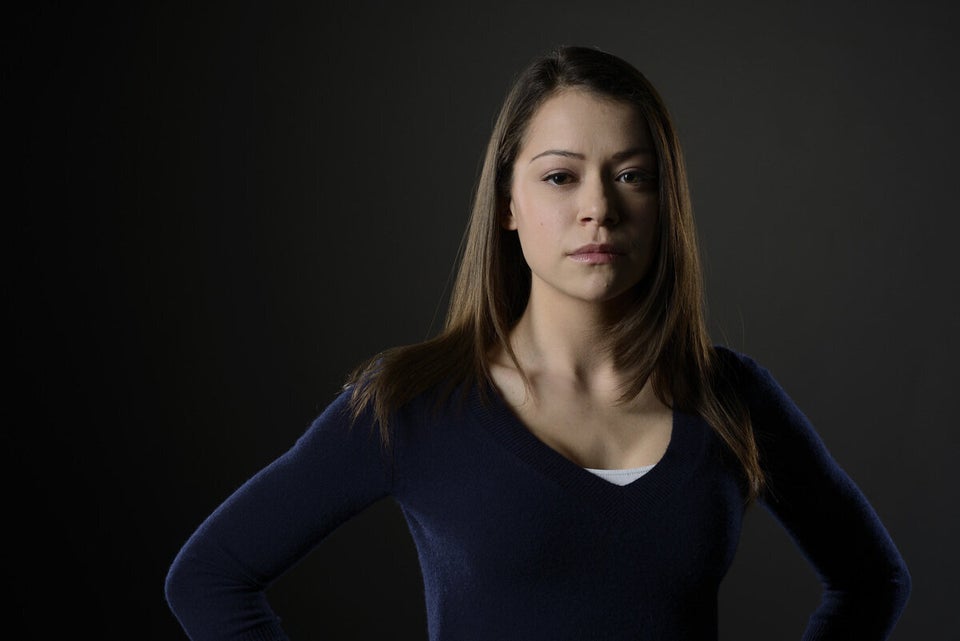 "Orphan Black"