OTTAWA — A Liberal candidate in British Columbia's Lower Mainland is standing by comments she made on Facebook saying that marijuana causes no harm to children and decreases domestic violence, and that the Canadian Cancer Society supports big pharma.
South Surrey–White Rock candidate Joy Davies told The Huffington Post Canada on Wednesday that she believes Canadians are ill-informed about the benefits and risks of marijuana.
Health Canada has "harmed millions of Canadians," she said, by preventing easy access to marijuana to those suffering with chronic pain.
UPDATE - Sept. 9, 2015: Joy Davies has resigned as the Liberal candidate in South Surrey–White Rock. The party issued a statement that her views did not reflect the values or the policies of the party.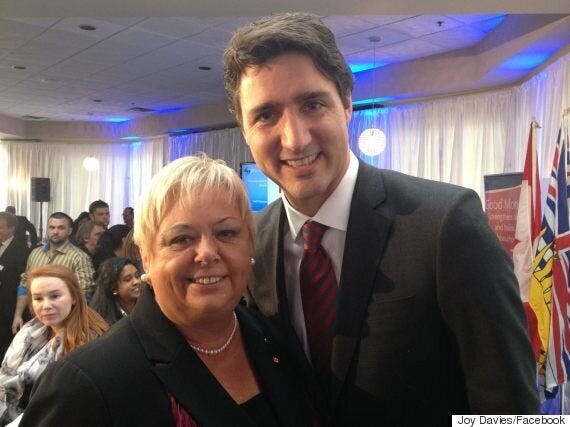 Joy Davies, the Liberal candidate in South Surrey–White Rock, poses for a photo with Liberal Leader Justin Trudeau in June.
But her opponent in the hotly contested riding — a former safe Tory seat — believes Davies is out of touch with the riding's priorities.
Her Conservative foe, former Surrey mayor Dianne Watts, told HuffPost that kids shouldn't be exposed to pot — growing or smoking it — and that for her rival to suggest otherwise shows "bad judgment."
"To suggest that marijuana is OK to smoke with children in the house is ridiculous," Watts said.
"When there are children in the house, the mould, the mildew, all of those things absolutely affect children, and there is no way you can get around that if you're growing marijuana in a home."
Riding residents are focused on the economy, security issues and refugee questions, she added.
"Clearly that the candidate has her agenda, and it's something that was a No. 1 priority for Justin [Trudeau]," Watts said referring to the Liberal leader's stand on legalizing pot.
"As far as I'm concerned there are other issues that are significantly more important that we need to be dealing with."
'More pot = less domestic violence'
Davies told HuffPost she isn't running on her marijuana position.
"Cannabis is not my campaign, but I understand the controversy, and I understand my riding as well and I just want to let people realize [that this] is about dignity. Governments need to allow us our dignity as human beings," she said.
Several Facebook posts from 2013 and 2014 show Davies, a former councillor in Tumbler Ridge, B.C., promoting and defending pot users' rights.
She also posted in 2013: "There is NO HARM in our children being in a home where cannabis is growing."
Davies was responding to news that a 10-year-old boy visiting his dad in Oregon had been taken away by family services and placed in foster care because his mom was a pot activist in Canada.
In an interview with HuffPost, however, Davies went further, stating that there is no harm at all for children to be in a home where parents smoke pot and she quoted a study that suggested mothers could smoke weed during pregnancy without risk.
"The children of the mothers who used it during pregnancy had higher IQs and were better socially established than the children whose mothers didn't," she said.
"The harm that has happened to families is a harm caused by bad laws, by people not researched, by propaganda, by stigmatism, by families being ripped apart," she added. "Ms. Watts is not a research-based person on this issue."
If there is mould in someone's home, Davies said, it's because organized crime is behind it. Government-licensed producers who have had mould have had to shut down, she added.
"[Watts is] referring to organized crime, and she throws people with health issues under the bus and in the same pot as criminals."
"Cannabis has never hurt anybody by being around it," Davies added.
"I've never seen any harm, have you?"
Shared links suggesting pot can cure cancer
Davies said she didn't join the Liberals because of Trudeau's stance on legalizing weed but, as a founding member of the Canadian Medical Cannabis Partners Society, has been a longtime advocate for medical marijuana.
"I'm just really inspired by Justin himself. We live in a time where it's been very heavy, and I really wanted to see an inspirational leader."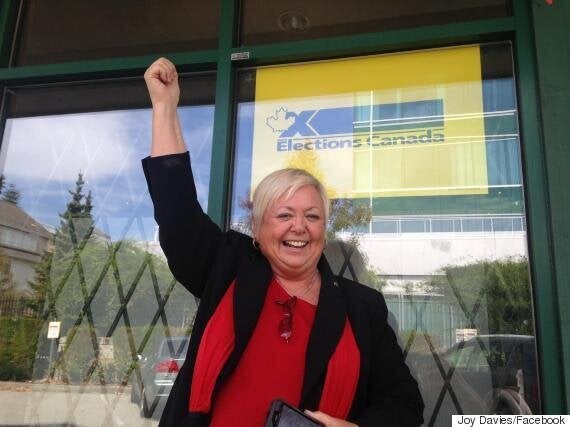 Joy Davies celebrates after being verified by Elections Canada as a federal candidate on Aug. 28.
She described herself as a former Conservative who decided that the party's values no longer align with hers.
"I'm a person who totally believes in our Charter of Rights and Freedoms, and I want a balanced economy, and I want to take care of those who can't take care of themselves.
"It's not so much legalization but regulation that I want to see. But I believe that each person has the right to choose what goes into their body for food or medicine.
"If people want to stand on their head in a yoga pose on a railway track, or use cannabis or go watch a hockey game — whatever their choices are — that's their personal choice, and they are not hurting anyone. There is no science that shows harm in cannabis."
The former head of the Canadian Medical Association, Dr. Louis Hugo Francescutti, might disagree.
He told reporters last year that doctors should not be forced to authorize medical marijuana since it is not known how the drug works.
"[W]e don't know how it works, we don't know when it works, for who it works," he said. "Where are the studies? We try to base what we do on evidence."
Davies said she believes, just as she said on Facebook in 2014, that big pharma is stopping research into cannabis "because they cannot profit from it" since it's a plant that can't be patented.
She said she still blames the cancer society for promoting big pharma: "They don't do research on everything; they only do research on pharmaceuticals."
Davies has shared several links that suggest marijuana can cure cancer, and she told HuffPost that some research shows pot could cure brain tumours in children as well as melanoma.
There isn't enough research, she said, so patients are having to do their research and doctors are reluctant to work with them because "doctors are not educated enough."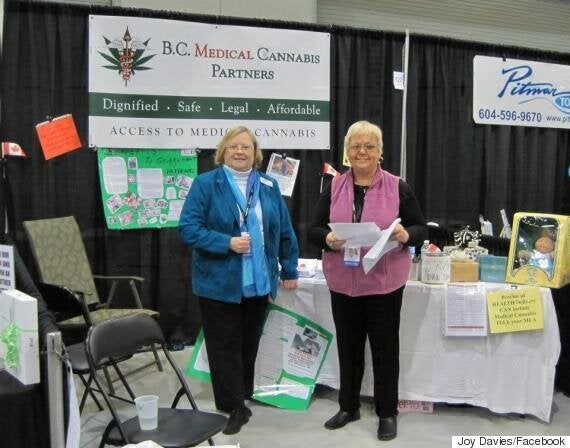 Joy Davies, on the right in a 2013 photo, is a founding member of the Canadian Medical Cannabis Partners Society.
Davies told HuffPost she started using marijuana after a 1997 car accident left her suffering from fibromyalgia. She still uses half a gram daily, usually in an oil form but sometimes in a baked good or through a vaporizer.
"I … was in bed for five years, suffering on 13 pharmaceuticals, and friends brought me these funny-looking cigarettes," she said. "I don't drink or smoke or any of that. They just said it was medicine. That was in 2003."
She said she feels wonderful after using cannabis and is pleased to be off pharmaceuticals.
"I have a life, and I am out of bed, and I play with my grandchildren, and my brain is functioning beautifully, and I can go dance again."
She has a licence for five grams a day, she said, which she buys from a licensed legal supplier.
Both of her two adult children were diagnosed with cancer and one is using cannabis oil, she said.
"It will stop the growth of new tumours, that is what the science is showing," she said.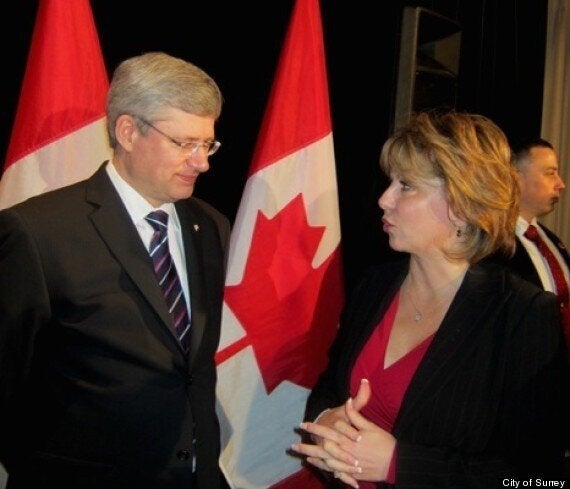 Former Surrey mayor Dianne Watts, seen with Conservative Leader Stephen Harper, is running for the Tories against Liberal Joy Davies.
Davies said she has always led her life in a transparent manner. She acknowledged, however, that she is running in a conservative-leaning riding with many social conservatives and that her marijuana advocacy could cause a backlash against her and her party.
The new riding of South Surrey–White Rock should be a safe Tory seat. South Surrey–White Rock–Cloverdale, from which the current riding was formed, had been represented by Conservative Russ Hiebert since 2004 and the NDP came in distant second in 2011. The Tories received close to 53 per cent of support when the last election's results are transposed on the new boundaries, and the NDP and Liberals each received about 19 per cent support.
But Hiebert is not running again, and polls suggest a lot of volatility in B.C., so Davies is feeling pretty confident.
Seat projections by the Laurier Institute for the Study of Public Policy's Barry Kay suggest South Surrey–White Rock is too close to call.
Watts is a star candidate who would likely be a shoo-in for cabinet should she and the Tories win.
Davies won a contested nomination to become the Liberal candidate earlier this year. She said she went back and forth with party officials during the green-light process and that they were aware of her views.
She is expected to attend a rally with Trudeau on Thursday morning in Vancouver.
CORRECTION: A previous version of this story identified Dr. Louis Hugo Francescutti as the head of the Canadian Medical Association, when in fact, he is a past-president. A previous version also said both of Davies' children use cannabis oil to treat cancer, when in fact, just one does. This version has been updated.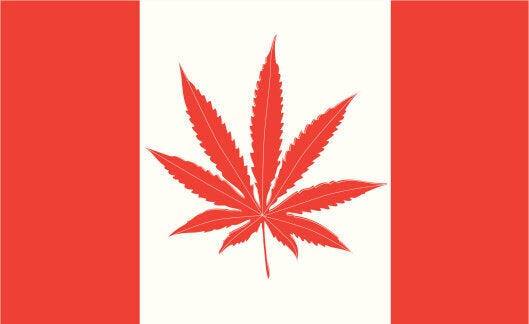 Which Province Smokes The Most Pot?