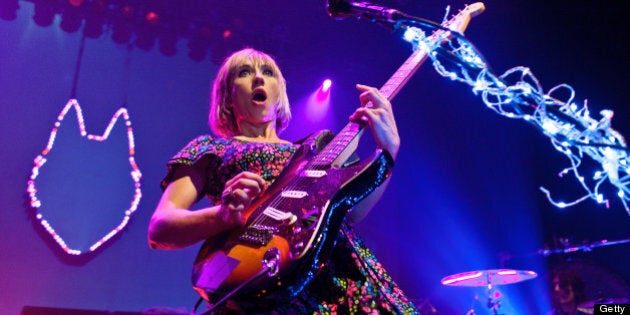 Ritzy Bryan, leader of Welsh rockers The Joy Formidable, isn't the only female rock guitarist out there, but she is one of few commanding stadium-sized audience of late. It's a bit sad really that in 2013 girls with guitars are still rare enough to warrant special notice, but there is small comfort in the fact that googling Bryan reveals more people looking up her guitar rig than whether or not she has a boyfriend.
Bryan learned classical guitar at the age of 7, and picked up her first Fender Strat at 13. When asked "why guitar?" she offers a rather practical explanation:
"Well, I couldn't play the flute. The harp was too big. The violin too much of a nuisance to those around me," she tells HuffPost. "The guitar was the obvious choice really because I was really passionate about it at a young age. I'm quite self-taught on electric guitar, though. I've put in lots of hours in my bedroom. I never did that with singing — no hairbrush practice in front of the mirror."
As a vocalist, Bryan is a powerhouse. It's one of the reasons The Joy Formidable (which also includes Rydian Dafydd on bass and drummer Matthew James Thomas) can hold its own as opening act for bands like Muse and the Foo Fighters: their whole sound is larger than life. On the band's latest album, "Wolf's Law," they've super-sized the mix of '70s prog, '80s dream-pop and '90s alt-rock that put them on the map in 2011 with the appropriately titled "The Big Roar" and its hit single "Whirring."
New tunes like the beastly, stentorian "Maw Maw Song" and the gigantic, grungy "Cholla" are made for the biggest stages, which the power trio will hit this weekend at Ottawa Bluesfest and Quebec City's Festival D'été. (Bryan says she's looking forward to returning to Quebec where "it's quite surreal how much they scream, even to the quiet songs.")
Playing outdoor festivals will also allow the band to indulge in its penchant for that most sprawling of rock genres: prog.
"What I love about prog is the spontaneity, the freedom of interpretation," she says. "It's a very exciting live music experience. I try to bring that to my performance, to lose myself in the musical moments. We always tell people we don't take requests, but at the same time, it's important not to just go through the motions."
As for her position as role model for young women musicians, Bryan says it's important to support them without making too much of a big deal of gender.
"I don't want to ever be too patronizing, because sometime it just becomes a marketing angle. But there are some really great female players and bands out there, and we share their stories," she says.
"It is hard to call the shots in a male-dominated industry, and we do need to address that part of the machine. I'm very passionate about that, and as a frontwoman I'm very much at the creative helm. But I've always been a songwriter in a band first, and we write and we sing what we want to sing about. Gender politics is not part of the discussion."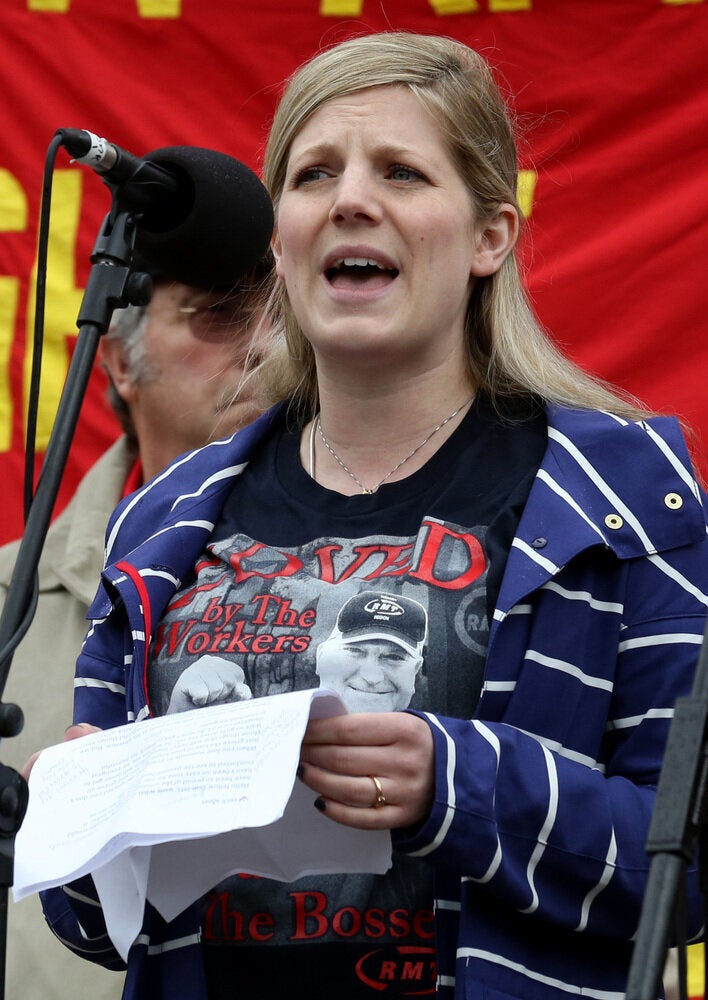 15 May Day Songs For Working Class Heroes