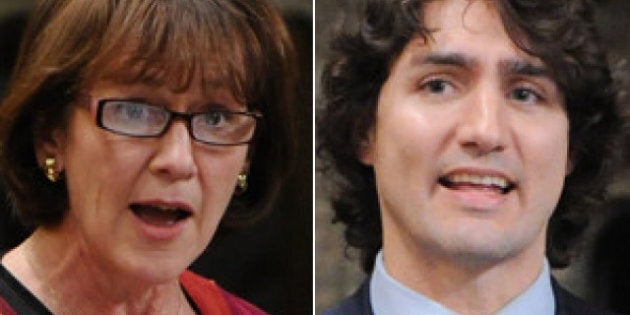 Liberal MP Joyce Murray, a mother of three and a former B.C .cabinet minister, told HuffPost she's just starting to approach colleagues at the Liberal summer caucus retreat in Montebello, Que., about an hour west of Montreal, to talk about her potential leadership bid.
So far, only two candidates have declared their intention to run for the job after interim leader Bob Rae steps down before the party's April convention. Deborah Coyne and Manitoban Shane Geschiere said they plan to run, though the race hasn't officially begun and neither has forked over the $75,000 entrance fee. Trudeau, who had earlier ruled out a leadership run, said he would announce his final decision before summer's end.
Other potential leadership candidates include former astronaut and MP Marc Garneau, New Brunswick MP Dominic Leblanc, Montreal MP Denis Coderre, Ottawa MP David McGuinty, former MPs Gerard Kennedy, Martin Cauchon and Martha Hall Findlay, as well as past candidates David Bertschi and Taleeb Noormohamed and Toronto lawyer George Takach.
Murray took the summer to decide she wanted to join the race and now she's looking for support and hoping to build a team across the country.
"I had to really reflect on whether this is something that I want to commit to, and after that decision was made, now I am just starting to talk to people and let them know that I am considering a candidacy," Murray said Wednesday.
The 58-year-old does not have any declared support but, as she noted, only started talking about a bid Tuesday.
Murray said she wants to run to ensure British Columbia and its issues are represented in the leadership race. The party plans to select a new leader in April, 2013, and will release the rules governing the contest on Thursday.
"It's important to have British Columbia have a strong voice … I think the B.C. views are discounted somewhat," Murray said.
Murray said she won't run if she thinks she can't mount a serious campaign but isn't dissuaded by the possibility of going head-to-head against Trudeau and his 147,000 Twitter and 46,000 Facebook followers.
"He has some very good qualities and I think that he will be a very strong candidate ... [but] my objective would be to be successful," she told HuffPost. "My decision is not tied to who else does or doesn't run, it is tied to whether I can secure enough support to be a real candidate."
Murray speaks French, though one Quebec MP suggested she might have to sharpen her language skills. She served as environment minister in B.C.'s Liberal government under Gordon Campbell after building a successful reforestation business with her husband. She cites her experience as an immigrant (she arrived in B.C. when she was 7 years old from South Africa) and proudly notes she planted trees to pay her way through university. Although this would be her first time entering a leadership race, Murray served as B.C. campaign co-chair to both Stéphane Dion and Sheila Copps.
If she mounts a leadership challenge, Murray said she'll talk about the Liberal's strong economic record, environmental sustainability and the constructive role government can play in society. She said she is ready to work with the NDP in a coalition government to ensure progressive Canadians aren't consistently shut out of political office by a united right.
The public wasn't ready for a coalition government when Dion suggested it in 2008, Murray said, noting Canadians were swayed by Stephen Harper's mischaracterization of the deal as illegal and unconstitutional "when in fact it is the norm for Parliamentary democracies."
Murray said voters will be more receptive to the idea of centrist and leftist parties working together but separately in a coalition now that they've had a chance to see it work in Britain with the Conservative-Liberal Democrat coalition under David Cameron.
"We have challenges both on the organizational level and on the level of inspiring Canadians to support us, though the Liberal party has a very strong history in Canada and it is my belief we have a very strong future and people are beginning to see that," she said.
Murray is not the only dark-horse candidate to test the waters at the Liberal Party's summer caucus retreat. Former Bob Rae supporter Jim Karygiannis said he is days away from making a decision. The party's critic for multiculturalism, Karygiannis told HuffPost he was encouraged to run by the ethnic and cultural communities he has been doing outreach with.
"If Bob comes back I'll support him 150 per cent [but right now] I'm looking at myself in the mirror," Karygiannis said. "The team is in place, money is not a problem, I'm giving it consideration."
"Everybody is sort of waiting for what Justin will do. I have a lot of respect for him, I have a lot of respect for his dad, I have a lot of respect for what the family did in Canada.
"[What] we need as a party is to sign up the people that we lost and the party lost the ethnic communities in the last go around," the Toronto-area MP said.
Former Canadian astronaut Marc Garneau is seen by many of his caucus colleagues as a more serious challenger to Trudeau. Garneau told HuffPost this week he wants the party's top job and is trying to put together an experienced team of organizers across the country who can help him win.
"If I make the decision to go, it is because I intend to give it my entire effort, 100 per cent effort," Garneau said. "If the cards are not all there, then I also need to make a decision about not going."
Garneau said it makes no difference to him who else is in the race. "I want to be in the race. I'm not thinking about anything else. I want to be in this race if I have the necessary team to support me."
Ottawa MP David McGuinty and New Brunswick MP Dominic Leblanc said they are still thinking about running, though some Liberals suggested the two are not serious about the job.
A senior Liberal said Leblanc is the only person who can really give Trudeau a run for his money. Both men, however, must decide if they want to spend the next seven years biding their time, crisscrossing the country and sleeping in cheap motel rooms apart from their families, before heaving a real shot at becoming prime minister, a Liberal speaking on condition of anonymity said.
Quebec Liberal MP Massimo Pacetti said caucus members are looking for a candidate who is perfectly bilingual, has a business background or experience running an organization, is affiliated with the Liberal party (but that could be overlooked for the right candidate), has support across the country, a strong team in place and can raise money.
However, people are all waiting for Trudeau to decide whether or not he will run, Pacetti said.
"Justin he has a lot of advantages going for him. And I think if he uses those advantages he will definitely be someone difficult to beat," Pacetti said. "He's got that rock star quality to him … You don't even have to call him Mr. Trudeau, you call him Justin and everyone knows who you are talking about."
Deborah Coyne, a constitutional lawyer who had a daughter with Trudeau's father, Pierre Elliott Trudeau, announced her bid in June. She told HuffPost this week she wanted to share her policies and give Canadians something to talk about during the summer.
The Liberals announced the rules for the race Thursday, including how much money each candidate will need to enter and how much candidates can spend. The party is setting a $75,000 entrance fee for the contest, a $950,000 spending limit from September 6, 2012 and is telling candidates they can't incur more than $75,000 in debt. The race will officially begin in November.
Quebec MP and Liberal caucus chair Francis Scarpaleggia, who sits on the rules committee, said the party is concerned about the amount of debt leadership candidates can hold. The rules committee suggested putting caps on candidates' debt so the national party would not be saddled with it if the Conservative government decides to hold them accountable.
"The government could decide midway through our leadership campaign that the parties would be responsible for unpaid leadership debt, so the party would have to protect itself by putting [in place] a debt ceiling, Scarpaleggia said.
CORRECTION: An earlier version of this story referred to Martin Cauchon as a current Liberal MP. He is a former MP.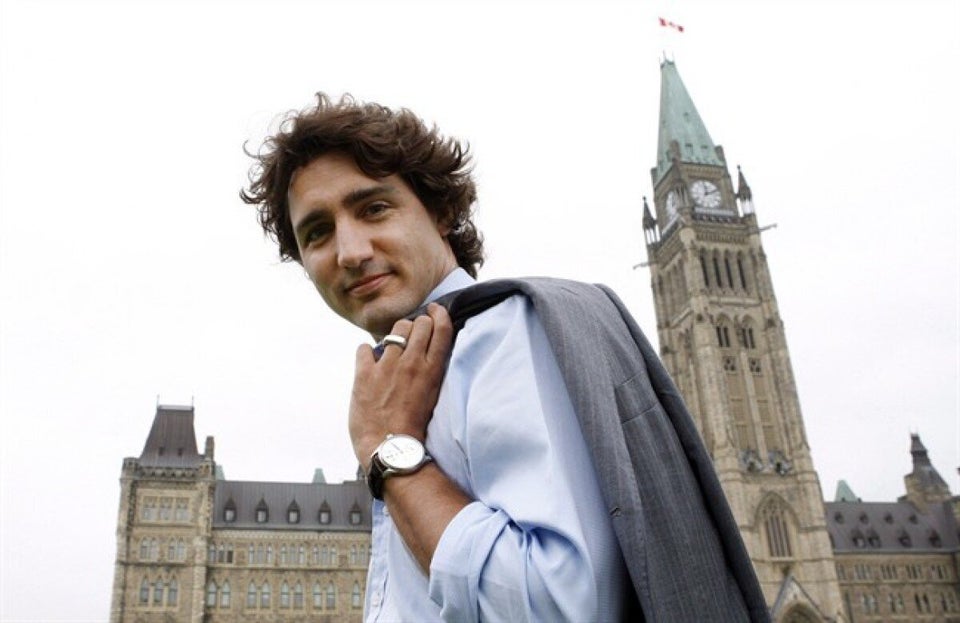 11 Ridiculous Media Compliments For Trudeau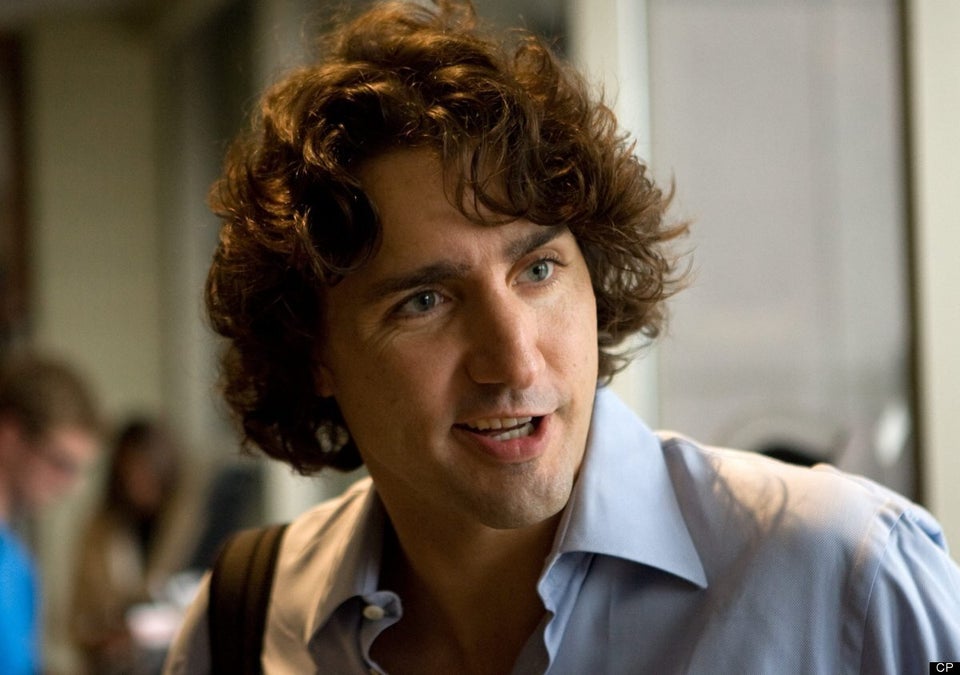 Surprising Justin Trudeau Facts