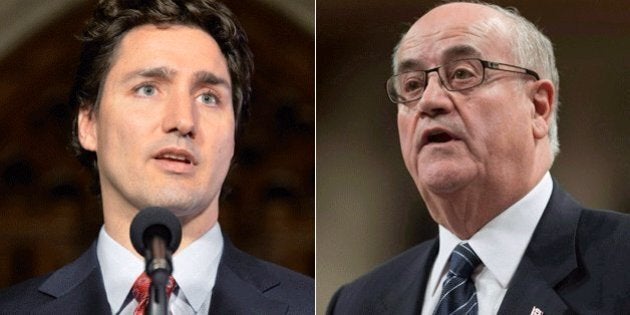 Some members of Prime Minister Stephen Harper's cabinet have accused Justin Trudeau of consorting with "religious extremists" in the wake of a controversial report from Sun News Network.
Veterans Affairs Minister Julian Fantino, who recently circulated flyers making questionable claims about Trudeau's position on pot legalization, took to Twitter Wednesday to launch a different kind of attack on the Liberal leader.
Fantino's jab about religious extremists is likely related to a story from Sun News that the Liberal leader visited the al-Sunnah al-Nabawiah mosque in his Quebec riding. According to the network, "American government sources" say the mosque "has been an al-Qaeda recruitment centre."
Trudeau told a Sun News reporter in Vancouver this week that he has "most likely" visited the mosque since he has probably dropped in on every mosque in his riding. And according to the transcript from a speech he gave in 2013, the Liberal leader said he visited the al-Sunnah Wahhabi mosque in his community.
"Do you think a place that is a known recruitment centre for terrorists is an appropriate place for somebody who wants to be our prime minister to visit?" the reporter asked.
Trudeau replied that it is the responsibility of leaders to convey a message of "Canadian values, of respect, openness and compassion."
In a lengthy segment Tuesday night, Ezra Levant, host of The Source, called the mosque the most extremist in the country and said it supports violent jihad against non-believers. He quoted a Pentagon memo saying it was one of "nine institutions in the world where known al-Qaeda members are recruited, facilitated or trained."
But National Post columnist Jonathan Kay wrote Wednesday that Sun News actually bungled the story in its haste to devolve into "anti-Muslim hysteria." Kay pointed out that, according to a screengrab of the memo that Levant read, the mosque was a place where al-Qaeda members "were" — not "are" — recruited.
If Sun News has information suggesting that al-Sunnah al-Nabawiah mosque remains a hotbed for terrorist recruitment and indoctrination, CSIS no doubt would want to hear about it. Then again, CSIS has been on this beat since 9/11. And thanks to their efforts (as well as whistleblowers within the Islamic community), there has been a wholesale purge of terror-implicated figures within Islamic mosques, charities and community groups all over the Western world, including here in Canada. No doubt, al-Sunnah al-Nabawiah mosque peddles all sorts of dogmatic Muslim theology that most of us don't like. But if there is any evidence that the place has been connected to terrorism over the last 15 years, I'm yet to see it.
But Sun News' story grabbed the attention of Canada's public safety minister, as well.
Steven Blaney also took to social media on Wednesday and, in posts that were retweeted by the official Conservative Party account, criticized Trudeau for associating with a group that allegedly "radicalizes" Canadians.
Blaney also put out a press release accusing Trudeau of "pandering for votes amongst religious extremists."
Liberal MP Ralph Goodale told The Ottawa Citizen Trudeau visited the mosque in 2011, a month before the memo was made public by The New York Times.
"If it was a real threat, then surely it's the Harper government's job is to act on it, rather than throwing around smears and innuendo," he told the paper. "They should be dealing with the security issue. Instead, they smear Mr. Trudeau. That just shows how petty and irresponsible this government is."
The Conservative Party also issued a tweet Wednesday slamming the Liberal leader.
The al-Sunnah al-Nabawiah mosque has said it has no connection to terrorism.
While the Tory attacks may seem like a change of strategy, the party launched an ad in the spring painting Trudeau as soft on terrorism. The clip focused on Trudeau's words in the wake of the Boston marathon bombings about the need to look at the "root causes" behind such attacks.
"There is no question that this happened because there is someone who feels completely excluded," Trudeau told CBC's Peter Mansbridge.
Tories accused the Liberal leader of "making excuses for terrorists."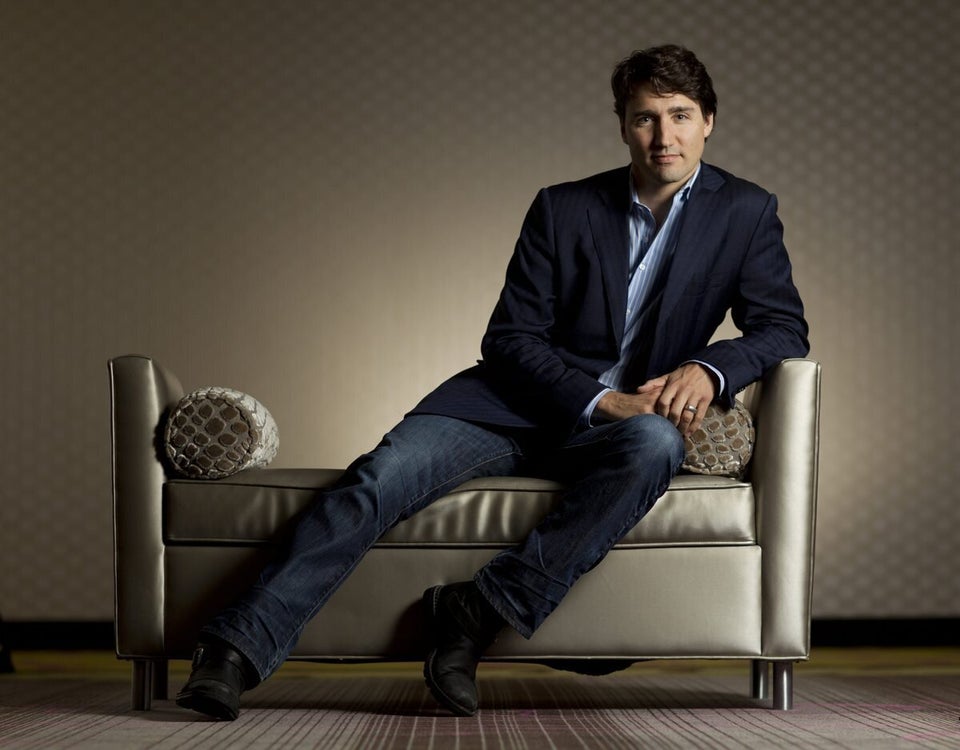 Trudeau Glam Shots