A flyer circulated by Conservative minister Julian Fantino makes some questionable claims about what Justin Trudeau is telling children about marijuana.
The mailer, which is similar to others distributed by Tory MPs, claims the Liberal leader has been "speaking to elementary school students about the benefits of marijuana." It also says the Liberals "want to make buying marijuana a normal, everyday activity for young Canadians." The leaflet is being circulated in Fantino's riding of Vaughan, Ont.
The flyer references a campaign stop Trudeau made at a school in Manitoba's Sioux Valley First Nation last November. In response to a question about why he favours legalizing marijuana, Trudeau told an audience of mostly high school students that he backs the idea because regulating the drug will help keep it out of the hands of children.
However, the Liberal leader did not discuss the "benefits" of using marijuana and has regularly highlighted the risk the drug may pose to the developing minds of children. And the Liberals have not said they want to make pot legal for young people. Trudeau and the Liberals want to make the purchase of marijuana legal for adults.
"Their whole approach to politics is character assassination. They don't want to have an adult conversation about how you fix a serious social issue. They simply want to deal with smears and lies and innuendoes," Goodale told the Citizen.
"[Trudeau] has been very clear about this whenever he has spoken publicly, in whatever forum, everywhere in the country. He said exactly the same thing: that the current policy has clearly failed because we, in Canada, have, unfortunately, one of the highest marijuana usage rates among young people in the world."
And Canadians don't seem too worried about liberalizing Canada's marijuana laws.
A poll released this week found that 70 per cent of Canadians favour some kind of relaxation of the current laws. Full legalization was backed by 37 per cent of respondents, the most popular answer, while 33 per cent favoured decriminalizing the drug in small amounts though the use of fines. The poll was conducted by Ipsos Reid and commissioned by the federal Justice Department.
Many Canadians continue to get in legal trouble for simple possession of a drug that many studies show is less dangerous than alcohol or tobacco. Fresh data from Statistics Canada reported by Straight.com this week show that nearly 60,000 Canadians found themselves in legal trouble in 2013 as the result of marijuana possession. That number marks a 28 per cent increase in possession charges compared to 2003.
While the Conservative government hinted last year that it is considering softening pot laws, the Tories have centred their attacks against Trudeau on his support for legalizing marijuana and his admission that he used the drug while serving as an MP.
So far, the attacks do not seem to have been particularly successful. A Forum Research poll released last week found that the federal Liberals have widened their lead on the Conservatives and would likely win a majority government if the election were held now.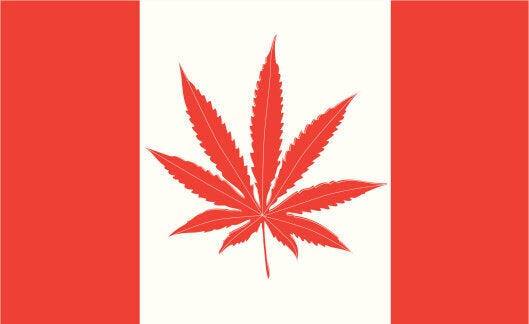 Which Province Smokes The Most Pot?