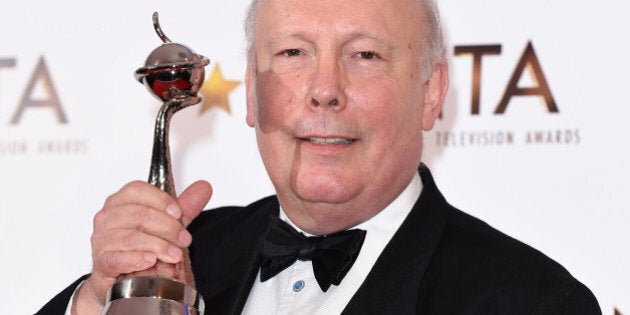 Just like its tortured characters, "Downton Abbey" is proving to be a survivor in the midst of myriad challenges off-screen. Despite being up against rating juggernaut specials like The Super Bowl, The Golden Globes and The Grammys, the addictive and enveloping PBS Masterpiece soap opera has been more than holding its own. No schadenfreude here.
"I still feel like a fraud," laughs "Downton" creator and writer Lord Julian Fellowes to HuffPost Canada. "I feel like I don't know anything more than the audience knows, but I think I know what people want to see because it's what I want to see. Listen, it's mostly luck. We've had the good fortune of great reviews and a very loyal international following. And with tough competition, we're second on most of those overly saturated nights, which is pretty spectacular."
That's one reason why NBC is battling for Fellowes' time to create its new period series "The Gilded Age," set in wealthy New York City in the 1880s. The show has been placed on the back burner while the creator is busy penning Dame Maggie Smith's latest quips. With "Gilded Age" rumoured to be in production next year, many are whispering Fellowes will end "Downton Abbey" sooner rather than later.
The coy writer laughs at the thought of ending "Downton Abbey" any time soon. He tells us, "We're not going to do 10 seasons, I can tell you that, but we're not going anywhere soon, either. We're starting our sixth season but we'll end it in the next few years."
And that's because he's still inspired by the "Downton Abbey" ensemble, especially the Oscar-winning Smith. "Maggie's still kicking," he chuckles. "Which is why I wrote in some of the Dowager's backstory this season, which includes a past love! In fact, I think this is her strongest work ever. I have much more planned for her, too."
Fellowes is grateful "Downton" hasn't suffered a creative slump like most buzzed-about phenoms. "Knock on wood," he says. "We're trying to keep our quality level consistent. We ensure that we have enough of those big incidents each season ... that we can continue that theme and atmosphere of the show, but with these new developments."
While the show is a period piece, Fellowes points out its themes and issues are modern. "The essence of the show is not that it is a period piece, but that the people of Downton Abbey -- from the servants to the family -- are remarkably like us today. I wanted to treat the 'upstairs and downstairs' characters with the same narrative weight. I never wanted the audience to think they were watching a lesser story when it came to the staff of Downton vs. the family. We didn't set out to do a historical piece. We wanted to show audiences that people haven't really changed. Yes, they may not have iPods, but they still share all the dreams and fears we deal with to this day. 'Downton' takes place in recent memory -- not recent living memory."
For those of us in North America, Fellowes wouldn't divulge any spoilers other than to say: "All the characters have secrets, secrets, and secrets! The past will become present in this season. But more than that, the characters are going to realize that they're more alike than different. People are joined together by making the same mistakes."
In an age of "too many cooks in the kitchen," executive producer Gareth Neame credits "Downton"'s creative longevity to a shared single vision with his partner, which is very rare these days. Neame tells HuffPost Canada: "Julian and I have a good rapport. It's an incredibly satisfying experience. Since it's just Julian and myself, no one has interfered with the soul of the show, which has made it easier to keep the show's spirit intact. We brainstormed the show from Day 1, and have managed to keep the idea of the show alive. We took the soap opera narrative form and aired it at 9 p.m. with massive production values, the best acting you can find, so there is no poor writing or acting on our show. It's a cinematic soap opera. But we still have the addictive hooks that make soap operas so much fun and entertaining."
"Downton" has also managed to survive big star exoduses (cough, Dan Stevens), and there may be one more coming soon. Popular leading man Allen Leech (Tom Branson) teased us that his future on the show may come to an end. The "Imitation Game" supporting star tells HuffPost Canada: "I don't know how long I'll be on the show. By the end of this season, you'll know a lot more! Just tune in and you'll be surprised. I was supposed to be on for two episodes, but Tom resonated with Julian and the audience because I think Tom is the audience. He's caught between two classes and worlds, but he's remembering who he once was in this season."
If Leech bolts, it'll be a shame because a growing fan base believes two widowed in-laws, Tom and Mary, are the end game. Leech laughs, saying, "We're certainly not playing any romantic chemistry. I mean, who knows, but I doubt they'll be more than friends. They're each other's rocks. They've been through very similar journeys, despite their class."
Fellowes shrugs at the possibility of stars like Smith quitting one day. "I was concerned when Dan Stevens was leaving, but we're an ensemble. Having said that, turnover is an important part of a continuing drama. You need new blood, new characters to reboot the narrative every few seasons. Ideally, 70-80 percent of the cast should stay on consistently so it's the same show, and the audience recognizes the characters ... but when leading actors opt to leave a series, sometimes it's the best thing for a show."
Just as long as its creator doesn't exit, that is.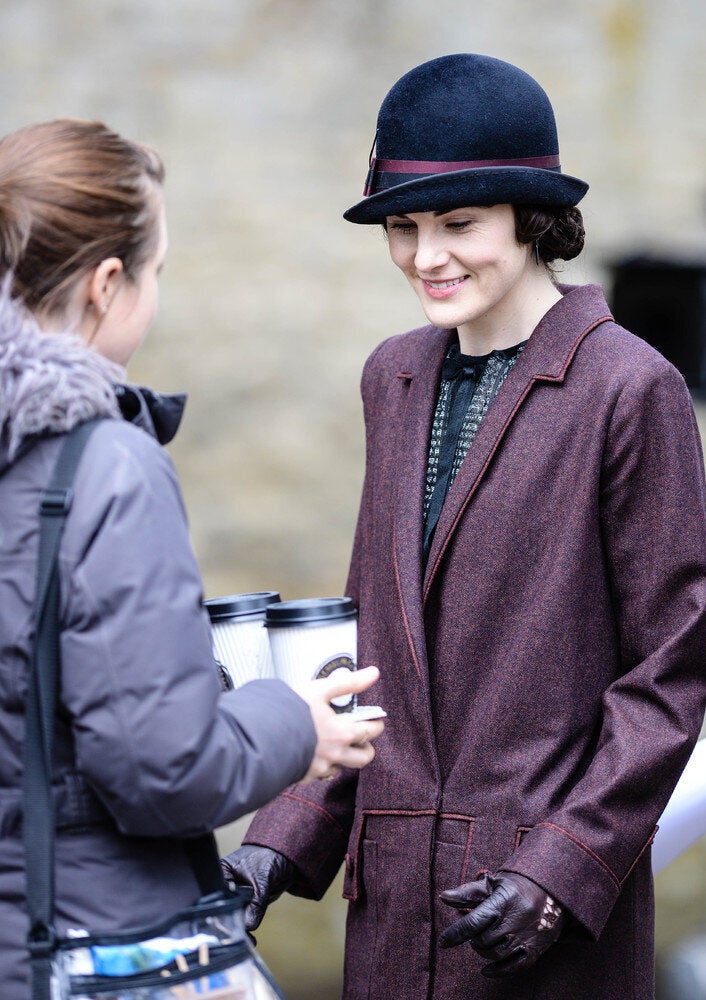 Behind The Scenes At 'Downton Abbey'