By the time many women have reached the 32-week point of pregnancy, they feel ready to stop work, lie down and not get up until that baby is ready for the world.
Julie McGivery, of Moncton, N.B., on the other hand, decided she would be running the Boston Marathon at that point.
The physiotherapist had always dreamed of qualifying for Boston, commonly known in long-distance running circles as the ultimate goal. After her first child was born in 2014, McGivery started training right away and when her daughter was 10 months old, the whole family went to Toronto so she could get a qualifying time.
"I was still nursing, so I dragged my whole family to Toronto," she tells the Huffington Post Canada. "My training was doing half-hour treadmill runs close together."
It was all worth it when she learned she qualified in September 2016 for the April 2017 race.
But she could never have predicted that on the same day she received her registration kit, she'd also get some other results — namely, a positive pregnancy test.
"I was like, 'come on, the same day?'" she says with a laugh. But she wasn't about to let it stop her.
"I told myself, 'I'm healthy, I've been running all along, so I'm going to try to train for Boston and see how it goes," she explains. "If anything goes wrong, then I'll stop, but I won't stop now."
"You want this story to tell your children how you don't quit and you keep going."
McGivery modified her training plan to focus on time, not intensity or mileage, and did three-hour runs once a week. She treated the muscle pains and joint soreness she experienced on her own, or asked a colleague for help. So when it came time for Boston, she felt prepared, but also ready to change her plan if need be.
"It was super hot the day before, and I wouldn't do anything to jeopardize the health of my baby," she says. But the day of the race was 19 degrees, and she felt comfortable going forward, if emotional — "I think I cried the first two kilometres," she admits.
And of course, there were the physical challenges to overcome in actually running the race as well.
"Normally at the 35, 36K mark, you hit the proverbial wall, and then it's a mental game to get to the finish line. That for me happened at 10K," she recalls. "I started walking and running and could feel the difference in blood flow in my body."
At one point she sat down in a medical chair to rest and reassess, refusing any help when it was offered.
"I told myself, 'This isn't how my story finishes. It's just pain, it'll be gone in a day. You want this story to tell your children how you don't quit and you keep going."
When she did finish — with a time of 6:50 — she says it was nothing short of amazing.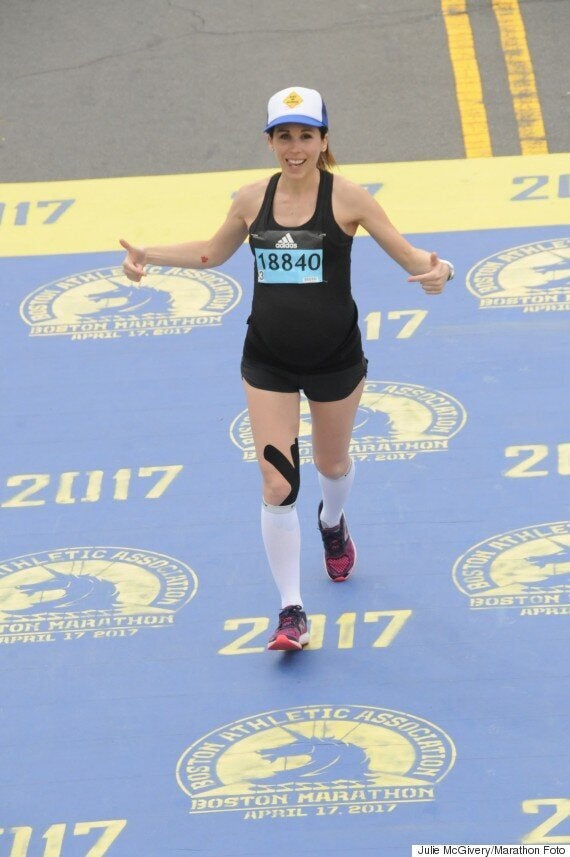 Julie McGivery crossing the finish line at the Boston Marathon, April 17, 2017.
"I must have heard a thousand times, 'She's running for two! You go mama!' And that really kept me going," McGivery says.
She also told CBC News she and her husband might very well give the child the middle name of "Boston" to commemorate the occasion.
"Someday I'll go back and run it a little faster I hope," she says. "But as a first experience, I can't imagine anything better."