Sunday night's broadcast of the 2013 Juno Awards in Regina wasn't just light on awards — it was light on surprises.
As predicted, Carly Rae Jepsen was queen of the night. She won single of the year for "Call Me Maybe" which actually WAS the undisputed single of the year. That never happens!
"I feel so blessed. It's crazy to think how one song can change your life," she said onstage. "Kiss," the career-making record that has plenty more songs on par with "Call Me Maybe," by the way, also snagged Album of the Year. (Carly Rae also won a Juno on Saturday for Pop Album of the Year, beating out Justin Bieber, who made her career with a few tweets and an adorable viral lip-dub video.)
Backstage, Jepsen was still awestruck. "I'm moved beyond words," she said. She's also feeling the weight of the "Call Me Maybe" phenomenon. "It's going to be a challenge [to top it]," she said. "It's a gift to have a song like that — but you have to prove you have more than one song in you. And I think I can."
Serena Ryder, who was up against Jepsen in the Single of the Year category, won what we like to call the confuser category, Adult Alternative Album of the Year, edging out Bahamas, Kathleen Edwards, Royal Wood and The Barr Brothers. She was also up for Single of the Year. "I knew there was no fucking way I'd win single of the year," she joked backstage. "Seriously, if the biggest single on the planet didn't win, there's something wrong with the world." (Serena and Carly had a cute love-in backstage.)
Everyone was talking about the biggest single on the planet — including Marianas Trench, who probably provided the biggest shocker of the night when they beat out recent this year's Rock 'n' Roll Hall of Fame inductees Rush for Group of the Year. Frontman Josh Ramsay produced and co-wrote the superhit.
"The first time I heard it it sounded a lot different than what you heard," he recalled. "I said to her, 'Dude, this is an anthem.' We just have to get it right."
Canada's songwriting bard Leonard Cohen rightfully won the Juno for Songwriter of the Year. His son, Adam Cohen, accepted the award on behalf of his legendary father. "My dad said I'd get one of these — I didn't know he meant for him," he quipped backstage.
Hamilton rock act Monster Truck snagged the Juno for Breakthrough Group of the Year, beating out The Pack A.D., Hey Ocean!, Yukon Blonde and widely predicted winners Walk Off The Earth — aka the band behind that five people, one guitar cover of Gotye's "Somebody That I Used to Know."
Responding backstage to a remark the band made onstage about getting the breakthrough distinction at the positively ancient age of 30, guitarist Jeremy Wilderman said, "I don't want to think about, 'I wish this happened when I was 24.' It is weird to win breakthrough group in your 30s. We're probably more responsible with this kind of success than we were at 24."
Performers Metric popped backstage to chat about their three untelevised awards — Alternative Album of the Year, Producer of the Year and Record Packaging of the year — and the weirdness of awards in general. "Music is a strange thing — there shouldn't be winners. It's not sport. But you take accolades where you can get them."
k.d. lang was as down-to-earth backstage as she was onstage about her Canadian Music Hall of Fame distinction. "I spent a lot of time pondering it and meditating on what it meant and I realized I didn't want to personalize it," she said backstage. "It's not about me — it's about the people who put me here." Class act, that one.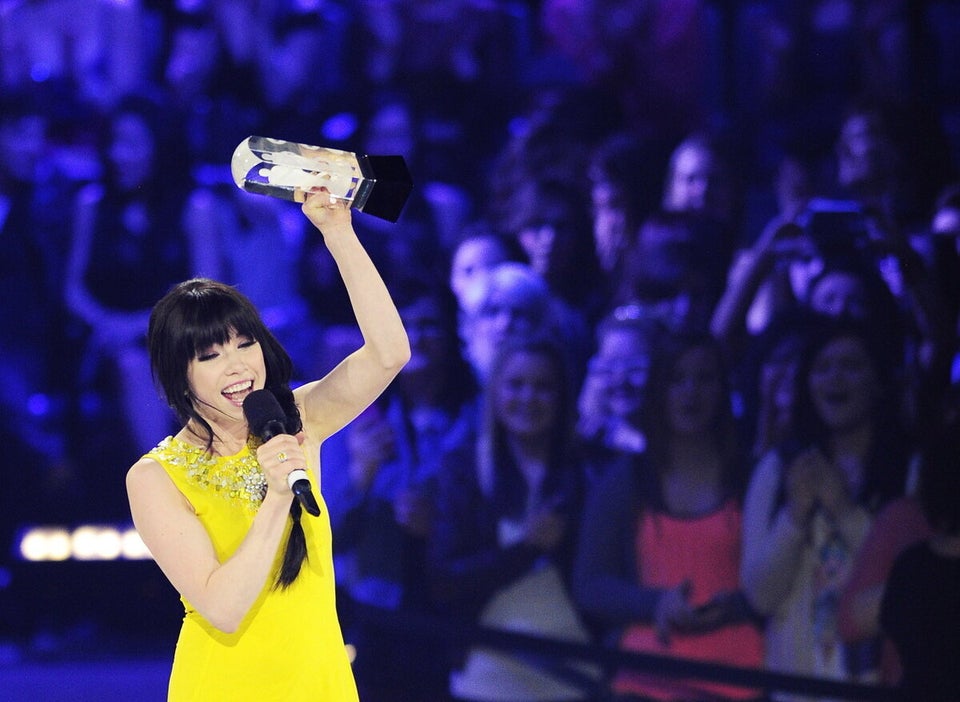 2013 Juno Awards Red Carpet And Awards Show