The Junos used to have something of an inferiority complex about their American cousins, the Grammys. That constant seeking of U.S. validation was what prompted the feud between the Junos and the late, great Stompin' Tom Connors who, on his deathbed, requested there not be a tribute to him at this year's 42nd annual Juno Awards in Regina, SK, which was dominated by pop upstart Carly Rae Jepsen, indie heroes Metric, resurgent legend Leonard Cohen and classy Hall of Famer k.d. Lang.
Stompin' Tom's fears about the Junos seemed to be once again realized when the awards began with host Michael Buble showing off his star power by awkwardly inserting Kelly Ripa, Gerard Butler and Dr. Phil into the cold open (and really, we never need to hear Dr. Phil crack a Jim Cuddy joke ever again). But the power of Canadian music prevailed, and when Stompin' Tom's name was finally uttered, I'm pretty sure he'd have been cool with it given the context.
"I think the fact that I'm standing here receiving this award says more about Canada than it does about me, because only in Canada could there be such a freak as k.d. Lang receiving this award," gushed the iconic crooner upon being inducted into the Canadian Music Hall of Fame by Anne Murray (for whom she also professed a past and present "huge crush").
"Only in Canada could there be people like Stompin' Tom Connors and Rita MacNeil. So I am here to tell you, my friends and my countrymen, that it is OK to be you. It is OK to let your freak flags fly. Embrace the quirkmeister that is inside all of us. And I'm not even just talking artists, every single person in this nation has the right to be themselves. Live life. Go team go. I love you Canada, thank you so much."
And over the course of the Juno Awards weekend, Canada's quirkiness was indeed embraced, even if most of it was embraced the previous night at the non-televised gala when the big awards went to artists who couldn't make it to Regina, including Leonard Cohen for Artist of the Year.
Cohen did win Songwriter of the Year during the broadcast, an award "coincidentally" presented by his son Adam Cohen, who cracked "I feel so used" before getting serious because his dad wasn't there himself to accept. "I know he has a deep fondness for the love that Canada has always expressed toward him. He refers to Canada as the beating heart of his career." (Backstage he got funny again: "My dad said I'd get one of these — I didn't know he meant for him.")
Article continues after slideshow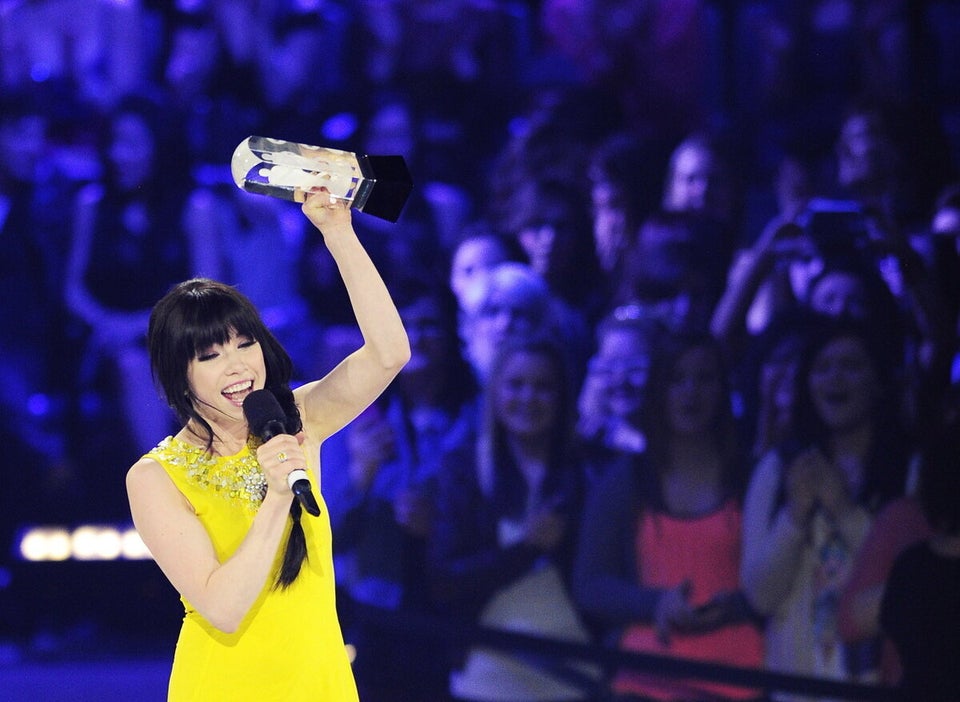 2013 Juno Awards Red Carpet And Awards Show
Also absent Saturday was Drake when his re-bar mitzvah video for "HYFR" nabbed best video, avant-R&B star The Weeknd who took Breakthrough Artist of the Year and Metric who scored a Canadiana-friendly hat trick with Alternative Album of the Year alongside best packaging for "Synthetica" and a producer of the year nod for the Toronto band's guitarist and producer Jimmy Shaw.
While Metric missed Saturday due to a previously booked gig playing Coachella, they arrived in time to play their title track on the big broadcast. Singer Emily Haines' voice was admittedly not perfect, but that actually fit the theme of the song ("Hey, I'm not synthetica, I'll keep the life I got. So hard, so hard to resist synthetica") and the sort of Canadian music that Connors wanted honoured by the Junos.
Of course, the show was more about pop music than anything, given that Carly Rae Jepsen was this year's big Juno winner, adding Single of the Year for "Call Me Maybe" and the night's biggest award, Best Album, for "Kiss." But even cynics had to admit that there was maybe no better single than her 2012-defining smash and while her album win is more controversial, it's a lot better than many have given it credit. Jepsen also got a chance in her live performance to do a medley, proving she's no one-hit wonder.
Her mentor Justin Bieber, another absent star, won his third straight Juno Fan Choice award, beating, among others, the show host Michael Buble.
That was the only award Buble was up for, perhaps a safe decision by the Juno organizers given what happened two years ago in Toronto when host Drake left the awards empty-handed. Instead, Buble used the opportunity to show off his comedy skills (he was also head writer, and got off a few real good ones, including a hilariously regional potash joke) and promoted his new album "To Be Loved" by crooning his current single "It's A Beautiful Day," so expect him back next year as a winner.
The absence of so many big names meant that lesser-known (to varying degrees) lights got to shine onstage, including Serena Ryder, who completed her transformation from folkie to pop star by opening the show with her hit "Stompa" and later returning to the stage to sing with Canadian rock gods Billy Talent. Maybe that's overstating their godliness, but the real Canadian rock gods Rush, who won best rock album the night before, lost Group of the Year to Marianas Trench, whose singer Josh Ramsay, by the way, co-wrote "Call Me Maybe."
Other performance highlights included Rolling Stone cover stars and Saskatchewan homeboys The Sheepdogs (though whoever decided to apply an Instagram-like vintage sepia filter to the broadcast of their set needs to be let go), Vancouver singer Hannah Georgas and East Coast veteran rapper Classified who performed his best rap recording winner "Inner Ninja" with singer David Myles.
And then it all wrapped with Buble saying buh-bye while singing "Home" in honor of Rita MacNeil.
No award show pleases everybody (or anybody, really) but the issue that Connors once had with the Junos is outdated because, for better or worse, our biggest stars are also America's biggest stars, so there's simply no need to feel inferior, or protective patriotically. Any awards show that can honor k.d. Lang, Leonard Cohen, Rush, Metric, Carly Rae Jepsen, Grimes, Serena Ryder, The Weeknd, Drake and Bieber in the same year is doing something right.
Album of the Year: Carly Rae Jepsen, "Kiss"
Adult Alternative Album of the Year: Serena Ryder, "Harmony"
Juno FanChoice Award: Justin Bieber
Canadian Hall of Fame Inductee: k.d. lang
Single of the Year: "Call Me Maybe," Carly Rae Jepsen
Group of the Year: Marianas Trench
Breakthrough Artist of the Year: Monster Truck
Songwriter of the Year: Leonard Cohen, "Old Ideas"
Artist of the Year: Leonard Cohen.
Breakthrough Artist of the Year: The Weeknd.
Pop Album of the Year: Carly Rae Jepsen, "Kiss"
Country Album of the year: Johnny Reid, "Fire It Up"
Alternative Album of the Year: Metric, "Synthetica"
Rock Album of the Year: Rush, "Clockwork Angels"
Rap Recording of the Year: Classified, "Inner Ninja" (featuring David Myles.)
Dance Recording of the Year: Anjulie, "You and I"
R&B/Soul Recording of the Year: The Weeknd, "Trilogy"
Electronic Album of the Year: Grimes, "Visions"
Video of the Year: Drake, "HYFR," by Director X
Jack Richardson Producer of the Year: James Shaw, "Youth Without Youth" and "Breathing Underwater," from "Synthetica"
Music DVD of the Year: The Tragically Hip, "Bobcaygeon" by Andy Keen, Bernie Breen, Patrick Sambrook and Shawn Marino
Metal/Hard Music Album of the Year: Woods of Ypres, "Woods 5: Grey Skies & Electric Light"
Adult Contemporary Album of the Year: The Tenors, "Lead With Your Heart"
Roots & Traditional Album of the Year, Solo: Rose Cousins, "We Have Made a Spark"
Roots & Traditional Album of the Year, Group: Elliott Brood, "Days Into Years"
Vocal Jazz Album of the Year: Emilie-Claire Barlow, Seule ce Soir.
Contemporary Jazz Album of the Year: Joel Miller, Swim.
Traditional Jazz Album of the Year: Murley, Bickert & Wallace, Test of Time.
Instrumental Album of the Year: Pugs & Crows, Fantastic Pictures.
Francophone Album of the Year: Louis-Jean Cormier, Le treizieme étage.
Children's Album of the Year: Emilie Mover, "The Stella and Sam Album, featuring Emilie Mover"
Classical Album of the Year, Solo or Chamber Ensemble: "Amici Chamber Ensemble, Levant"
Classical Album of the Year, Large Ensemble or Soloist(s) with Large Ensemble Accompaniment: James Ehnes, "Tchaikovsky: Violin Concerto"
Classical Album of the Year, Vocal or Choral Performance: Karina Gauvin, Prima Donna.
Classical Composition of the Year: Vivian Fung, "Violin Concerto"
Reggae Recording of the Year: Exco Levi, "Storms of Life"
Aboriginal Album of the Year: Crystal Shawanda, "Just Like You"
Blues Album of the Year: Steve Strongman, "A Natural Fact"
Contemporary Christian/Gospel Album of the Year: The City Harmonic, "I Have a Dream (It Feels Like Home.)"
World Music Album of the Year: Lorraine Klaasen, "Tribute to Miriam Makeba"
Recording Engineer of the Year: Kevin Churko (co-engineer Kane Churko): In This Moment, "Blood" (from Blood); Five Finger Death Punch, "Coming Down" (from American Capitalist.)
Recording Package of the Year: Justin Broadbent, art director/designer/photoagrapher for Metric, "Synthetica"
International Album of the Year: Mumford & Sons, "Babel"