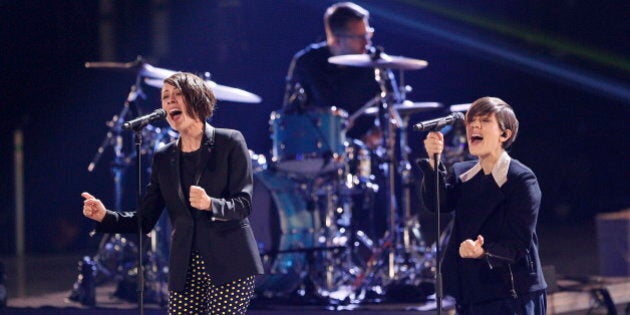 The 2014 Junos are officially on! Saturday's three-hour industry-only music gala saw 35 of 41 awards handed out, and many of the weekend's major hopefuls, and stars, went home with hardware.
Among them was Arcade Fire, who took home Alternative Album of the Year for their indie behemoth "Reflektor." (The group also won in the same category for previous efforts "The Suburbs" in 2011 and "Neon Bible" in 2008.)
Later, it was Tegan and Sara's 2013 pop opus "Heartthrob" which fittingly won Pop Album of the Year, beating out the respective efforts of Hedley, Michael Bublé, Robin Thicke, and Walk Off the Earth.
The queen of the night was Juno telecast co-host Serena Ryder, who won Artist of the Year, but not before she delivered an expletive-laced speech. "Holy s*** this is great…" said Ryder. "S***. I'm supposed to say stuff."
But it was Matt Mays who threw out the night's first f-bomb, while accepting the trophy for Rock Album of the Year – a moment he almost missed altogether, getting to the stage just minutes before host Jian Ghomeshi presented another award.
"I was in the hallway, just hanging out," said Mays. "Someone from my label was like 'You Won!'…I just made it."
Mays also took a moment to pay tribute to his late guitarist Jay Smith, who suddenly passed away while on tour in 2013. "We lost a good friend and a brother," Mays said. "It's been a real tough year for a lot of his friends and family."
Though Drake was a no-show at the awards gala, he will indeed be coming home with a Juno for his album, "Nothing Was the Same." The "Started from the Bottom" rapper snagged the trophy for Rap Recording of the Year. He wasn't the only Ontario native to have a big night -- Whitby, Ont. metalheads Protest the Hero reigned victorious in the Metal / Hard Rock category for their crowd-funded fourth effort, "Volition."
This year marked the first time the general public could livestream the industry-only gala dinner, but many of the unfiltered shenanigans, drunken speeches and excellent sound bytes happened backstage.
One of those moments belonged to Electronic Album of the Year winner, Ryan Hemsworth. The Halifax DJ, who won for "Guilt Trips," is known for his mashups of everything from J-Pop to Southern rap. Speaking to the press room, Hemsworth joked about his unprejudiced musical tastes.
"I don't believe in guilty pleasures anymore – everything I like is embarrassing," he said. "I'm fully embracing it now. When I was growing up and listening to Backstreet Boys when I was in Grade Six, I would have to lie about it and be embarrassed, but now I just remix them and play them in the club and people like it. People trust me to play weird stuff."
Elsewhere, The Strumbellas snagged Group Roots & Traditional Album of the Year, sharing the glory with Six Shooter alt-country label mate Justin Rutledge, who won Solo Roots & Traditional Album of the Year for his record, "Valleyheart."
Rutledge addressed the press gallery backstage with beer in hand, and certainly wins the award for drunkest speech of the night. "I was just resting a beer on my crotch area," said Rutledge. "Why was I resting a beer on my crotch? Because when you're sitting down it's just right there. It's a cup holder. God made it. Your crotch is God's beer koozie."
Despite country crooner Brett Kissel's loss to Dean Brody for Country Album of the year, he grabbed the award for Breakthrough Artist of the Year. The 23-year old, who couldn't stop gushing over his wife, Cecelia, also gave the night's most adorable acceptance speech.
"I think I'm gonna keep the Juno wherever my wife thinks it looks best," Kissel said. "I'm 23 and I have been married for two and a half years. I've learned a lesson, that as long as my beautiful wife Cecelia is happy, than I'm going to live a very, very happy life."
The full list of 2014 Juno Award gala winners is after the nominees slideshow-- the remaining six awards will be announced live, on Sunday, March 30, at 9 p.m.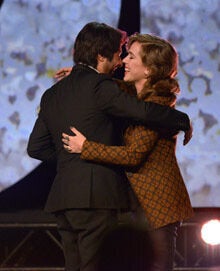 2014 JUNO AWARD GALA WINNERS

ARTIST OF THE YEAR

Serena Ryder Serenader Source*Universal

Céline Dion Columbia*Sony

Drake Cash Money*Universal

Michael Bublé Reprise*Warner

Robin Thicke Interscope*Universal

BREAKTHROUGH ARTIST OF THE YEAR (SPONSORED BY FACTOR AND RADIO STARMAKER FUND)

Brett Kissel BAK2BAK*Warner

Florence K Red Blues*Universal

Tim Hicks Open Road*Universal

Tyler Shaw Sony

Wake Owl Rezolute*Universal

COUNTRY ALBUM OF THE YEAR

Started With a Song Brett Kissel BAK2BAK*Warner

Crop Circles Dean Brody Open Road*Universal

Country Junkie Gord Bamford Cache*Sony

Small Town Pistols Small Town Pistols 604*Universal

Throw Down Tim Hicks Open Road*Universal

ADULT ALTERNATIVE ALBUM OF THE YEAR

Shut Down the Streets A.C. Newman Last Gang*Universal

Tall Tall Shadow Basia Bulat Secret City*Universal

Us Alone Hayden Arts & Crafts*Universal

Forever Endeavour Ron Sexsmith Warner

Internal Sounds The Sadies Outside

ALTERNATIVE ALBUM OF THE YEAR (SPONSORED BY LONG & MCQUADE)

Reflektor Arcade Fire Arcade Fire Music*Universal

The Poet's Dead Rah Rah Hidden Pony*Universal

Today We're Believers Royal Canoe Nevado*Fontana North

Warring The Darcys Arts & Crafts*Universal

Uzu Yamantaka//Sonic Titan Paper Bag*Fontana North

POP ALBUM OF THE YEAR (SPONSORED BY TD)

Wild Life Hedley Universal

To Be Loved Michael Bublé Reprise*Warner

Blurred Lines Robin Thicke Interscope*Universal

Heartthrob Tegan and Sara Warner Bros.*Warner

R.E.V.O. Walk Off the Earth Columbia*Sony

ROCK ALBUM OF THE YEAR (SPONSORED BY MUSICIANS' RIGHTS ORGANIZATION CANADA)

Love + Fury Headstones Frostbyte*Universal

Coyote Matt Mays Sonic*Warner

Arrows of Desire Matthew Good Frostbyte*Universal

Furiosity Monster Truck Dine Alone*Universal

Transit of Venus Three Days Grace RCA*Sony

VOCAL JAZZ ALBUM OF THE YEAR

Stealing Genius Amy McConnell & William Sperandei Independent

Courage, My Love Erin Propp with Larry Roy Independent

My Funny Valentine – The Chet Baker Songbook Matt Dusk eOne

Notes On Montréal ft. Sienna Dahlen Mike Rud Independent

Triades Sonia Johnson, Charles Biddle Jr. & Annie Poulain Effendi*Select

CONTEMPORARY JAZZ ALBUM OF THE YEAR

Gratitude Brandi Disterheft Justin Time*Universal

Habitat Christine Jensen Jazz Orchestra Justin Time*Universal

Brooklyn Babylon Darcy James Argue's Secret Society New Amsterdam*Naxos

Mirror of the Mind Earl MacDonald Death Defying*Independent

Le refuge Trifolia Independent*Select

TRADITIONAL JAZZ ALBUM OF THE YEAR

Nine Carn Davidson 9 Addo

The Ian McDougall 12tet LIVE Ian McDougall 12-tet Barbarian*Independent

Our Second Set John MacLeod & His Rex Hotel Orchestra Exquisite

Ripple Effect Mike Downes Addo

Look for the Silver Lining Phil Dwyer and Don Thompson Triplet*Outside

INSTRUMENTAL ALBUM OF THE YEAR

New History Warfare Vol.3: To See More Light Colin Stetson Constellation*Outside

Dalmak Esmerine Constellation*Outside

Senna Mahogany Frog MoonJune*Planetworks

Down Home Petr Cancura RootsToBoot*Independent

Invitation The Peggy Lee Band Drip Audio*Fontana North

FRANCOPHONE ALBUM OF THE YEAR (SPONSORED BY FESTIVAL DU VOYAGEUR)

Himalaya mon amour Alex Nevsky Audiogram*Select

Omniprésent Damien Robitaille Audiogram*Select

Chic de ville Daniel Bélanger Audiogram*Select

Fox Karim Ouellet Abuzie*D.E.P.

Punkt Pierre Lapointe Audiogram*Select

CHILDREN'S ALBUM OF THE YEAR

Sing As We Go! Charlie Hope Little Maple Leaf*Challenge and Fun

What's the Big Idea?!? Gary Rasberry Razzletone*Summit

Colour It Helen Austin Independent

Mon coffret à surprises Marie-Claude Independent

Coconuts Don't Fall Far From the Tree Splash'N Boots Independent

CLASSICAL ALBUM OF THE YEAR: SOLO OR CHAMBER ENSEMBLE

Prokofiev Complete Works for Violin James Ehnes Chandos*Naxos

Chopin: Études Op. 10 & 25 Jan Lisiecki Deutsche Grammophon*Universal

Mozart: Concertos Nos. 13 & 14 Janina Fialkowska / The Chamber Players of Canada ATMA*Naxos

Liszt at The Opera Louis Lortie Chandos*Naxos

Beethoven: The Complete Piano Sonatas Stewart Goodyear Marquis*Universal

CLASSICAL ALBUM OF THE YEAR: LARGE ENSEMBLE OR SOLOIST(S) WITH

LARGE ENSEMBLE ACCOMPANIMENT

Mozart: Piano Concertos Nos. 17 & 27 Angela Hewitt Hyperion*HM

Britten & Shostakovich: Violin Concerti James Ehnes Onyx*HM

Canadian Concerto Project, Volume One Nadina Mackie Jackson and Guy Few with Group of 27 MSR*Independent

House of Dreams Tafelmusik Baroque Orchestra Tafelmusik Media*Naxos

Rachmaninoff: Symphonic Dances & Stravinsky: The Rite of Spring Toronto Symphony Orchestra Independent

CLASSICAL ALBUM OF THE YEAR: VOCAL OR CHORAL PERFORMANCE

Berlioz: Les nuits d'été – Palej : The Poet & the War – Rorate Coeli Group of 27, Eric Paetkau -

Conductor, Shannon Mercer - Soprano Centaur*Naxos

Ravel, Sayat-Nova & Kradjian: Troubadour & the Nightingale Isabel Bayrakdarian MCO*HM

Lettres de Madame Roy à sa fille Gabrielle Marie-Nicole Lemieux & André Gagnon Audiogram*Select

Handel: Orlando, HWV 31 Pacific Baroque Orchestra, Alexander Weimann, Owen Willets, Karina Gauvin, Allyson McHardy, Amanda Forsythe, Nathan Berg ATMA*Naxos

A Quiet Place: Music for Healing III Vancouver Chamber Choir Grouse*Independent

CLASSICAL COMPOSITION OF THE YEAR

Field Notes Allan Gordon Bell GRAVITY AND GRACE Centrediscs*Naxos

Isomorphia for Orchestra and Electronics James O'Callaghan MAHLER SYMPHONY 9 Independent

Quatuors à cordes No. 12 R. Murray Schafer QUATUOR MOLINARI ATMA*Naxos

Magnificat Stephen Chatman MAGNIFICAT: SONGS OF REFLECTION Centrediscs*Naxos

Atacama: Symphonie No. 3 Tim Brady ATACAMA: Symphonie No. 3 ATMA*Naxos

RAP RECORDING OF THE YEAR

Classified Classified Half Life*Universal

Nothing Was the Same Drake Cash Money*Universal

In My Opinion Rich Kidd Independent

Flying Colours Shad Black Box*Universal

Everywhere We Go SonReal Black Box*Universal

DANCE RECORDING OF THE YEAR

This is What it Feels Like Armin van Buuren & Trevor Guthrie Armada*Sony

deadmau5 Ultra*Sony

Tsunami DVBBS & Borgeous Kanary*Universal

Locked Down Jacynthe Whammo*Universal

Heartbreaker Mia Martina CP*Universal

R&B/SOUL RECORDING OF THE YEAR

Kaleidoscope Joanna Borromeo Independent

Can't Choose JRDN ft. Kardinal Offishall Kuya*Fontana

There's Only One Kim Davis Independent

Gone Melanie Durrant CanAudio*Independent

Kiss Land The Weeknd XO*Universal

REGGAE RECORDING OF THE YEAR

Mandela Akustix Independent

Baby It's You Ammoye Flava McGregor

Love Collision Dru Effortless*Fontana

Rebel Massive Dubmatix Renegade*Fontana

Strive Exco Levi & Kabaka Pyramid Penthouse*VP

ABORIGINAL ALBUM OF THE YEAR (SPONSORED BY ABORIGINAL PEOPLES TELEVISION NETWORK)

Keep a Fire Amanda Rheaume Independent

Small Town Stories Desiree Dorion Independent

Surrender George Leach Independent

Burn Me Down Inez Jasper Independent

Road Renditions Nathan Cunningham New Leaf*Independent

ROOTS & TRADITIONAL ALBUM OF THE YEAR: SOLO

Come Cry With Me Daniel Romano Normaltown*Universal

So Say We All David Francey Laker*Outside

Don't Get Too Grand Donovan Woods Aporia*Outside

Valleyheart Justin Rutledge Outside

Tin Star Lindi Ortega Last Gang*Universal

ROOTS & TRADITIONAL ALBUM OF THE YEAR: GROUP (SPONSORED BY WINNIPEG FOLK

FESTIVAL)

The Folk Sinner Lee Harvey Osmond Latent*Fontana North

Bison Ranch Recording Sessions Little Miss Higgins & The Winnipeg Five Independent*Outside

Volume One The Devin Cuddy Band Cameron House*Warner

We Still Move On Dance Floors The Strumbellas Six Shooter*Warner

Island of Echoes The Wilderness of Manitoba Pheromone*Fontana North

BLUES ALBUM OF THE YEAR (SPONSORED BY GALAXIE, YOUR MUSICAL UNIVERSE)

Come on Down David Gogo Cordova Bay*Fontana North

Can You Hear the Music Downchild Linus*eOne

Soulscape Harrison Kennedy Electro-Fi*Outside

My Guitar's My Only Friend James Buddy Rogers Blue Wave*Independent

All Frequencies MonkeyJunk Stony Plain*Warner

CONTEMPORARY CHRISTIAN/GOSPEL ALBUM OF THE YEAR

Search the Heavens Fraser Campbell Independent*David C. Cook

Jordan Raycroft Jordan Raycroft Independent

Heart The City Harmonic Integrity*Provident

Lost & Undone: A Gospel Bluegrass Companion The High Bar Gang True North*eOne

Trees Tim Neufeld Independent*David C. Cook

WORLD MUSIC ALBUM OF THE YEAR (SPONSORED BY CANADA COUNCIL FOR THE ARTS)

Sabor A Café Adonis Puentes Tumba King*Warner

Lamentation of Swans – A Journey Towards Silence Azam Ali and Loga R.Torkian Terrestrial

Lane*Outside

Walk to the Sea David Buchbinder & Odessa/Havana Tzadik*eOne

Jumbie in the Jukebox Kobo Town Cumbancha*eOne

Lume, Lume Lemon Bucket Orkestra Independent

JACK RICHARDSON PRODUCER OF THE YEAR (SPONSORED BY SLAIGHT MUSIC)

Brian Howes and Jacob Hoggard "Anything", "Crazy for You" WILD LIFE – Hedley Universal

Eric Ratz "Sweet Mountain River", "The Lion" – FURIOSITY – Monster Truck Dine Alone*Universal

Henry "Cirkut" Walter (co-producer Luke Gottwald) "Wrecking Ball" BANGERZ – Miley Cyrus RCA*Sony | "Give It 2 U" BLURRED LINES – Robin Thicke Interscope*Universal

Ryan Guldemond and Ben Kaplan "Let's Fall in Love", "Bit by Bit" THE STICKS – Mother Mother Last Gang*Universal

Thomas "Tawgs" Salter "This is the Best" ADVANCED BASICS – USS Coalition*Warner | "Red Hands"

(co-producer Gianni "Luminati" Nicassio) R.E.V.O. – Walk Off the Earth Columbia*Sony

RECORDING ENGINEER OF THE YEAR

David Travers-Smith "Dancing In the Dark" THESE WILDER THINGS – Ruth Moody True North*eOne |

"Flabbergasp" (co-engineer Jaron Freeman-Fox) THE OPPOSITE OF EVERYTHING – Jaron Freeman-

Fox Independent

Eric Ratz "Sweet Mountain River", "The Lion" – FURIOSITY – Monster Truck Dine Alone*Universal

Howie Beck "Robotic" (co-engineer Graham Walsh) HANNAH GEORGAS – Hannah Georgas Dine Alone*Universal

"Red Hands" R.E.V.O. – Walk Off the Earth Columbia*Sony

Kevin Churko (co-engineer Kane Churko) "The Wrong Side of Heaven" THE WRONG SIDE OF

HEAVEN AND THE RIGHTEOUS SIDE OF HELL, VOLUME 1 – Five Finger Death Punch Universal |

"Stardust" LUX – Gemini Syndrome Warner

Randy Staub "Hollow" THE DEVIL PUT DINOSAURS HERE – Alice in Chains Virgin*Universal | "Be My

Baby" TO BE LOVED – Michael Bublé Reprise*Warner

RECORDING PACKAGE OF THE YEAR

Ian Grais and Chris Staples (Art Directors), Sofia Pona, Kim Ridgewell, Lisa Nakamura

(Designers), Ben Tour (Illustrator) Bones BODHI JONES Independent

Jayme L. Spinks (Art Director/Designer), Janet Kimber (Photographer) Lullabies and Wake-Up Calls

DINAH THORPE Independent

Menno Versteeg (Art Director), Anne Douris (Designer), Annie Murphy (Photographer) White Paint

HOLLERADO Royal Mountain*Universal

Robyn Kotyk (Art Director/Designers/Illustrator), Petra Cuschieri, Justin Peroff (Designers) Arts &

Crafts: 2003-2013 ARTS & CRAFTS – VARIOUS ARTISTS Arts & Crafts*Universal

Vincent Lévesque and Alex Ortiz (Art Director/Designer/ Illustrator/Photographer) La Mort Pop Club

WE ARE WOLVES Dare to Care*DEP

VIDEO OF THE YEAR (SPONSORED BY MUCHFACT, EXCLUSIVELY FUNDED BY BELL MEDIA)

Je t'aime comme tu es Agathe Bray-Bourret DANIEL BÉLANGER Audiogramme*Select

Friend of Mine Briin 'Briin?' Bernstein & Daniel AM Rosenberg D-SISIVE Desolate*Independent

Anything John Poliquin HEDLEY Universal

King and Lionheart WeWereMonkeys OF MONSTERS AND MEN Republic*Universal

Feeling Good Matt Barnes THE SHEEPDOGS Atlantic*Warner

ELECTRONIC ALBUM OF THE YEAR (SPONSORED BY ROLAND)

Nation II Nation A Tribe Called Red Tribal Spirit/Pirates Blend*Sony

Untogether Blue Hawaii Arbutus*F>A>B

Graze Graze New Kanada*ST Holdings/Hardwax

Third Culture Noah Pred Thoughtless*MN2S

Guilt Trips Ryan Hemsworth Last Gang*Universal

METAL/HARD MUSIC ALBUM OF THE YEAR

Heart of Oak Anciients Season of Mist*Sony

Colored Sands Gorguts Season of Mist*Sony

Entrench KEN Mode New Damage*Universal

Volition Protest the Hero Protest*Sony

Dead Language The Flatliners New Damage*Universal

ADULT CONTEMPORARY ALBUM OF THE YEAR

In My Head Alysha Brilla Sunny Jam*Independent

Loved Me Back To Life Céline Dion Columbia*Sony

Dream Catcher Chloe Albert Independent

The Year He Drove Me Crazy Coral Egan Justin Time*Universal

A Christmas Gift To You Johnny Reid Johnny Mac*Universal