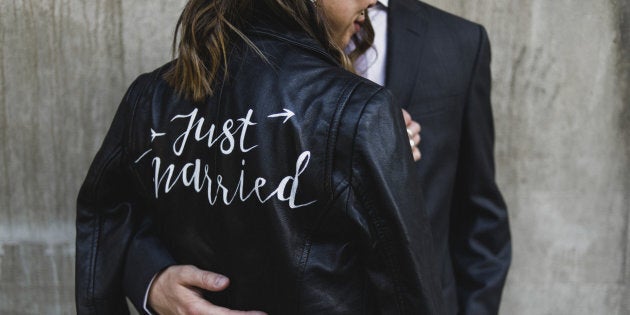 You'd never expect a leather jacket to bring together a group of brides, but that's exactly what happened after Sylvia Wong decided to give away the jacket she wore on her wedding day.
To add a touch of edginess to her bridal look in June 2016, the Torontonian designed her own leather jacket with the words "Just Married" hand-lettered on the back.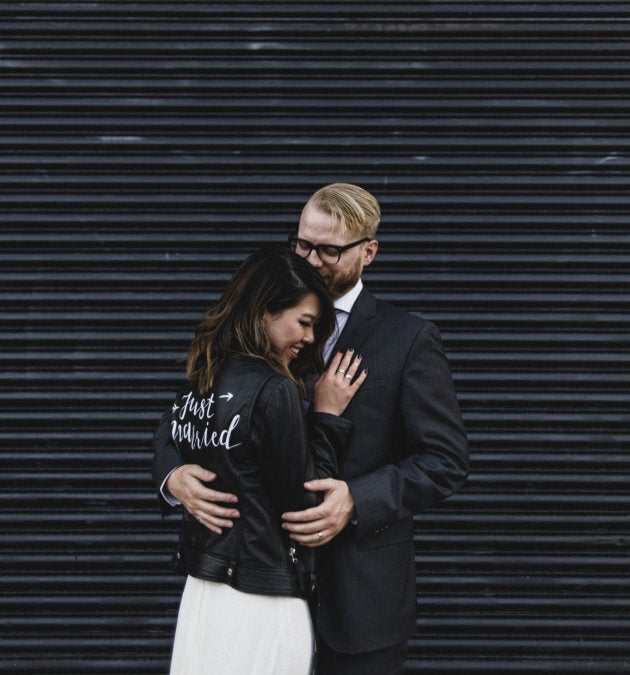 A week after she tied the knot, Wong shared a photo of her one-of-a-kind jacket in a local online trading group called Bunz, hoping to rehome it and get something equally unique in return.
To her surprise, the jacket was a hit. "It was so overwhelmingly popular that instead of selling it to one person, I decided to start a project to rent it out every weekend for only a bottle of red wine," she told HuffPost Canada.
"I really thought I was going to sell it to one person, but for the amount of reaction I got out of it, it just kind of turned into its own thing. So I decided the more people that get to wear this, the better."
Since June 11, 2016, the jacket has worn at 20 weddings in the Greater Toronto Area, and has already been booked for 40 more leading up to October 2019.
While the jacket obviously has sentimental value to Wong, the 32-year-old digital marketer said, "It's such a waste to have something sit in a closet forever and be unseen."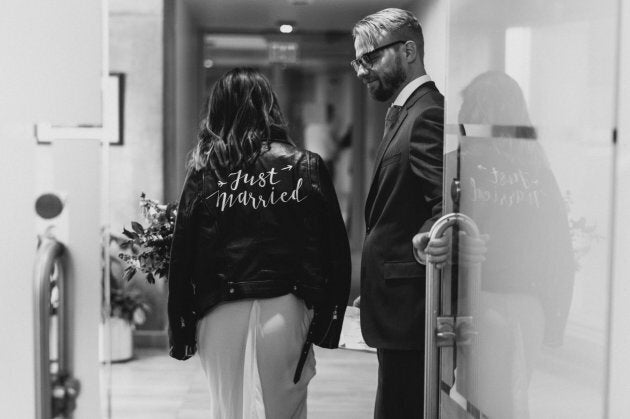 All the "delightful" reactions she got from the jacket at her own wedding was another reason she wanted to share it.
"Everybody loved it," she said. "It was a really cute prop to have and we even just walked around the city right after [the ceremony] to grab a beer, and I was wearing this leather jacket on the streets with a wedding dress so it was kind of a little shock and surprise."
People are often amazed that Wong won't accept payment for borrowing the jacket, but instead asks for a bottle of wine. To that Wong said, "This is just a special project that I want to pass on and share. It's something I don't feel right about monetizing."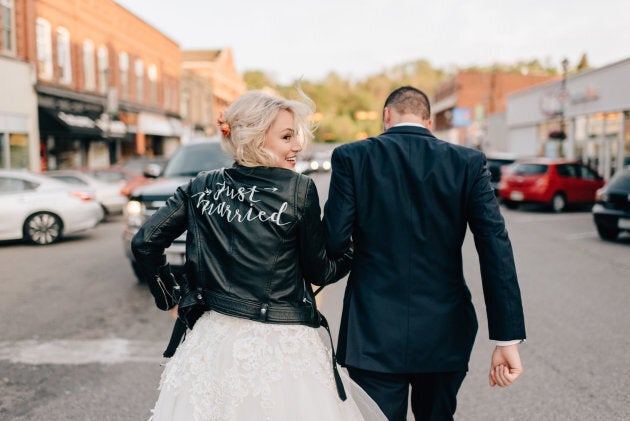 She also revealed that the "Just Married" jacket has created a community of badass brides.
"Everyone calls it the sisterhood of the travelling leather jacket," she said. "You feel like you're part of a club once you wear it. And connecting with women that are on a similar journey just a couple days before their wedding is really cool to me because I'm almost living vicariously through these awesome weddings because mine was so small."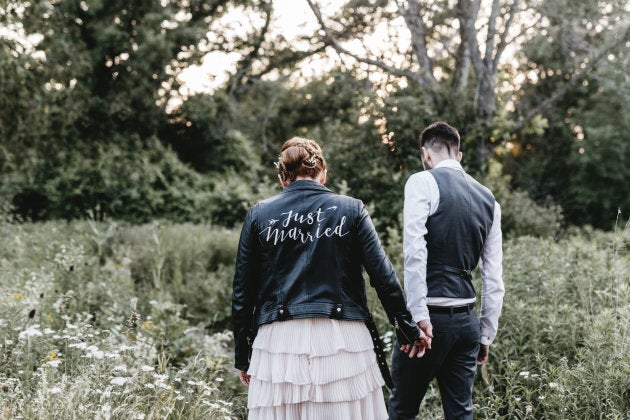 Although Wong has been asked to make more "Just Married" jackets to rent out, she said that won't be happening.
"I think there's kind of a charm or a magic to it being my jacket that's already been worn by 20 people and something that you share, so I don't want to dilute that idea with trying to make money out of it," she said. "It's more about the community and the fun of it."
"The fact that it can mean something to so many different people has been really cool," she added.
HuffPost Canada spoke to four brides who wore #TheJustMarriedJacket at their wedding to find out what the piece of clothing means to them. Here are their stories.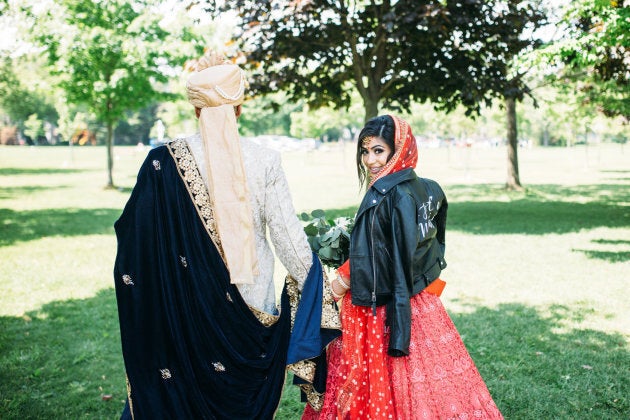 Rima Khullar
Rima Khullar, 28, came across the "Just Married" jacket just a few weeks before her wedding on June 16, 2017. "The classic 'moto' leather jacket is my signature look, [so] I knew I had to have it for my BIG day," the Scarborough, Ont.-native told HuffPost Canada in an email.
The reaction from wedding guests: "I guess it's a bit non-traditional to sport a leather jacket at a traditional Hindu ceremony... so there were some guests that seemed intrigued and interested with the whole look. But friends and family that know me well weren't surprised to see me incorporate some element of my 'everyday self' for my wedding."
How it feels to be part of the sisterhood: "Truthfully, I didn't think much of it when I initially requested to use it for my wedding. I knew that I wanted a picture with it and that I wanted to contribute a photo of an Indian bride wearing it — just to add a different perspective. But when I had the jacket in hand, it felt very real. I felt that I was part of something authentic. I felt a sense of belonging. Something about the distressed ridges and even the mix of sweet fragrances of the brides before me had me feeling safe, warm and positive before the wedding."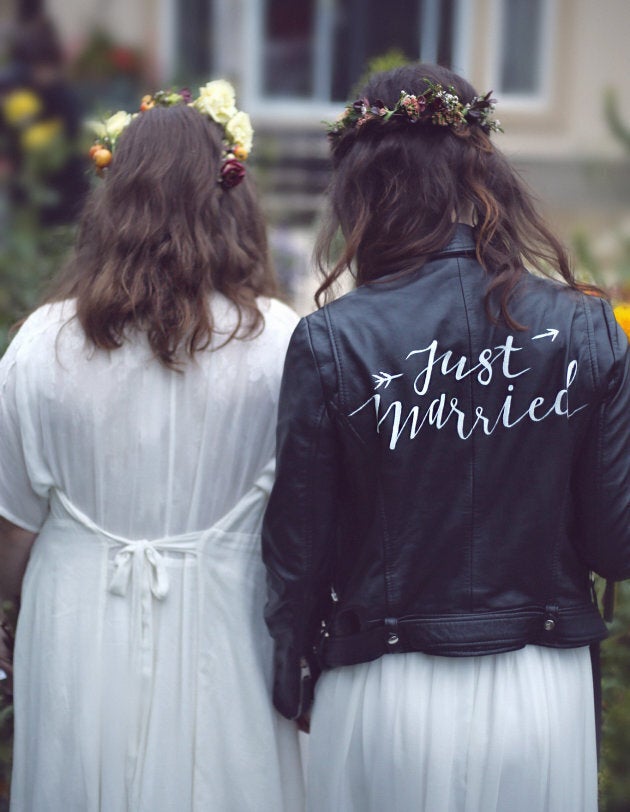 Amanda Lake
Amanda Lake, 27, and her partner Sarah, 29, knew they'd need jackets for their fall wedding on October 1, 2016. Being "renowned for our leather jackets," the two Torontonians knew the "Just Married" jacket was right for them. After the ceremony, Amanda wore the "Just Married" jacket, while her partner wore a matching leather coat.
"We thought it fitting to have a wedding-inspired jacket for after the ceremony," Amanda said. "Paired with motorcycle boots, we were able to show our personalities and still achieve a balance with the more traditional wedding aspects."
How she felt wearing it: "It felt great to be wearing something I felt so comfortable in. No one had seen anything like it, so it was a great feeling to be doing something unexpected and different."
How it feels to be part of the sisterhood: "We are all connected by the jacket. It's been a part of so many special days. I love seeing how women take the jacket and make it their own, each photo so different to the next. The jacket would have some wonderful stories to share if it could!"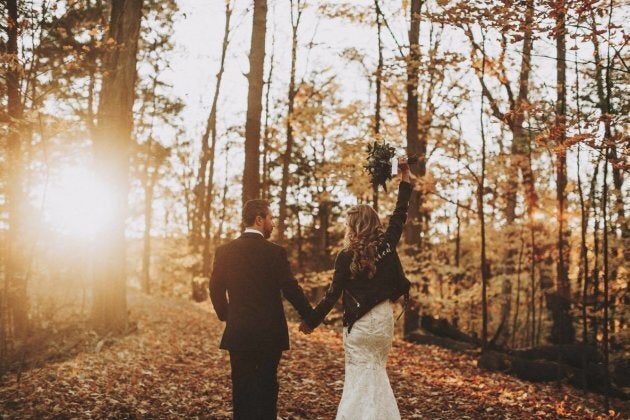 Jordana Halpert
Jordana Halpert's father passed away from cancer when she was 19 years old, so she wanted to pay tribute to him at her wedding. Considering her dad was an avid motorcyclist, she knew the leather jacket would be the perfect addition at her ceremony on November 4, 2016.
"'Big Al' may not have been there to walk me down the aisle, but I threw on the jacket as I left the altar and it felt like he was there with me," the 35-year-old Torontonian said.
How she felt while she wore it: "There was something so beautiful about wearing a jacket on my back that other women had worn on the happiest day of their lives; it felt like I was part of a community. That, paired with the sentimental nature of it for me, was so special. I had only planned to wear it for the hike in the woods that my husband and I planned for after the ceremony but I ended up wearing it through the hora and dinner. It felt like my dad was right there with me when I had it on."
The reaction from wedding guests: "My dad's motorcycle buddies were at the wedding and were so touched by the jacket — even if it did come with hilarious stand-in parenting comments like, 'No buying a motorcycle, you hear? It's dangerous! Your dad wouldn't want you to!'"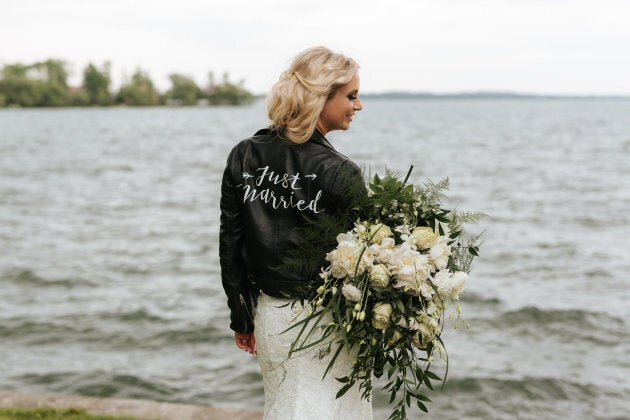 Brit Littleford
Brit Littleford's best friend, Jessy Pesce, is the photographer who shot Jordana Halpert's wedding (above). So when it came time for the 27-year-old Georgina, Ont.-native to tie the knot on June 10, Pesce surprised her with the jacket.
How she felt while she wore it: "I was super stoked and speechless when she gave me the jacket because I have followed and read so much about the "Just Married" jacket on Sylvia [Wong]'s account and from Jessy that I could not wait to be a part of it and rock the jacket! Honestly, I felt like a badass bride. The jacket gives you this feeling of confidence and beauty on the most important day of your life."
How it feels to be part of the sisterhood: "It feels amazing to be a part of the sisterhood of the travelling leather jacket. Knowing all the love and happiness that the jacket witnesses and passes on through all of the 'Just Married' brides is unreal. It was unforgettable!"
Note: Interviews have been edited and condensed for clarity.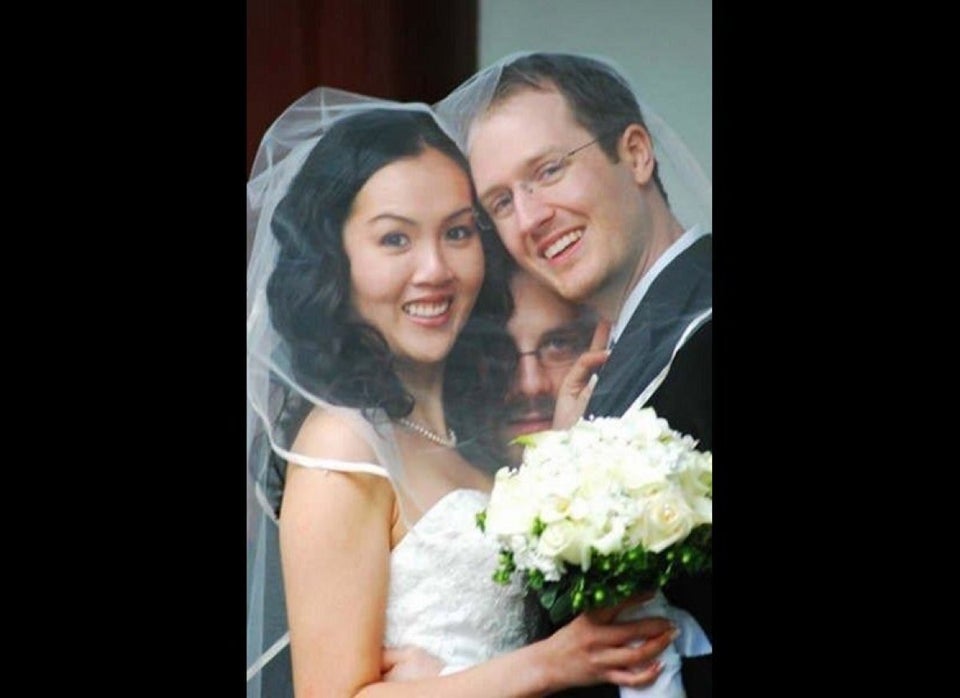 The Funniest Wedding Photobombs