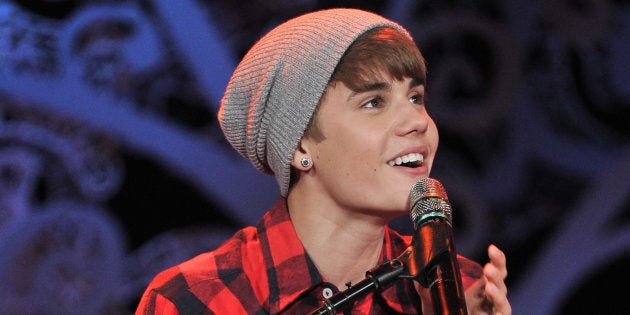 Cast your mind back to 2011. Prince William and Kate Middleton got married that April. The year's Oscar for Best Picture went to "The King's Speech." The word "blockchain" entered the dictionary for the first time. Before he abandoned his pet monkey in Germany and went full "scum bro," then 17-year-old Justin Bieber released "Under the Mistletoe," a multi-genre Christmas album that jumps from pop to R&B, country, and attempted rap.
It debuted at number one and stuck onto the charts as one of the top-streaming Christmas albums as recently as 2016, when it came second only to fellow Canadian Michael Bublé.
Pro: "Mistletoe"
The album contributed at least one indisputable banger to the Christmas canon of contemporary pop, and it's "Mistletoe." Anyone with an ounce of Christmas spirit won't be able to resist this jangly, laid-back jam, punctuated with Christmas bells and sweetly-autotuned harmonies.
You'll probably encounter some music snobs who say this song is bad, but remember: those people are liars.
The song also includes this hilariously Justin Bieber-y line: "The wise men followed a star / The way I followed my heart."
Con: "Drummer Boy" ft. Busta Rhymes
Many of the elements of this song are, quite frankly, unforgivable: the misuse of Busta Rhymes, the very idea that this song might play on a dancefloor anywhere, and — most of all — our early-2010s tolerance of white Christian pop stars trying their hand at rap on not one but two different verses. (Sample lines from Bieber's rap: "Playing for the King, playing for the title / I'm surprised you didn't hear this in the Bible." He goes on to compare himself to Michael Jackson, while Busta rhymes "Twitter followers" with "Happy Hanukkah.")
The only redeeming element of this song is that it inspired lots of online essays, including one in the Washington City Paper, which included the line: "Rhymes bellowing 'BIEBER, WHAT UP' would make a swell notification noise for when someone you hate text messages you."
Both Pro and Con: Guest stars who overshadow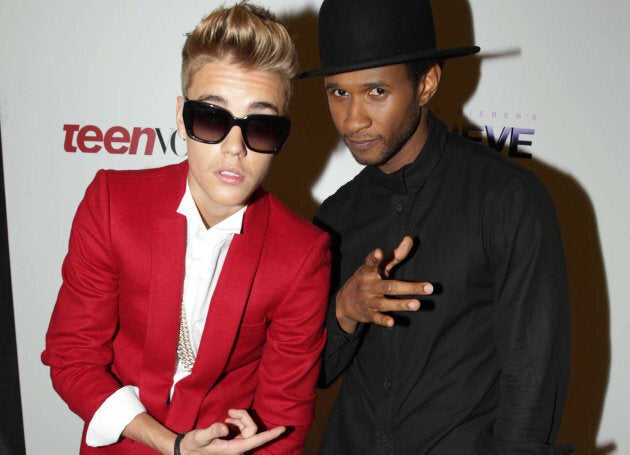 Bieber has some great guest starts on the album. In addition to Busta Rhyme, he gets help from artists including Usher, Mariah Carey and Boyz II Men. But having that kind of singing talent means Biebier is frequently outshined.
Have you ever listened to Mariah Carey sing the first verse of "All I Want For Christmas Is You" and thought to yourself, "I wish Justin Bieber would cut in with the rest of the song?" That's exactly what the puzzlingly-titled "All I Want For Christmas With You (Superfestive!) Duet" offers. Meanwhile, there's no reason to listen to a Justin Bieber version of "The Christmas Song" other than to listen Usher. Why has Usher never released a Christmas album?
Pro: It counts Penny Oleksiak among its celebrity fans
Oleksiak, during her appearance at the Christmas tree lighting at Toronto's Eaton Centre, the Canadian Olympic swimming champion admitted to HuffPost Canada that "Under the Mistletoe" is her favourite Christmas album. Tastemaker and Twitter philosopher Jaden Smith has also been vocal about his appreciation.
Con: Chris Brown wrote one of the songs
It's a "slow jam" called "Christmas Eve" that includes the line "You leave some cookies out, I'ma eat 'em all." Shudder.
Pro: Hailey Baldwin still loves it
Justin Bieber's new wife got into the Christmas spirit early, posting an Instagram story last week of herself with a deer filter on her face, lip-syncing along with a high-pitched Chipmunks-esque voice modification feature on. Which... sure.
Con: Justin Bieber has previously forgotten the words
Unclear if this is a pro or a con: He once drove around in a Christmas-mobile
Conclusion:
Much like "Is Santa Claus real?", there can't simply be a yes or no answer to this question — it's so much more complicated than that. But if you're question is "Should I put 'Mistletoe' on my Christmas playlist?" the answer is an unequivocal YES.